Mercedes-Benz Zetros
V 2.0 mod for SnowRunner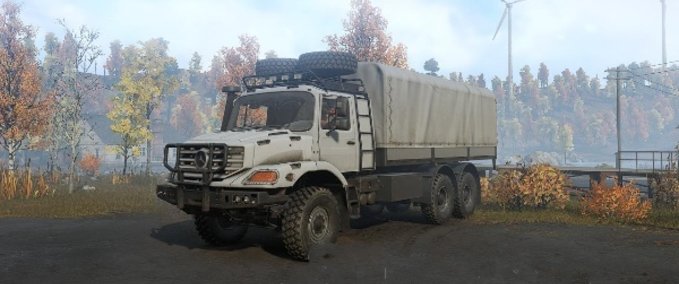 description
It has:
- 3 engine types;
- 2 transmission types;
- 2 of our own + 2 standard spring types;
- 8 of our own interchangeable wheel pairs;
- 1 of our own + 3 standard winch types;
- 2 proprietary spare wheels;
- 1 standard snorkel type;
- 17 custom + 6 standard add-ons;
- your windows, bumpers, exhaust pipes and equipment for the cabin;
- your textures;
Standard trailers are registered.
Version 2.0.0 for SnowRunner (v12.2):
- Made all new textures (car and addons);
- Made all new UV maps for HQ textures;
- Optimized all 3D models (addons and car);
- Revised tire textures;
- Restored the actual weight of the car;
- New front axle flaps, body colors (Schmitz & Flatbed), "shaker" for antenna, physics of the cabin mud flaps, cabin guards, new tires, exhaust, bumper, rear guards, fine tuning the transmission for both transmissions, newly added tire sizes, many of their add-ons;
- A suspension rebuilt from scratch (standard and raised);
.
- Removed a set of soft tires (confuses people + for optimization);
- Restored the collision of the truck;
- Added: Collision for axles (front, middle, rear), flashes for cockpit LEDs, flashes for emergency lights, a longer autonomous winch (+2 meters), a new tilt angle of the mirror, turn signals, 6 different lights for the roof / cockpit;
.
- Mirrors have become brighter;
- A conflict between addons has been fixed;
- Fuel consumption has decreased.
- Fixed the front IK bones.
- Cut back IK bones;
- The rear fenders can now be removed.
- Fixed gaps between cockpit and addons.
Credits
Modell: Rng3r
Textur: Rng3r
Script: Rng3r
Idee / Konzept: Rng3r 
Tester: Rng3r
Sonstige: Rng3r
images
Empfehlungsrate
-/-
noch nicht genug Stimmen
Do you think this mod should be featured?
}