Press Shop
V 1.3.0 mod for Farming Simulator 17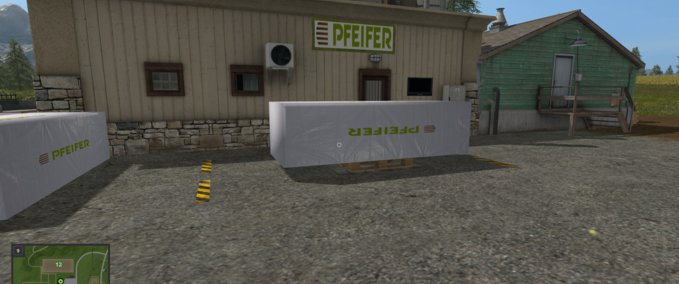 description
featured
Hello this is my first mod.
Please do not fall over me immediately! I have read countless instructions to create this mod. Just started modding a few days ago.
So here is my placible woodwork.
In order to get the press plates simply the wood chips produced in the game itself processed there.
The press plates are then there on Europaletten.
Pallet trigger mounted. For the transport.
The press plates can be sold to every pallet of sales triggers, or brought into the pallet.
Log with me so far error-free.
Since it was me in the game was too boring the Hakschnitzel only to sell I thought it would be more interesting to process it.
Gladly I take other tips / criticism for Modden.
Credits
Modell: Giant teilweise ich
Textur: 
Script: Marhu
Idee / Konzept: BaTt3RiE
Tester: ich selber
Sonstige: 
changes
29 May 19:53

Version 1.3.0

Verkaufspunkt hinzugefügt Plane korigiert und diverse Kleinigkeiten

20 May 00:25

Version 1.2.2

Abladetrigger gefixt.

Display jetzt mit Funktion.

kein Rauch, kein Licht, kein Sound. (will ich auch nicht, ist überall das selbe.)

18 May 18:33

Version 1.2.1

Kleiner Fixe (Cognac1967) danke dir dafür.

18 May 15:23

Version 1.2.0

Diverse Fixe.
Status Anzeige funktioniert endlich.
Füllanzeige geht jetzt auch endlich.
Kollisions Fehler behoben.

Log.txt (ich hoffe komplett fehlerfrei) vlt. kann ja ein erfahrener modder mal drüberschauen.

Änder oder überarbeiten Verboten. Wer das Presswerk einbauen möchte in seiner Modmap, kann es gerne tun.
Kurze Nachricht an mich währe cool.

Ich bitte um Kritik oder Lob, habe es ohne fremde Hilfe geschaft diesen Mod zu ermöglichen.
Scripte sind nicht von mir.

Viel spass Markus(Anfänger Modder) :-)

18 May 13:04

Version 1.1.0

Füllstandanzeige hinzugefügt. (Hackschnitzel)
Füllstandanzeige PfeiferHolz (Pressplatten)

Diverse Kollision Fehler behoben.

Log.txt endlich Fehlerfrei.

17 May 17:43

Version 1.0.0
Do you think this mod should be featured?
}