ProFarm
V 1 mod for Farming Simulator 2011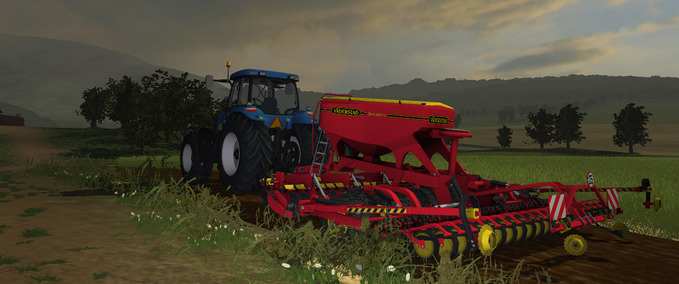 description
featured
Welcome to Profarm 1, Welcome to Riverside.
Enjoy a uniquely beautiful and with a lot of attention to detail in your landscape Agricultural Simulator 2011.
This AddOn is located next to a large fleet of well-known manufacturers varied Map, which offers many new challenges for each virtual farmer.
Many newly created 3D objects provide a realistic landscape.
Whether residential, farm or several new objects ... the great variety of detail provides a great environment. Some of the objects were animated and additionally gescrippted to achieve a higher level of realism.
The hilly landscape scale with a nicely designed river is not only a feast for the eye, it also makes high demands on man and machine when it comes to harvest crops and to keep milk production up.
But do not worry, you will be supported by a crowd-pulling in the truest sense of the word fleet.
For instance, in this AddOn 4050th among other reputable manufacturer of vehicles such as tractors New Holland TG 285 and the T
At harvest, the highly modern harvester New Holland TX 65 and CX 880 with it.
In addition, numerous supporters of the company Fliegl available, which can be converted to a large extent by expansions. Additionally, you can be one of the brand drill Väderstad inserting 600 S.
All vehicle models have been officially endorsed by the original manufacturer New Holland and Fliegl.
Do not wait, take your tractor and become a successful farmer with Profarm!
Features:
Completely newly created map "Riverside"
Many new 3D objects inside the map, such as houses, a pub, observation tower, farm vehicles and warehouses, sheds, bus shelters and phone booths
Universal Farmsilo with selectable crop output
Animated models within the map, such as cars, trains, mills and windmills
Revised graphics, such as new ground textures in manure spreading
Highly detailed vehicles known manufacturers:
New Holland TG 285 tractor and T 4050
New Holland Combine harvester CX 880 and TX 65
Fliegl trailer ASW 288 / 493 ASW
Fliegl trailer ASA / ASA 291 and ASW / ASW 399
Fliegl Dolly ASD 291 / ASD 399
Drill Väderstad 600 S
Change attachments for selected Fliegl trailer (spreader)
New Holland Original Sounds
System requirements
Installed full version of Farmer Simulator 2011 (Incl. update to version 2.2)
Windows XP / Vista / Windows 7
Intel or AMD 2.4 GHz or equivalent (recommended Core2Duo or comparable)
2.0 GB main memory
3D graphics card with 512 MB (GeForce 6800 / ATI Radeon X850 / S3 Chrome 430GT or similar)
Sound Card
750 MB free hard disk space
CD-ROM drive, keyboard and mouse
Onboard video cards are not supported!
To activate an Internet connection is required.
Credits
Halycon Media GmbH Co.KG
Files

Do you think this mod should be featured?