Self made Subsoiler 5 m
V 1.0 for CnC Version 1.3.5.5 mod for Cattle and Crops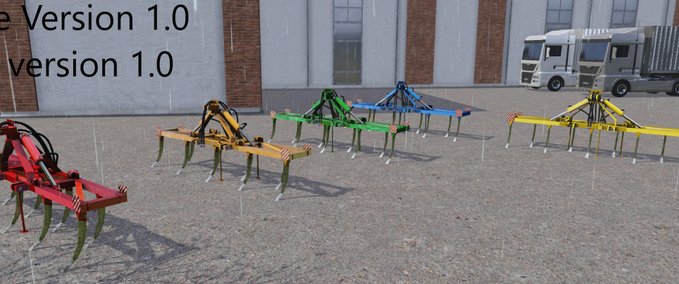 description
Hello,
enclosed you will receive subsoiler with a width of 5 meter.
This was (the old version 0.8/0.81) and is my first mod and some things I have learned during the development. This I incorporated into this new version 1.0.
Change list see version history.
Now with 5 colors available: Blue (like before in v0.81) and new Green, Orange, Red and Yellow.
If you owned the old version before, no problem. Download this new version and replace your old mod file with the new one. When you start CnC the next time, your old subsoiler is automatically replaced with the new version 1.0. If you want the new colors you have to buy a new subsoiler.


Video (done with version 0.81) link by courtesy of: Racing&Gaming Adventure
It IS NOT ALLOWED TO UPLOAD THE MOD AGAIN, PLEASE USE THE ORGINAL DOWNLOAD LINK
.
Credits
Modell: Pebcak13
Textur: Pebcak13
Script:
Idee / Konzept: Pebcak13
Tester:
Sonstige: 
changes
14 Jun 16:29

Version 1.0 for CnC Version 1.3.5.5

(DE)
+ komplette Überarbeitung
+ nun mit Hydraulik, an- und abgekuppelt
+ 4 neue Farben zur Auswahl: neben Blau auch Gelb, Grün, Orange und Rot
+ nun auch mit Verschmutzung
+ Bug behoben: Helfer klappt den Pflug nun korrekt aus (Feldarbeit) oder ein (Straßennutzung)

(EN)
+ complete overhaul
+ now with complete hydraulik, attached and detached
+ 4 new colors, additional to blue now also green, orange, red and yellow
+ now also with dirt
+ Bug solved: helper now fold and unfold the subsoiler correctly for field work (unfolded) or driving (folded).

11 May 15:49

Version 0.81 for CnC V1.3.5.5

(de)
- Texturefehler behoben
- im Arbeitsmodus wird der Pflug nun etwas höher gehalten, ca. 10 cm über dem Boden

(en)
- Texture error solved
- in working mode the plow frame is now 10 cm above the surface (machine lowered a little bit less now)

10 May 13:47

Version 0.8 for CnC V1.3.5.5
Files
Empfehlungsrate
-/-
noch nicht genug Stimmen
Do you think this mod should be featured?
V 1.0 for CnC Version 1.3.5.5
}