Animal Species - Savage Pig Pack
V 1.3 mod for Farming Simulator 19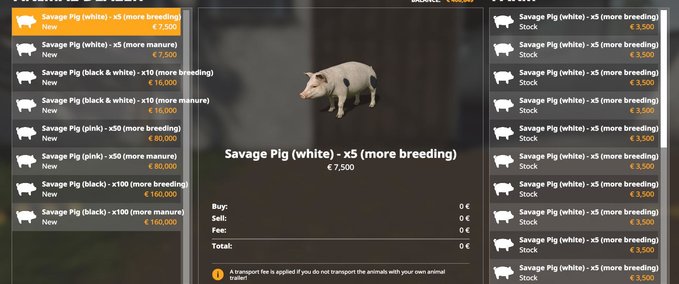 description
v1.3 : Work on all maps without any manipulation/modification to do !!!
This mod adds a new kind of pigs! Wild pigs! There are 2 species between them with different ratios. One is a breed of breeders that is made to breed to sell them. The other is a rather dirty species that produces more manure and liquid manure.
A breeding farm is provided with this mod to handle wild pigs, you can not buy them from the animal dealer and you have to pay a price to catch them when you buy them. For sale, you can use the 2 livestock trailers to bring them to the pet merchants who will buy them back, otherwise you will pay a fee to release protected species in the wild.
Wild pigs therefore eat a little different from pigs, they need more protein (50%) and want more fruits from the land.
The husbandry also have a button to call pigs ! Inside in the middle of the room (pigs may have eaten the button).

KNOWN TROUBLE/BUG :
                For multiplayer , before you played with a custom map , you need to go in you "mods" directory and you'll see a directory with the same name of the Map ZIP, with only 1 file into (savagePigAnimalHusbandry.xml), if you played with savage pig on this map. You have to delete this directory with the file > So after you will not have any trouble to relaunch your savegame or create a new game (known bug for multiplayer and the need of having all mods under ZIP on launch).
We will work to make them auto-deleted as soon as possible.

Visit our website : http://melimodding.servegame.com
COMPATIBLE WITH: ANIMAL SPECIES - COMPLETE EDITION
Credits
Model: Melimodding, KurryM,Kastor
Texture: Melimodding, KurryM,Kastor
Script: Melimodding
Idea / Concept: Melimodding
Testing: Melimodding
Other: Melimodding
Empfehlungsrate
-/-
noch nicht genug Stimmen
Do you think this mod should be featured?
}