TomCity Island
V 19.01 mod for Minecraft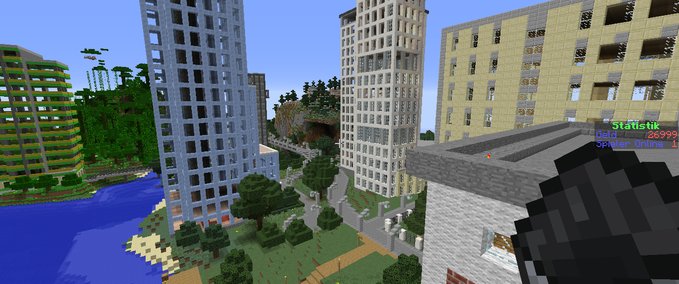 description
TOMCITY 2013 EDITION Pack
My Three Map Versions of the Year 2013:
TomCity Alpha v13.04

TomCity Alpha v13.05

TomCity Alpha v13.08
You can my Map now see on YouTube

https://www.youtube.com/channel/UCnq2LXzE2N7_39f570Iepew
Tutorial - Map install:
%appdata% -> Roaming -> .minecraft -> saves

Spiel starten und rein.
Have Fun!

Evinom
Credits
Kevredz (damals kevintom/ Evinom), pete99, andinator5000, thomasgraph, lexom
changes
23 Feb 10:18

Version 19.01

- 6 Jahre Bauzeit zur vorherigen Version v13.
- Massive Map Entwicklungen, umbau zur Insel
- Terraforming mit eigenhand und WorldEdit
- Viel größeres Strassennetz
- Mehr Häuser/Hochhäuser, teils nachbauten von Gebäuden aus SimCity 4.
- Reale Gebäude nachbauten
- Natur, Wald, Bäume etc.
- Flughafen, U-Bahn Netz

Es sind wie Sie sehen werden noch einige Baustellen offen.
Danke an Alex Tom, Peter Wittig, Thomas Pauli und Andi Pauli, die oft auf meinem Server mitgewirkt haben.

04 Feb 16:34

Version 2013
Files

Empfehlungsrate
-/-
noch nicht genug Stimmen
Do you think this mod should be featured?
Unterstütze den Entwickler!
Jetzt mit PayPal spenden
}