people Brunn
V 2.2 Seasons ready mod for Farming Simulator 19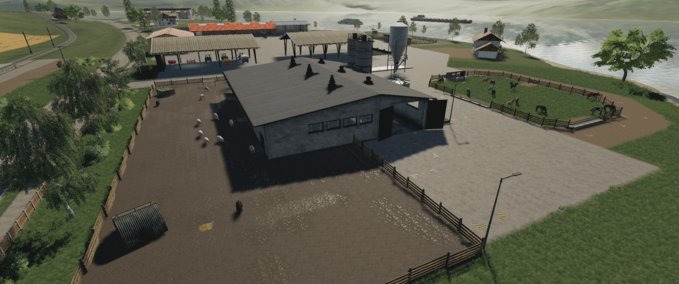 description
featured
people Brunn
Here I offer you the map Volksbrunn to download.
The Volksbrunn is a converted Felsbrunn Standard Map.
A complete new farm was created elsewhere with all the animals on the farm.
The dealer moved near the yard.
Where the fields 4 and 5 were is now a large, flat meadow.
There are also better launch vehicles.
Please keep in mind that on the map could still be mistakes!
I always try to fix them in a timely manner.
I hope you have a little fun with the map.
Credits
Original Map: Giants
1LS12: Unterstand: 
Redi90: Waschplatz
Kastor: Kuh und Schweine Farm
VertexDezign: Leimbinderhalle und Tankstelle
Realismus Modding: Seasons Mod
Gtx: Animal Pen Extension
Edward`s Modding: Airplane & Helicopter Animations
changes
30 Aug 16:08

Version 2.2 Seasons ready

Animal Pen Extension bei den Kühen und Schweinen verbaut.
Gärreste, Mist, Gülle und Hackschnitzel Verkauf bei den Bahnhöfen eingefügt.
Stroh, Gras und Heu Verkauf bei einigen Stationen eingefügt.

14 Aug 16:03

Version 2.1 Seasons ready

Seasons Mod ready
Bahnschranken am Bhf. Ost eingefügt
Gras lässt sich jetzt im Spiel zeichnen
Gleisüberfahrt gegenüber vom Hof eingefügt
Der Dreck bei den Schweinen liegt jetzt im Stall
Flaggen beim Händler eingefügt
Annahme der Ballen vom Anderson Addon beim Viehhändler

07 Dec 21:33

Version 2.0

Der Hof wurde umgestaltet.
Schweinestall und Kuhstall von Kastor eingefügt.
Leimbinderhalle und Tankstelle von VertexDezign eingefügt.
Strohlager entfernt.
Hofsilo gegen das kleine getauscht.
Fahrsilo entfernt.
Kleine Hühnerfarm gegen große getauscht.
Die Unterstände sind jetzt beleuchtet.
Der Start Drescher wurde getauscht.

Es kann jetzt bei jeder Verkaufsstation der Multiplikator für den Preis geändert werden und es können weitere Früchte eingefügt werden. Es funktioniert aber nur, wenn man einen neuen Spielstand anfängt, nachdem man einen Wert geändert hat!
Im Ordner Sellpoints der Map sind die entsprechenden Xml Dateien. Ebenso kann man jetzt auch bei der BGA diverse Einstellungen ändern. Die Xml liegt ebenfalls im Sellpoints Ordner.

Auf der Wiese beim Sägewerk entstehen jetzt keine Haufen mehr beim Mähen.

26 Nov 21:44

Version 1.1

Fehler mit dem Fahrsilo gefixt.
Zaun am Hof noch etwas überarbeitet.

25 Nov 22:24

Version 1.0

Do you think this mod should be featured?
Unterstütze den Entwickler!
Jetzt mit PayPal spenden
}