Berlin XL
V 0.4 mod for Skater XL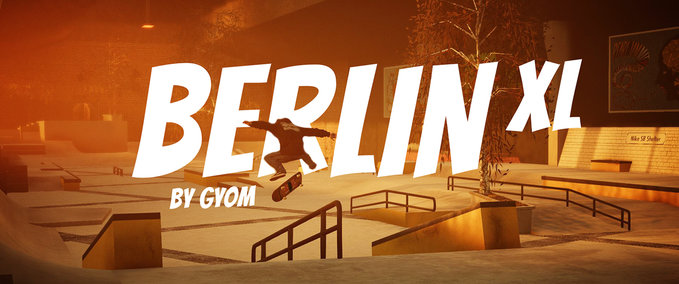 description
BETA VERSION - PLEASE READ THIS
Map fix mod required! If you're having an issue loading the map (freeze while loading or after landing on the map) the quick fix is to disable decals with DawgVinci's mod before selecting the map and re-enabling decals after a few seconds once on the map.
This is an early release as a beta version, I'm aware that not all grinds work perfectly (COPING DO NOT WORK IN THIS BETA) and some spots are not optimised to skate (real proportions, I'll rearange the map to have a better flow). I'd appreciate your feedback on everything but keep in mind that this is still a really early release.
If you want to say thank you and pay me a coffee, I can also add your name as a grafitti or your face on a billboard on the map, this would really help me pushing this map forward with integrating new spots: Donate or just a coffee maybe?
---
The Map
Berlin XL is an ambitious project to make Berlin's street spots and parks playable in Skater XL. It's a large map that regroups all kind of skating styles (ledges, park, stairs, rails, transitions, ...).
Spots and Parks included (15/20)
Pappelplatz
Nike SB Shelter (Skatehalle)
Yorkstrasse
Prenzlauer Allee skatepark (T-Park)
Club Der Visionare (bumps and ledges)
Volkspark Friedrichsain
KulturForum (In Progress)
Böcklerpark skatepark (Prinzenstrasse)
Böcklerpark rails
Wassertorplatz
Dresdener Str.
Gleisdreick Blocs and Green Waves
Zoologisher Garten pyramids
Alexanderplatz
Frankfurter Tor
Planned for future releases: Poststadion skatepark, Gleisdreick Bowl, G spot (Greifswalder), Berghain DIY, and much more...
Explore the map and have fun!
---
Real Textures & Sounds.
All the textures have been photographed on location and sounds recorded too with a proper sound recorder (Zoom H4N). I've biked to each spots and this took some time so please respect the work that has been done before giving negative feedback. It has been a pain mapping all the textures but it was important for me to stay accurate with the original skate spots.
---
Want to reproduce real tricks from local pros?
Hyun Kummer (Versace Plug)
Denny Pham | Flip x skatedeluxe x 1UP
---
Mentions
Thanks to SqueegeeDinoToy for the great tutorials and bill for the grindspline tool. DawgVinci for Mapfix. Thanks to the overall Skater XL community on Discord!
Big Thanks to the early beta testers: bonedogfire, Migthy_Python, npent, Chrizzly92
Credits
changes
23 Jul 18:22

Version 0.4

- Performance Improvements (reduced some errors and scripts)
Empfehlungsrate
-/-
noch nicht genug Stimmen
Do you think this mod should be featured?
}