Claas Jaguar 870
V 1 mod for Farming Simulator 2011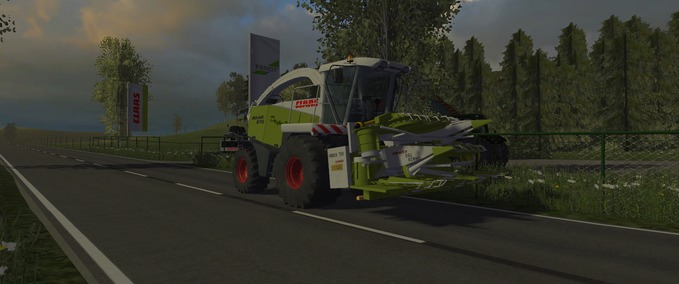 description
featured
Here the Claas Jaguar 870 from me. Changes in the functions: For the LS-realistic here again a delicacy that makes the game much more realistic again. The pipe is now back manually (by player) control. Add to this that it is controlled not only manually but also user-friendly control via the mouse. From installation to other shredders I advise you, inasmuch as you are not familiar with the Moving tools / parts. It's just too complicated for people to "play only", so saves you the trouble. Furthermore, no longer needs the B button to activate the pipe will gedrück. instructions: Control left mouse button: up / down: lift and lower cutting / right / left: Pipe retract / Control right mouse button: up / down: chute open / close left / right: rotate pipe (left = left / / right = right) Changes to the vehicle: Model and texture has been changed by Maurus. The collection I have marked with an extraordinary texture. New tires were drawn from the 580er Lexion '09. For more information: The speci "autoActivateAutoPipe.lua" must not be made ??again without my permission to download! In general, the mod may not be re-uploaded and distributed among other links. He allowed everywhere (with the original link) are offered as Dl. (My name is called) And now much fun chopping.
Credits
Desperados93
Files
| | |
| --- | --- |
| checksum: | c6569da544ff43a6b2b8814fef3bebd0 |
| Version: | 1 |
| multiplayer ready? | no |
| Author: | Desperados93 |
| price in shop: | 185000 LS |
| name in shop: | Claas Jaguar 890 |
| description in shop: | Claas Jaguar 890 |

Do you think this mod should be featured?
}