Ebsdorfer Heide V2
V 2.1 mod for Farming Simulator 17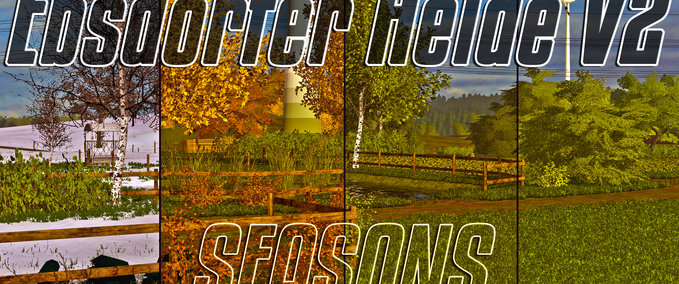 description
featured
Ebsdorfer Heide V2 von SimuFreunde


Die Ebsdorfer Heide stammt im Original von AGI (Agrartechnik Nordeifel)
(Freigabe vorhanden)


Allgemeine Übersicht:
Fruchtarten: Standard Ls17 Fruchtsorten
Tiere: Schafe, Kühe, Hühner, Schweine
Felder: 63 Felder, 26 Grasflächen
Zwei Höfe mit Mist und Gülle, 1 Bga die 1:1 nachgebaut wurde.
Erster Hof mit Fokus auf Milchwirtschaft
Zweiter Hof mit Fokus auf Schweinezucht
 Alle Tore funktionieren mit demStandart Ls17 Door Trigger
Alle Tore sind des Realismus wegen nur zu Fuß zu öffnen!

Ihr übernehmt einen laufenden Betrieb, daher sind schon Kühe + etwas Futter + Ballen vorhanden 
(Saisons Spieler können also direkt loslegen mit den Kühen)
NEU in der V2
- Felder kaufbar + Missionen
- Wiesen düngbar (nicht kaufbar)
- GMK
- neue Fruchttexturen
- Environment-/ Lichtverhältnisse angepasst
- neuer Himmel
- Chopped Straw
- Hose System by Wopster
- Seasons ready
- Hof umgeplant / umgebaut (alter + neuer Teil)
- Verkaufsstellen überarbeitet + neu gebaute
- Ballen lassen sich nun bei den Kühen verfüttern
- neue PDA (besser erkennbare Wege)
- alles so bisschen auf den erweiterten LS17 Standard gebracht



Die Map läuft nach wie vor Fehlerfrei!




WICHTIG!!
Es ist untersagt diesen Mod neu hochzuladen, auch nicht in veränderter Form! Bitte nutzt den originalen download-Link!
-It is forbidden to upload this mod again, even in an altered form!
Please use the original download link!
- Draudžiama /kelti š/ mod vl, net pakitusiu pavidalu!
Prašome naudoti originalus parsisiuntimo nuorod!
- Zabrania si wgra ten mod jeszcze, nawet w zmienionej formie!
Prosz u|ywa oryginalnego link do pobrania!
- Je zakázáno vkládat tento mod znovu, a to i ve zmnné form! Prosím použijte povodní odkaz ke stažení!
Credits
Vielen Dank an allen Moddern denen Objekte ich verbaut habe! 
Niggels, VertexDezign, Agrarteam Franken, Desperados93, Schauppi, Sirjoki80, thejohndeere7930, fendt927power,
steffen30muc, diemoddingecke, GSI-Flasch, NKB-Modding, Die Thoboliker, Kevink98, Gooldstueck, DeeBuur, Juli7250, Unguided, LS-Modcompany, Freak2009 und alle anderen Moddern denen Objekte ich verbaut habe!



changes
27 Feb 18:47

Version 2.1

- Error Render Device bei low-Grafik behoben
- Chopped Straw hinzugefügt
- Hackschnitzel- / Wolleverkauf erscheint nun in der Übersicht + PDA
- Silowände überarbeitet
- Schafe komplett überarbeitet (Wollespawn, DirtArea, Ballenfütterung)
- Gewächshäuser durch Gewächshäuser aus dem Spiel ausgetauscht (Nähe Schweinehof)
- Startfelder vorgegrubbert
- Platz für Strohberge-Addon-Halle an der Einfahrt BGA
- Moddesc-Version berichtigt
- Diverse Kleinigkeiten

19 Feb 09:22

Version 2.0
Files
| | |
| --- | --- |
| checksum: | deb7772ba82ff17157c7b370b498aa08 |
| Version: | 2.1 |
| multiplayer ready? | yes |
| Author: | Agi; edit SimuFreunde/Henry |
| price in shop: | LS |
| name in shop: | Ebsdorfer Heide V2 |
| description in shop: | Dies ist die Ebsdorfer Heide V2 by Agi. |

Do you think this mod should be featured?