Südhemmern
V 2.0.0.0 mod for Farming Simulator 19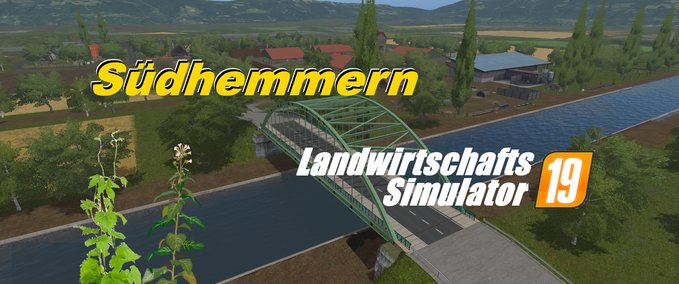 description
featured
For the new year I present you the Südhemmern map for the LS 19. The main courtyard is equipped with warehouses for all types of fruit, straw, grass, hay. There are also storage facilities for manure, manure and milk.
At the farm are the species cows, pigs, sheep and chickens, the horses are outsourced to the horse farm.
At the farm you can buy fertilizer, seeds, crop protection and lime directly at a lower price. In Hille there is a shop on the Landi, where you can buy all goods and fruits at the normal price.
The map has 43 fields and 2 meadows. The meadows are designed so that you do not have to care for them, they just grow after, there is no helper operation there, as with the hand mow.
All gates can be operated, the cutterbar shelves and flaps also work. There you will find switch boxes near where the triggers are installed.
All sales stations are displayed in the mini map.
I have attached some pictures. If you know the map from the LS 17, you will quickly find your way around, even if some things had to be changed.
I wish you all a happy new year and a lot of fun in the game.
Your GMCW
Credits
Ich danke allen, deren Gebäude ich verbaut habe, vielfach schon aus älteren Versionen des LS.
changes
13 May 21:34

Version 2.0.0.0

1. Produktionen fest eingebaut
Saatgut, Dünger, Mischfutter (TMR), Schweinefutter, Silage, Grastrocknung (Heu), KompostMaster, Mehlproduktion, Dieselproduktion, befüllbare Hoftankstelle

2. Lagererweiterungen / Neueinbau
Hauptlager um Saatgut, Dünger und Kompost erweitert; neues Lager für Industriegüter (derzeit Mehl) eingebaut

3. Verkaufsstellen
Diesel am Hafen, Kompost am Garten Center und am Landi, Mehl bei EDEKA und am LEDLI hinzugefügt

18 Apr 11:39

Version 1.6.0.0 Multifruit

1. Wildwachsende Zaunpfosten entfernt
2. Einzelnen Rotkohl an Hofeinfahrt bei der Futtermischhalle entfernt
3. Shafstall Palettenspawner um 20cm verschoben, so dass er nicht mehr mit dem Regal kollidiert. Groundmarker entsprechend angepasst.
4. Schwebendes Haus bei der Industrieanlage entfernt
5. Zaun an Wiese 2 gefixt
6. Laterne an der Eimo aus dem Weg genommen
7. Bäckerei flackernde Tore gefixt (Textur ausgetauscht)
8. Wasserlager mit Beschilderung am Hof verbaut zum entleeren von Wasseranhängern
9. BGA gefixt, damit sie auch von anderen Höfen im MP gekauft und betrieben werden kann, geringe Terrainänderungen um die Hubbel zu den Fahrsilos hin zu entschärfen.
10. Einige Feldkanten bereinigt.
11. Dach vom Unterstand am Waschplatz mit Kollision ausgestattet (kein Blindflug mehr wenn man dort durchfährt)
12. Diverse Kollisionen gefixt (hinzugefügt wo nötig, entfernt wo irrelevant)
13. Dächer am Getreidesilo leicht angehoben um Z-Fighting der Texturen zu vermindern. ClipDistance einheitlich auf 350 gesetzt damit das Dach zusammen mit dem Gebäude im Sichfeld erscheint und nicht erst das Dach und dann das Gebäude.
14. Rücksetzpüunkt für Fahrzeuge etwas verschoben um mehr Platz zur Kartoffellagerhalle hin zu haben.
15. Groundmarker am Hof-Getreidesilo eingefügt für Befüllung
16. Sugarbeet_Haulm Textur geändert, damit keine Blattreste mehr beim ansäen über der Saattextur erscheinen. Dafür fallen aber die Blattreste nach dem Ernten weg. Dies ist ein Bug von Giants.
17. Waschplatz am Hof um 18cm abgesenkt um bessere Bodenanpassung zu bekommen.
18. Steinwand Specularmap (Glossmap) entfernt um die unnatürlichen und tiefschwarzen Schlagschatten zu entfernen.
19. An Feld 13 Kollision bei einigen Strommasten und Verkehrsschildern entfernt
20. BGA Bunkerkapazität erhöht auf 90000Liter (Der Bunker ist das Teil wo ihr Silage reinkippt, damit sie verarbeitet wird)
21. Feld14 ein Zaunelement entfernt um Einfahrt zu verbreitern
22. Feld07 Grasecke entfernt und fieldArea neu definiert
23. EIMO Specularmap bei Milchverarbeitung entfernt um Schlagschatten zu entfernen.
24. Schweinegehege Specularmap entfernt um Schlagschatten zu entfernen.
25. Weißkohl und Rotkohl Diffuse-Textur und Normalmap für die Fillplanes ausgetauscht und Materialholder entsprechend angepasst
26. Hackschnitzel am Hof beim Strohlager hinzugefügt und Schild geändert
27. Dach an der BGA mit Kollisionen ausgestattet
28. Bauzäune vor die Tore der Futtermischhalle gesetzt um weitere Nachfragen zu vermeiden ob die Halle nun funktioniert oder nicht. Diese Zäune können über den Shop auch wieder verkauft werden.
29. Glanz bei den Schneidwerksregalen und Schaltkästen reduziert bzw. entfernt.
30. Mist wurde zu den Verkaufsstationen Gartencenter und Kläranlage hinzugefügt.

Damit die Änderungen der Punkte 2, 3, 8, 9, 10 und 17 sichtbar bzw. aktiv werden bitte unbedingt die Update-Anleitung befolgen.
Leider ist es nicht möglich Terrainänderungen des Landscaping-Tools zu übernehmen, da in der Karte selbst Änderungen am Terrain gemacht wurden.

15 Mar 22:30

Version 1.5.0 Multifruit

4 neue Früchte (Roggen, Dinkel, Weißkohl und Rotkohl) Zu den Kohlsorten ist ein Ernterpack beigefügt (Grimme Varitron_Light-Version); eds gibt eine Voll-Version des Grimme Varitron gibt es unter https://www.nexusmods.com/farmingsimulator19/mods/38 (mit Farbwahl und größerem Volumen) und einen Holmer Pack gibt es unter https://www.nexusmods.com/farmingsimulator19/mods/37); die Hoflager sind auf die neuen Fruchtsorten erweitert worden; neue Verkaufsstellen (LEDIL, Feinkost und Getreidemühle 2; der Saatgut- und Dünger-Trigger sind getrennt worden, damit können Sähmaschinen ohne Probleme befüllt werden; es gibt einen Bale Master, der auf Ballen loses Gut produziert (Stroh, Heu und Gras), wenn die Ballen eingeliefert sind, kann das lose Gut entnommen werden; der Rücksetzpunkt ist vom Händel gelöst worden und befindet sich jetzt auf dem Hof; kleinere Bugs wurden entfernt.

29 Jan 20:54

Version 1.2.1 Multi Frucht

Anzeige der neuen Früchte gefixt; keine LUA-Einträge mehr; einige Texturen überarbeitet; schwebende Bäume beseitigt; kleinere Umbauten; Paletten Spawner Wolle überprüft

25 Jan 13:31

Version 1.2.0 Multi Fruit

Hopfen und Tabak als Zusatzfrüchte eingefügt; Lager für Tabak und Hopfen erweitert; Verkaufsstellen für Tabak bei der Zigarrenfabrik und für Hopfen bei der Brauerei eingerichtet; für beide Zusatzfrüchte gibt es noch einen weiteren Verkaufspunkt; Tore am Erdfruchtlager geändert; Decke im dem Erdfruchtlager verändert; Strommast an Feld 40 versetzt; parkendes Fahrzeug beim Händler entfernt; weitere bekannte Bugs gefixt; Dekoration erweitert; die neuen Fruchtarten können mit dem Mähdrescher mit einem Maisgebiss geerntet werden; zum möglichen LUA-Fehler gilt das Gleiche wie bei dem Einbau der Zwiebeln und Karotten; Textur des Zauns an der Schafweide und den Schweinen gefixt;

12 Jan 12:22

Version 1.1.0 MultiFruit

Frucht/fruit Karotte/carrot, Frucht/fruit Zwiebel/onion
Verkaufsstellen und Lager für die Zusatzfrüchte
einige Automatik-Tore eingebaut
bisher bekannte Bugs beseitigt

01 Jan 13:45

Version 1.0.0.0
Files

Do you think this mod should be featured?
Unterstütze den Entwickler!
Jetzt mit PayPal spenden
}