Holmer Pack OY
V 19.10 (mp) mod for Farming Simulator 19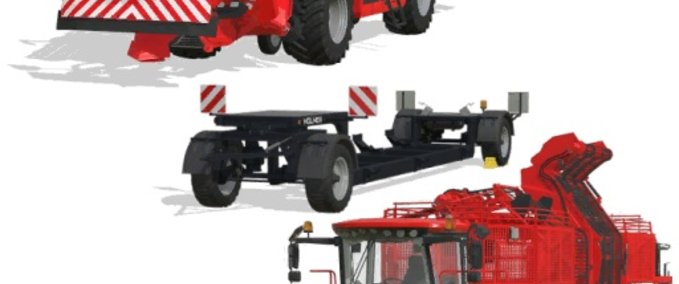 description
featured
The Holmer Pack OY contains all Holmer vehicles and tools with the following additional functions:
color selection

Increased capacity (optional) for Terra Dos


Nursing tires (optional)

Increased working width and speed (20 km) of all cutting units

Increased take-up speed (5,000 liters / second)

Shortened engine start time (1 second)

3 reapers for sugar beet, sugar cane and potatoes


Significantly reduced repair interval
Included in the Holmer Pack OY are:
Terra Dos T-4


Terra Felis 3

HR12 sugar beet cutting unit

HR12 sugar cane cutting unit

HR12 potatoes cutting unit

HR12 cutting unit carriage

Videos are the LetsPlay Yogibrunn # 7, in which the pack is presented.
Watch me on Twitch: https://www.twitch.tv/onkelyogi
Support: https://discord.gg/5tUqKkr
Credits
Modell: 
Textur: 
Script:
Idee / Konzept: onkelyogi
Tester:
Sonstige: 
changes
29 Jul 10:34

Version 19.10 (mp)

- Sichtbarkeit fixed
- Lichtreichweite erhöht

01 Jul 20:08

Version 19.9.1 (mp)

- Terra Dos und MB35 die nach hinten 'fliegenden' Überladepartikel korrigiert
- Terra Dos Überladegeschwindigkeit wieder 5.000 L/Sek

30 Jun 00:43

Version 19.9 (mp)

- Holmer DLC integriert mit Terra Variant und allen Aufsätzen, jeweils mit Farbwahl, Felgenfarbwahl, Kapazitätswahl, Reparaturintervall, Arbeitsbreite und -geschwindigkeit etc.
- Eigene Shop Kategorie 'onkelyogi' angelegt

17 Jun 23:12

Version 19.8.1 (mp)

- Neues Schneidwerk Kopfsalat (lettuce) z.B. für Multimap2019 etc. und kommendes Yogiport Update 19.11
- Beschriftungen der Schneidwerke (Rotkohl) fixed

WICHTIGER HINWEIS:

Wenn du eine Karte spielst, auf der nicht alle Früchte eingebaut sind, die der Holmer TerraDos kann, d.h.
sugarBeet potato sugarCane carrot lettuce onion cabbage redcabbage redCabbage asparagus
erscheint in deiner log.txt eine entsprechende Warnung, z.B. bei Spargel:

Warning: Cutter has invalid fruitType 'ASPARAGUS' in 'C:/Users/ xxx /LS19_HolmerPack_OY/LS19_HolmerPackHR12AS_OY.xml'
Warning (C:/Users/ xxx /LS19_HolmerPackHR12AS_OY.xml): Unable to find fruitType 'asparagus' in fruitPreparer

Diese ist unkritisch und leider unvermeidbar, da unsere Freunde in der Schweiz zu faul waren, für Erdfrüchte-Vollernter
eine eigene fillTypeCategory zu definieren.

16 Jun 04:51

Version 19.8 (mp)

Schneidwerk für Spargel hinzugefügt (z.B. für Südhemmern oder Yogiport Map)

16 Jan 12:36

Version 19.6 [mp]

ai fixed

01 Jan 10:47

Version 19.5 [mp]

Do you think this mod should be featured?