Fertilizeur Calculator with Fiel memory
V 1.5 mod for Cattle and Crops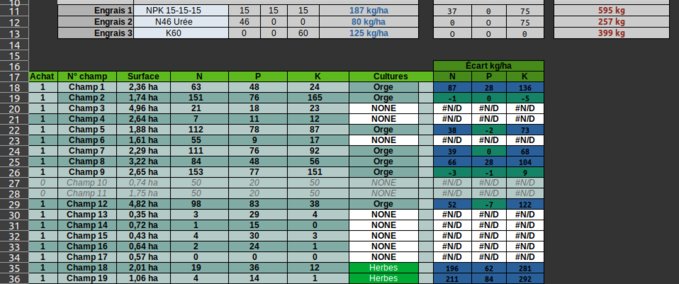 description
Hello everyone !
Knowing that development is abandoned, however, we have a perfectly playable game in which I continue to have a lot of fun!
On the other hand, the system of calculation for the fertilizers, I do not find it really at the top, also, I "hacked" an Excel sheet (in reality or free Office, but for the sake of sharing, converted into .xlsx) .
Even if it is not finished, it is perfectly functional, its principle is to calculate the highest value first, then the next and finally the last.
If you have any suggestion or even advice, I am interested.

Some explanations :
First, you select the field to work on (click on it to see the small arrow in the drop-down menu appear):
It is the Vcal frame that will tell you which nutrient to process first, you must respect the proposed order because it always deals with the smallest deviation to the largest.


In the following columns, you have the fertilizer values, the fertilizer setting, and the remaining values.
If in this section you have negative values, you are exceeding the optimal limits.



In the last box you have an indication of the total amount (in kg) of the fertilizer used.

You no longer select the crop in the upper table, but in the lower table, where you must fill in the NPK values of the fields that are yours:

So you can see at a glance the NPK needs of your fields!
If it is GREEN it means that you are in the nails with more or less 10 kg / ha (thank you to indicate to me if this margin of error seems appropriate to you).
If it is BLUE it means that you are below the optimal values.
If it is RED it means that you are above the optimal values.
To improve readability, I added a column "Purchased" 0 = no - 1 = yes
This unfortunately does not affect the "NPK" columns because they are already subject to conditions themselves (if anyone knows a tip ...)



Credits
Model: 
Texture: 
Script:
Idea / Concept: 
Testing:
Other: 
Empfehlungsrate
-/-
noch nicht genug Stimmen
Do you think this mod should be featured?
Unterstütze den Entwickler!
Jetzt mit PayPal spenden
}