John Deere W330 + 314R
V 1.1.0.0 mod for Farming Simulator 19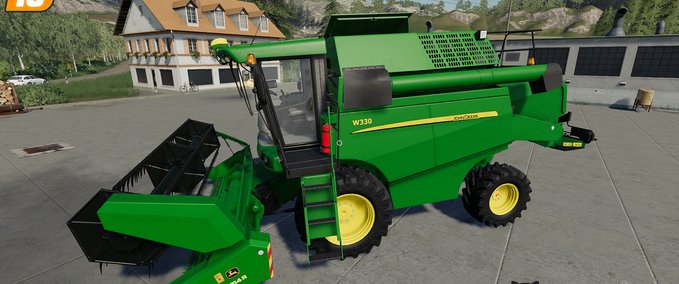 description
Hello
Here I present you the "John Deere W330 with the 314R Cutter" available.
It is already the current fixed version of the Drescher!
Known from LS15 now also for the FS19.
This is a Reskin of the current FS19 model (here's in the DL portal of Wile_E.Coyote) "Sampo Rosenlew C6 Ltd." which is also available in Real.
It is sold under the John Deere brand and is the result of a cooperation with the Finnish manufacturer Sampo Rosenlew Ltd.
Features / Functions
JD design with new decals
Flue gas particle changed
Autocontour installed
two engine versions (Normal, Modify Engine)
Trelleborg and Michelin tires (normal, wide tires)
Complete lighting
New FS19 lamps, headlights installed
InteriorLight added
Instruments, display lighting
Inclined conveyor protection mounted (fades in / out if SW is attached / deattached)
License plate and 30 km / h shield installed
various attachments installed (GPS, fire extinguisher, antenna, etc.)
various xml parameters have been adapted to FS19
etc.
As a small gimmick, instead of the "oversize" shield, I made a "normal size" shield out of it and installed it. Is available in the shop.
After all, after all, this is a middle-class Drescher without excess width.
The whole serves only as fun :)
Dates:
Performance: 215 hp and 253 hp
Top speed about 30 km / h
Working speed: 10 km / h
Tank capacity: 350 liters of diesel
Grain tank capacity: 5200 liters
Cutting width: 4.20m
Purchase price from 134900 € depending on the config
Purchase price SW 18900 €
Have fun threshing :)
MfG Jekyll
Credits
Giants
converted. Niknab
überarbeitet. Wile_E.Coyote (Sampo Rosenlew C6)
Umbau/Änderung: Jekyll (John Deere W330)
Schrägförderer-Schutz by speedy77
changes
19 May 17:25

Version 1.1.0.0

Empfehlungsrate
-/-
noch nicht genug Stimmen
Do you think this mod should be featured?
}