Map « IN FORBIDDEN ZONE 3» - SPIN TIRES V03.03.16
V überarbeitet mod for Spintires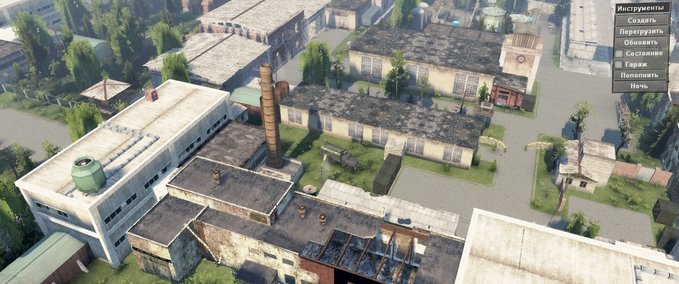 description
"In Forbidden Zone-3" - the card represents a continuation of the theme of the game I started S.T.A.L.K.E.R.
As well as past maps, this one is also not dirty, medium scall)) was tested by default machines.
But this time there is no gas station on the map, but service carts scattered around the map will make it easier for you to play, but still save fuel)))
This time, those who are familiar with the game S.T.A.L.K.E.R., will visit the locations "BAR", "Wild Territory", "Amber".
Who is not familiar with the game, I hope, just nice to ride))
On the map:
Garages - 2 (1 without return)
Lesopoval - 1
Saws - 6
Points of Intelligence - 11
service trolleys - 4
Semitrailer tank on Kamaz
At the start of 5 machines (replaceable)
A little advice !!!
Use cars with a view from the cabin and not very dimensional. Start UAZ replace with alternative SUV, if you carry out reconnaissance))
Kraz with an elongated dissolution feels not very comfortable due to narrow driveways with turns, and the default camera breaks the view when driving under canopies and in underground passages.
So it turned out that the weight of the archive turned out to be large and therefore there might be slight braking and hanging up, I apologize in advance)) I hope you will not be annoyed too much))
P.S .: Many people helped me to create the map, for which I thank them very much!
I will not enumerate, otherwise the list will resemble the novel "War and Peace")) I hope they will see the result of the help themselves)) Special thanks to those who made the objects for my card at my request.
Credits
Modell: Одинокий Странник
Textur: Одинокий Странник
Script: Одинокий Странник
Idee / Konzept: Одинокий Странник
Tester: Одинокий Странник
Sonstige: Одинокий Странник
changes
28 Nov 20:13

Version überarbeitet
Files
Empfehlungsrate
-/-
noch nicht genug Stimmen
Do you think this mod should be featured?
}