Liebherr wrecking ball
V 1.0 mod for Farming Simulator 2013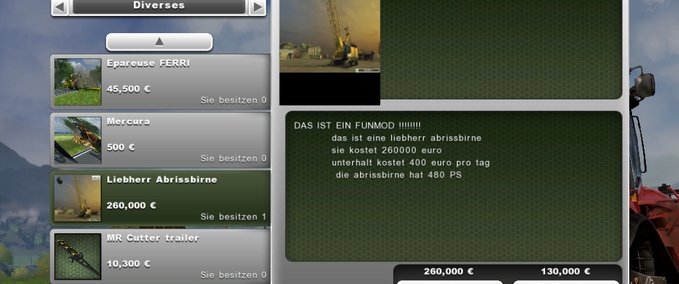 description
here I have a beta version of the wrecking ball well out of the game as the bulldozer (link: http://www.modhoster.de/mods/bulldozer--4)
it is a Funmod
it may be that the some error still makes
the thing costs 260,000 LS Doller and he is entertaining LS 400 Doller
not elsewhere upload!!

facebook: https://www.facebook.com/pages/Boby-2000-Modder-und-Helfer/1405227636425432

PS:

I have read a lot of other mods komentare

Who modding can not do is to refrain!!

if one of the
Csmc-czechoslovakiamodscompany
reads are to write me
Credits
Giants
Boby-2000
Dreadlx
changes
08 Jun 15:04

Version 1.0

sie hat jetzt eine mouseControl

danke
an Dreadlx für die mouseControl
und an ClaasXerion5000NRW für das video

jeder der will kann von meinen mods videos machen, weil ich keine zeit darfür habe

jetzt viel spaß mit der abrissbrine

22 May 19:17

Version 0.1 Beta
Files
checksum:
4cc4fb03ace20c0b203a56bb14a14b59
Version:
1.0
multiplayer ready?
yes
Author:
Boby-2000,GIANTS Software GmbH
price in shop:
260000 LS
name in shop:
Liebherr Abrissbirne
description in shop:
DAS IST EIN FUNMOD !!!!!!!!
das ist eine liebherr abrissbirne
sie kostet 260000 euro
unterhalt kostet 400 euro pro tag
die abrissbirne hat 480 PS

Do you think this mod should be featured?
}