Lippischer Hof
V 1.2 mod for Farming Simulator 17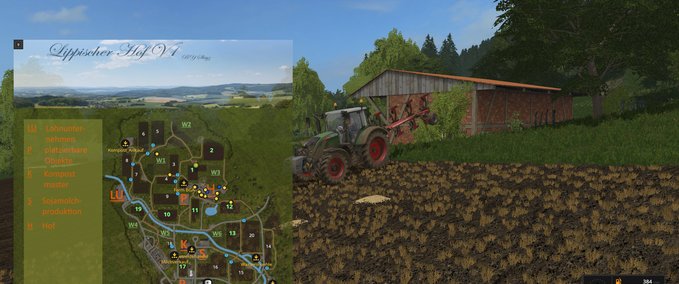 description
featured
Welcome to the Lippische-Hof. Who seeks relaxation is just right. In Lippi you can expect a little helfer-friendly map of me lovingly and without any specifications. Everything is free invented. Whether it looks like this in the Lippe real you have to judge. Since this is my first map please i consider small mistakes. As a base location served the popular three star Hof Map of this is really but a few buildings not much to see. Since I have little time to play myself, I have built a kind of landscape according to my ideas and play the map still like very much. At this point, I'd like to thank Ritchif for being with him all the time with his experience. Together with Redkeinstus who took care of the Seasons adaptation. The whole Wee5t Com. through which it is even possible to share this card with you.   So that's what you expect. All animals at the farm (tip ... to start the game you have to take care of the animals! it is all necessary available you just have to search ...) 1 small courtyard BGA 3 sales stalls (water mill, grain trade and windmill) Cattle dealer with barn (sale of straw, grass and silage bales) Spinning for woolen milk sales Tree school with dung and compost sale compost Master Soy milk production 20 fields with missions 7 meadows fertilizable and in possession 3 forest areas 2 surfaces for placeable objects A contractor with own place for machines, etc Sawmill with points of sale (district heating plant) Workshop and gas station at the yard Several water points (Hofteich) Traffic vehicles and pedestrians Street lighting and and and   The map runs as far known without log error in the single player It has been extensively tested and it should nothing stand in the way of the fun.   Thought was the whole with 3 meters of machines and tractors the middle power class. But even with oldies you can have fun. The surfaces are designed by me from flat to steep so that everyone gets their money. For some time now, there has been a very popular Youtuber who introduces the map in the form of a Lets Play. He is probably the biggest thanks because he has put together the different Schittstellen and so this project has made possible at all. Thank you Diego / Wee5t.
Credits
Modell: 
Textur: 
Script:
Idee / Konzept: Slayz  ( Ritchif und Redkeinstus)
Tester: Wee5t Com. / Diego / Ritchif / Manu09 
Sonstige: Sardor Percy / Ruffrider


changes
07 Oct 21:34

Version 1.2

- Div. optische Fehler behoben
- paar kleinere Sachen am Hof geändert
- neue Scripte verbaut ( Grazing Animals und Wassertrog Addon ) https://www.fs-uk.com/download/mod/39589
- Kuhweide ist die alte Wiese 3 (nicht mehr düngbar)
- PDA professionell verbessert
--------------------------------------------------------------------------------------------------------------------------------------------------------
- In der Beschreibung zur V1 vergessen Chopped Straw und Seasons Mod vorbereitet

Ich bedanke mich für die vielen netten Nachrichten,Streams, Let´s Plays ich bin total sprachlos.

19 Sep 22:42

Version 1.1
Files
| | |
| --- | --- |
| checksum: | 4f93683bb21605adce98faa0d6afa361 |
| Version: | 1.2 |
| multiplayer ready? | yes |
| Author: | Slayz80 |
| price in shop: | LS |
| name in shop: | Lippischer Hof |
| description in shop: | Lippischer Hof ist eine kleine Karte die sehr Iyllisch von Mir gestaltet wurde. Die Landschaft ist dabei frei Erfunden. |

Do you think this mod should be featured?
}