My big city
V 2.2. Überaschung mod for Minecraft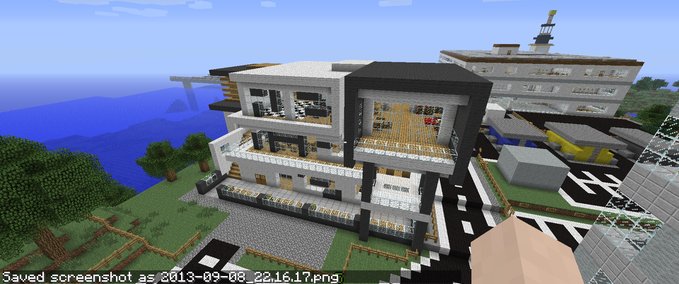 description
Hi,
Here I want to show you my big city. In the Map stuck about 200 hours of work for me and my friends drinne. And I've built the large part and my pals have built their share on the map. A big thank you also goes to the person you, of which I got einzellne building. This made ??it all the more something better.
The highlights are the major football stadium, the Olympic ski jump area, exit, skating and bobsled and biathlon track (on the map distributed). Moreover, even the swimming pool, the luxury district and the nuclear power plant.
The following items can be found on the map:
Entrenchment
Outdoor pool
Residential buildings
Office Complex
Port
Radio Studio
Luxury Homes
Football Stadium
Winter field
Airport
Prison / Police
..............
New in V2 (Weihnachtsüberaschung)
new farm with light sensor, large cow pasture and hay storage
new subway line and redesigned subway line
new restaurant with outbuildings
Central Station with shops, tram and metro connection
S-train route through the central station (Liebherr grounds to nuclear power plant)
other luxury homes in Desert
Company expansion at Liebherr
new construction company in desert region
new outdoor swimming pool -> old closed
I hope you since satisfied with my map and even send me more suggestions for my map, so I can build them even further.
To follow all the projects for 2014 are managed. 2015, there will perhaps go on who someone is to help build otherwise the map is left so. This would be very sad. :(
But first I wish all Minecraft players a Merry Christmas, lots of gifts and a happy new year.
little info:
Maybe Santa Claus puts also something for the map under the Christmas tree.
It is forbidden to upload the map on other sites without my permission
Credits
Ich und meine Freunde
changes
17 Feb 15:11

Version 2.2. Überaschung

Neu ist die Skiesprungschanze und die Straßen

26 Dec 17:00

Version 2.1 Weihnachtsversion

Der Weihnachtsmann hat ein großes Geschenk neben dem Fußballstadion abgelegt. Viel Spaß

24 Dec 00:02

Version 2.0

Neu in dieser Version ist:
neuer Bauernhof mit Lichtsensor, neue U-Bahnstrecke, neues Restaurant, Hauptbahnhof, S-Bahnstrecke, Luxushäuser, Firmenausbau, neue Baufirma und ein neues Freibad

27 Sep 18:44

Version 1.0

neues Freibad hinzugekommen
neuer Büroturm
U-Bahnnetz ausgebaut
Files
Empfehlungsrate
-/-
noch nicht genug Stimmen
Do you think this mod should be featured?
}