North Frisian march
V 1.4 ohne Gräben mod for Farming Simulator 19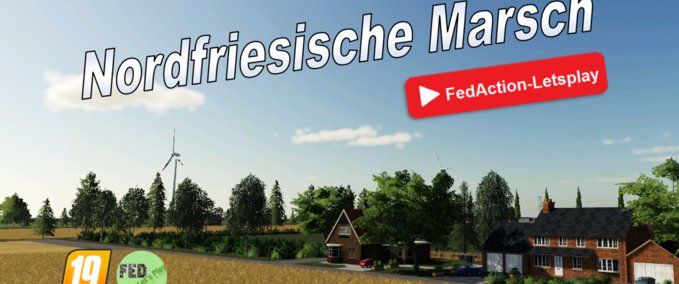 description
featured
Moin people, the wait is over and I can show you the Nordfriesian March V1 Beta. Unfortunately, there are still no productions but very many sales opportunities.
North Frisian plains with attention to detail, typical of dikes, ditches, forests, deco windmills
Large fields (20 cereals, 14 grass)
17 sales stations
2 bga's
New missions
Very much space for placeable objects of all kinds
I wish you a lot of fun and good luck on the NF march
Kind regards
FedAction-LetsPlay
Credits
FedAction LetsPlay
changes
16 Mar 10:59

Version 1.4 ohne Gräben

Die 1.4 ohne Gräben

14 Mar 17:02

Version 1.4 Multifruit

Neue Frucht Dinkel
Neue Frucht Hirse
Neue Frucht Mohn
Neue Frucht Luzerne
Kanalmitglieder Rahmen im Shop wieder auf dem neusten Stand (Vielen herzlichen Dank an euch)
Warnschilder an den BGA Silos
Roggenstroh Ertrag ca 30% weniger
Gebäude Bahnhof, Mischfutter, Bäcker, Molkerei, Deko Restaurant nicht mehr zu dunkel
In der großen Halle am Hof ist kein Müll mehr
Hopfenpreis um ca 10% gesenkt
Baum neben Feld 23 außerhalb der Map gefixt
Doppelter Baum neben Hansano und Feld 3 gelöscht
Doppelter Baum Graswiese Hof zu Feld 1 gelöscht
Doppelte Baumreihe über Feld 8 gelöscht
Partikel Fruchtsorten sollten jetzt klappen
Farmlandpixel zwischen Feld 17 und 18 gehört nun nicht mehr zu 15
Schwebenden Briefkasten gefixt
Bushaltestellenschilder sollten jetzt stehen bleiben
Alle BGA Silos und Bunker nochmal überarbeitet
Sämtliche Lichter in den Hallen am Hof geändert
Alte Bushaltestellebschilder gelöscht
Brücke zu Feld19 noch mal geändert
Unter der Map liegende Silowände, Bänke und CashAutomat gelöscht

24 Feb 16:31

Version 1.3

Neu in V1.3
Alle Felder sind definiert (27,28,29,30,31,32,33,34,35)
Ertragsmenge und Verkaufspreis von Zwiebel und Karotte angepasst
Schwebender Eimer am Hof gefixt
Strohschwad vom Roggen ein wenig verringert
Die Silos zwischen Hafen und Zuckerfabrik schweben nicht mehr
Brück zu Feld 19 etwas angepasst
Schwarze Deko an der Halle am Hof entfernt
Kanalmitglieder Map im Shop auf neusten Stand
Loch bei der Deichauffahrt gefixt (ohne Gräben g21 und f19)

14 Feb 20:19

Version 1.2 Multifruit fix

Erledigt für V1.2 Fix

- Falsche Silotextur am Bahnhof, Depot und Klärwerk geändert
- Feld 24 neu kalkuliert (nun Courseplay tauglich)
- Leicht schwebendes Haus Feld 23/24

13 Feb 19:14

Version 1.2 Multifruit

- Neue Furcht Hopfen

- Neue Frucht Karotten

- Neue Frucht Zwiebeln

- Neue Frucht Roggen (Textur wird noch in künftiger Version geändert)

- Neue Fruchtsymbole (fruithud) im Verkaufsmenü

(der mod zzzz_IndividualHudFruit wir nicht mehr gebraucht)

- Kanalmitglieder Namen im Shop auf neustem Stand

- Alle BGA Bunker nochmal etwas angepasst

- Silagebunker bei den BGA's fermentiert nun in 30 ingame Stunden

- Verschwunden Haus an der Weberei ist zurück

- Gras auf Parkplatz bei der Bank entfernt

- Straße zwischen BGA Süd und Feld 18 in der Höhe leicht verändert

- Spawnpunkt am Shop geändert man landet beim Verlassen nicht mehr im Tisch

- Fehlendes Stück Holzzaun neben Haus beim Klärwerk eingefügt

- Fehlendes Stück Holz neben Haus bei BGA Süd eingefügt

- Schwebende Strommasten

- Schwebende Bahnübergangsschilder

- Schwebende Lampe am Bahnhof

- Grastexture aus dem Verkaufstrigger bei der Zuckerfabrik entfernt

- Zaun am Stadion geändert

- Bodentexturen am Hafen gefixt

- Wachsendes Gras am Hafen entfernt

- Fehlerhafter Eimer beim Pferde Reitplatz entfernt

- Silo beim Zellstofffabrik in der Höhe angepasst

- Schwebende Container am Hafen gefixt

- Feld 24 Grenzen überarbeitet (nicht mehr neben der Map)

- Brücke Feld 23 zur BGA Nord angepasst

- Zur Info mit dem künftigen Patch 1.3 werden wohl neue Ernter für die neuen Erdfrüchte benötigt (Gibts dann auf https://www.nexusmods.com/farmingsimulator19)

17 Jan 19:45

Version 1.1 ohne Gräben

Die 1.1 aber ohne Gräben

14 Jan 21:26

Version 1.1

Fliegendes Schild bei Weberei gelöscht
Verkaufsbereich Raiffeisen etwas verschoben (Savegame Änderung nötig auf -233.422 99.57 )
Sounds der Map angepasst
Schilder Bushalten bleiben nun stehen und haben keine Collision mehr
Auto BGA Nord steht nicht mehr in der Carportwand
Auto Aral steht nicht mehr in der Carportwand
Auto beim Heizkraftwerk steht nicht mehr im Zaun
Zaun am Hofhaus noch mal weiter von Feld 1 entfernt
Grasfeld am Hof jetzt ohne fehlerhafte Grasränder im Feld
Grasfeldmissionen sollten jetzt klappen
Schiffe Route nicht mehr zu tief
BGA hat etwas mehr Kapazität und arbeitet schneller
BGA Bunkerwände verbessert
Straße bei Gärtnerei zum Deich angepasst
Baumwolle vom Deich bei Feld 13 entfernt
Weizen bei Feld32 entfernt
2 Doppelte Bäume im Wald beim Sägewerk gefixt
Brückengeländer jetzt mit Collision
Feld 6 Ecke zum Baumarkt etwas angepasst

28 Dec 13:47

Version 1

Erledigt für Version 1

Gärtnerei nimmt nun auch Mist an
Klärwerk als neue Verkaufsstation für Gülle
BGA Gebäude geändert
Alle BGA Silos angepasst
Bäckerei nimmt nun auch Sonnenblumen an
Hackschnitzelverkauf beim Zellstoff funktioniert
Hackschnitzel und Strohverkauf beim Heizkraftwerk funktioniert
Graswiesen am Hof sind nun auch düngbar
Landpreise für Wälder reduziert
Milchverkaufspreis erhöht
Rotes Auto am Hof entfernt
Hallen am Baumarkt schweben nicht mehr
Sägewerk Boden Deko gefixt
Falsche Deko Map getauscht
Gras aus BGA Silo BGA Nord entfernt
Ein paar parkende Autos bei Feuerwehr hinzugefügt
Einfahrten Bereich 31 gefixt
Kein Gras mehr in Zellstofffabrik
Stehende Personen im Park
Bodentext bei Brauerei gefixt
Baum auf Feld 3 entfernt
Strommast auf Feld 3 steht nicht mehr im Feld
Mini Hügel auf Feld 34 geglättet
Händler Stromkasten verschoben
Einfahrt zur Bäckerei weniger hügelig
Gras auf Parkplatz bei Bäckerei entfernt
Bäckerei parkende Autos stehen nicht mehr in der Wand
Schild zwischen 8 und 9 jetzt ohne Kollision
Sägewerk Bodendeko schwebt nicht mehr in der Luft
Sägewerk Gras auf Hofplatz entfernt
Kollision auf Straße vor Baumarkt angepasst
Feld 11 ein Baum etwas tiefer gesetzt
Hafen diverse schwebende und in Gebäude steckende Objekte gefixt
Schwebende Parklätze und Objekte bei der Zuckerfabrik auf Boden zurück geholt
Schwebende Flutlichter und Lampen gefixt
Schwebende Objekte BGA und Mischfutterfabrik gefixt
Silo BGA Nord jetzt mit Kollision
Nordzucker die Bodentextur teilweise angepasst
Schilf Deko auf Feld 2 etwas schmaler
Gebäude Bäckerei und Mischfutterfabrik haben jetzt Kollision
Fußgänger Laufhöhe angepasst
Schwebende Autos beim Eingang Lidl li + Re
Feld10 ragt nicht mehr auf die Straße
Etwas mehr Platz zwischen Feld 1 und Holzzaun
Shop Kaufbereich in Halle verschoben

21 Dec 16:35

Version 1 Beta
Do you think this mod should be featured?
}