Realistic Graphics Adega Mod Pack FIN+SP
V 4.4 mod for Spintires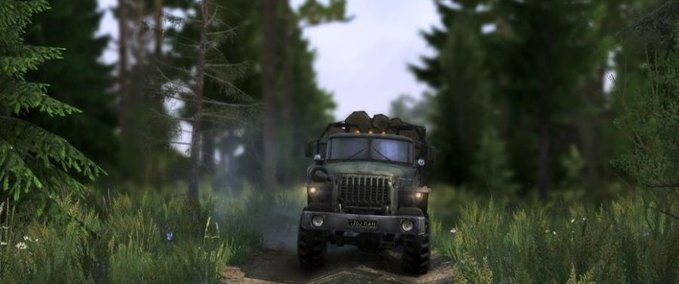 description
Version 4.4 + Sp
.
- Added new lush Christmas trees. Optional Optional. (Active by default).
- Fixed headlights on cars and headlights on cranes to warmer tones.
.
Graphics
- Returns the game to natural colors
.
- Removes stains on the camera
- Removes noise at night
- Make the trees in the game fluffy
- Changes the grass in the game to a more natural
- Removes the ridiculous red cast from all plants
- Replaces the winch rope with a natural one
- Changes the weather with a smooth daily routine
- Makes beautiful sky and clouds
- Makes water realistic
- Corrects the ground surfaces of the game
- Fixed more than 140 textures, I don't see the point in listing them all
.
- Makes dust more realistic and there are options to choose from
- There are 6 different types of logs
- ReShade is available with the best customized filters
.
- Changes the appearance of stones
- Changes the appearance of the bump buffer
- Tweaked many textures
- There are new dashboard options
- It is possible to make the compass transparent
.
- There is a choice of clouds
- Various night options
- Options to choose from: young month, full moon, no moon
- It is possible to remove dirt parts from the wheels
.
- Ability to select realistic water splashes
- Corrects headlights to white and adjusts the rest of the vehicle lighting
.
- Turn off streetlights during the day
- Turn off extra headlights in cars during the day
Cars and Addons
- The original grilles (Ural 4320, Ural 432010, Gaz 66, UAZ 3151, KamAZ 65111, KamAZ 65115, KamAZ 4310, MAZ 6317, Kraz 255, Zil 131) work properly in multiplayer mode
- 5 cars returned to the game menu, removed by developers: 2 cars A-968M, C-4320, C-65115, D-535
.
- Many cars have additions that were not registered before (long resolution, autonomous crane, platform with crane)
.
- Also, most cars have additional tanks added
.
- Fixed wheels UAZ 3151 and Ural 432010 in the terrain
.
- Performance and other characteristics of the car are not affected
.
- Zil 130 and Kamaz 65115 differential is connected
American trucks plus
- All American cars have improved traction without increasing power
.
- GMC DW950: supercharger installed, new texture on headlights, constant differential, increased steering angle.
- Ford LTL9000 supercharger installed.
- Freightliner FLD120 repair parts installed.
Ridge DLC Plus
- D-538, B-6A increased off-road capability and engine performance.
- Added B-6A and tanker hook points. Added trailer.
Various
.
- It is possible to turn on branch physics
.
- It is possible to turn on the physics of stones
- It is possible to select the checkpoint of the point of intelligence
- Simplified garage menu for SpinTiresMod 1.9.1
-Remove on-screen labels
- Removes unnecessary labels: response, transfer, passed, distance and steering devices are used
.
Credits
Modell: Adega
Textur: Adega
Script: Adega
Idee / Konzept: Adega
Tester: Adega
Sonstige: Adega
images
Files

Empfehlungsrate
-/-
noch nicht genug Stimmen
Do you think this mod should be featured?
}