Silo Set, placeable and transportable
V 1.0 for CnC 1.3.5.5 mod for Cattle and Crops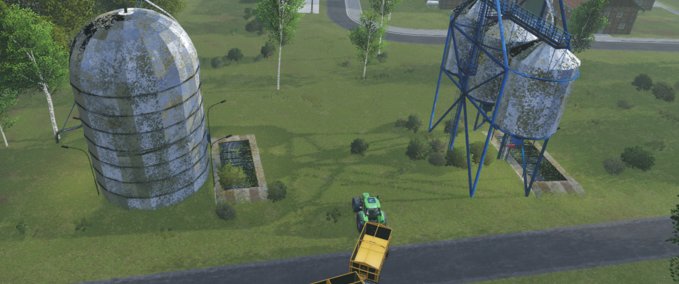 description
Hello,
enclosed a mobile silo set. The set currently consists of 2 silos for threshed fruits (barley, maize, rye, wheat):
A large round silo with 2,000,000 l capacity
The 3 conus silo with 600,000 l capacity
The silos operate on a grade-by-grade basis. If, for example, barley is in the silo, no wheat or corn can be filled into the silo. But beware. If you drive with a trailer under the loading tube, the silo automatically starts loading the trailer. No matter whether there is still something in the trailer.

The invisible 3 point suspension is located in each case front of the ramp. During transport, all collisions of the silos are eliminated. The collisions are reactivated when uncoupled, so be careful where the silo is placed. If the silo is placed on a fence or tree, unpleasant things can happen, such as the silo flying wildly through the air.

The fill pipe on the silo is the loading point for the trailer in each case. If you drive into the trigger with a trailer it will be loaded automatically without asking. The ramp is the unloading point or the filling point for the silo. Here a trade window opens, but this is only for information, to show the current fill level and content (not counting while filling the silo). This type of trade window is currently unfortunately without function in mods. Unloading is then also done here by manually unloading using the "U" key. The contents of the trailer are now conveyed into the silo.
Notes:
Unfortunately, currently in CnC the tires of all vehicles do not detect collisions (solid surfaces), so I had to lower the ramp enough to allow the vehicles and trailers to drive over the collision without the tractor and/or trailer colliding with it.
I have ventured again with this mod in for me new areas. Now this did not work flawlessly everywhere in the result. The mod has a few minor texture errors. For once again Everything new I currently lack the patience and motivation.
The panel at the smaller 600 silo is still without function

Much fun
Pebcak
IT IS NOT ALLOWED TO UPLOAD THE MOD AGAIN, PLEASE USE THE ORGINAL DOWNLOAD LINK
Credits
Modell: Pebcak
Textur: Pebcak
Script: Pebcak
Idee / Konzept: MuckyPub, Pebcak
Tester: Pebcak
Sonstige: 
changes
11 Oct 19:06

Version 1.0 for CnC 1.3.5.5
Empfehlungsrate
-/-
noch nicht genug Stimmen
Do you think this mod should be featured?
Unterstütze den Entwickler!
Jetzt mit PayPal spenden
}