SM V 4.1
V SM V4.1 ist Optimiert auf die Version 1.18.1 mod for Minecraft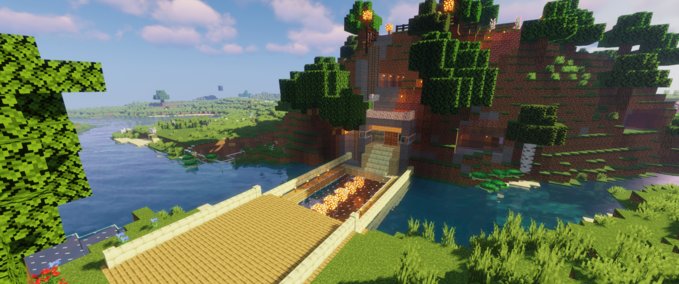 description
Good evening folks.
Here I publish my map, which is expanded every day by about 25%, ie at least 2 big new things and
Many other little things
I started my project this afternoon and I already have the following:
"Berghaus" with 1 small storage room and a tree house and a complete passage "through the house in the mountain house" through the mountain.
1 secret cave with a little surprise for you
A door in front of the warehouse "All boxes are still empty" The door closes with a secret code, but this will be fixed in the next version.
The project is NOT COMPLETE, so please do not give criticism so hard. I give my best
This project is supposed to be a "3 Days Rich Survival Challenge", where the aim is to use up as much as possible within 3 days. Of course, newer "smaller" challenges will be included in the course of the coming months. Let yourself be surprised first :) The project is still in the alpha version.
You are not allowed to sell the map any further, or spend it as your own. You can remove credits or whatever. Do what you want with it as long as it doesn't become a server, If it becomes a server, which I don't think so. Then please do not remove the credits
Adiooos for today people :)
VERSION: a1.0
changes
23 Jan 20:54

Version SM V4.1 ist Optimiert auf die Version 1.18.1

nur ein Update von 1.17.1 auf die Version 1.18.1

28 Nov 18:39

Version SM V4.1 Mini Updated

Steht alles bereits in der beschreibung, Die Version wurde auf die neuste Version angepasst, Schienennetz wurde erweitert und weitere kleinere änderungen die aber nicht aufs Auge stoßen z.B Landschaft bisschen verschönert usw

28 Aug 22:41

Version SM V4.1

Stand: 28.08.2021

Version v4.1:
Eingang vom Berghaus deutlich verbessert
Bienenhaus gebaut
Haus optisch sowie innen verschönert und unnötige Glowstones entfernt und stattdessen mit Fackel ersetzt, um Augenkrebs zu vermeiden
Tiere mit Zaun und tor gespawnt und gebaut
Bienenhaus gebaut mit Glas rundum
Bäume angepflanzt sowie viel Gras und blumen
Komplett das Design nochmal Überarbeitet, sodass es viel Anständiger von außen Aussieht.
Bekannte Probleme:
Die Redstone Tür lässt sich nur Schließen, statt öffnen. (In Arbeit stand 13.08.2021)
Redstone Unsinn komplett entfernt sowie den großen Baum im Himmel mit dem Wasser drumherum entfernt d.h komplett abgebaut
Innen ist die Baut Unvollständig Innen ist die Baut nun vollständig abgeschlossen
Baumhaus ist unvollständig bzw "Unausgereift" Baumhaus komplett entfernt
Alle Truhen sind Leer Es wurde eine Anfänger Truhe und eine Wertvolle truhe hinzugefügt
Man startet nun im Survival Modus statt Creative Modus mit 2 Büchern an der Hand
Die Map wird 1x die Woche geupdatet und ggf. alle 2 Wochen hier hochgeladen

13 Aug 00:15

Version SM 1.3

-unnötigen Glowstone entfernt
-Höhlensystem ausgebaut
-Lavamine haltestelle entfernt und das lava entfernt
-das Haus verschönert
-Tiere hinzugefügt
-und vieles mehr viel Spaß beim erkunden :)

12 Aug 00:42

Version 1.2

Nach Langer Zeit Mal Wieder

Lange zeit ists her Ich habe ein paar neuerungen gemacht

Bahngleissystem ins Dorf hinzugefügt
höhlensystem hinzugefügt
ein paar kleinere neuerungen hinzugefügt und das Haus weiter ausgebaut

29 Feb 00:20

Version 1.1

Version a1.1:

Eingang vom Berghaus etwas ausgebessert, Sowie Etwas am Baumhaus verbessert
Komplett das Design nochmal Überarbeitet, sodass es viel Anständiger von außen Aussieht.

Bekannte Probleme:

Die Redstone Tür lässt sich nur Schließen, statt öffnen.
Innen ist die Baut Unvollständig
Baumhaus ist unvollständig bzw "Unausgereift"
Alle Truhen sind Leer, und viele Werkzeuge werden als "Voll Ausgeschöpft angezeigt"

27 Feb 21:06

Version a1.0
Files
Empfehlungsrate
-/-
noch nicht genug Stimmen
Do you think this mod should be featured?
Unterstütze den Entwickler!
Jetzt mit PayPal spenden
}