T-150 6x6
V 1.0 mod for Spintires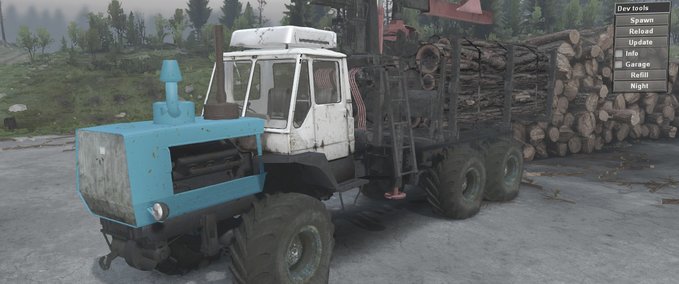 description
Mod made for me, maybe someone else will fit for a change.
Tweaked the mod for the new version 1.7.1, tweaked the engine noise, tweaked the lights
.
Adjusted the gearbox, added tracks, wheel descent and pumping, mandatory steering wheel animation.
Rewrote it to avoid confusion with other mods.
It has:
- 2 of their add-ons + standard trailers;
- Animation of the steering wheel and arrows;
- carries 4 wooden dots + another trailer;
View from the cockpit
Credits
Modell: Sergo 
Textur: Sergo
Script: Sergo
Idee / Konzept: Sergo 
Tester: Sergo
Sonstige: Sergo
Files
Empfehlungsrate
-/-
noch nicht genug Stimmen
Do you think this mod should be featured?
}