[ATS] JBX Weather Mod v1.1
V 1.6.6.1 mod for American Truck Simulator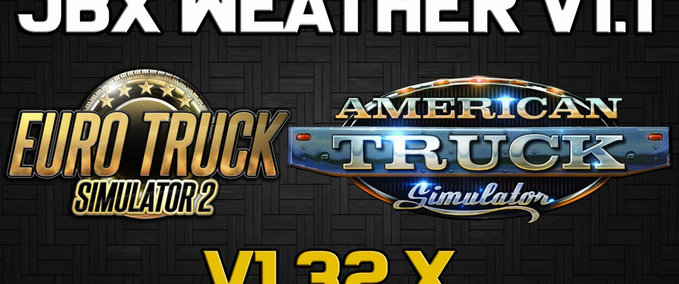 description
JBX Weather is a modification to improve automatic exposure, bloom and color temperature. It can be used without Reshade or complement with my JBX Preset.
Features:
– Less Bloom
– Less Auto exposure
– Better Color Temperature
Changelog
v1.1: Adjustments and improvements in ambient lighting and sun shadows.
Note: For better visual of the environment use my JBX Preset.
Adjustments required* in the Game
– Anti-Aliasing (MLAA): OFF (*)
– High Dynamic Range: ON (*)
– Depth of Field (DOF): OFF (*)
– Rays of Sunshine: ON (*)
– Color Correction: OFF
– Anisotropic Filtering: Maximum (*)
I recommend playing in the best graphic quality + 400% Scaling + Full HD
For better visual quality apply all the graphic settings I recommend. It affects the performance.
Necessary settings for JBX Weather and Preset v1.9.11 (Config.cfg)
uset r_gamma "1" (Important)
uset g_bloom "1" (Optional)
uset r_color_correction "0" (Optional)
Path: DocumentsAmerican Truck Simulatorconfig.cfg
Path: DocumentsEuro Truck Simulator 2config.cfg
Note: Exit the game before modifying config.cfg
Compatible: ATS 1.32.x, Viva México Map, JBX Preset
Giving thanks costs nothing.
Credits
Modell: JuanBonX (Mod), DriverStein
Textur: JuanBonX (Mod), DriverStein
Script: JuanBonX (Mod), DriverStein
Idee / Konzept: JuanBonX (Mod), DriverStein
Tester: JuanBonX (Mod), DriverStein
Sonstige: JuanBonX (Mod), DriverStein
changes
29 May 18:21

Version 1.6.6.1

[ATS] JBX Weather 2 v1.6.6.1 (27-5-2020) 1.37.x

JBX Weather 2 is a modification for American Truck Simulator and Euro Truck Simulator 2. Offers a greater variety of high resolution sky textures (8192×2048).

All the sky textures were modified and adapted for ATS/ETS2 by JBX GRAPHICS. Editing My Work or using it in other modifications is not allowed. Read terms of use for more information.

THIS IS AN UPDATED VERSION OF V1.6.6 RELEASED FOR EVERYONE. IF YOU RESPECT MY WORK, DON'T SUPPORT PIRACY!

IF YOU WANT TO GET THE LATEST VERSION OF MY WORK WITH MANY IMPROVEMENTS, COMPATIBILITY, NEW SKIES AND ADDITIONAL FIXES, YOU SHOULD VISIT MY FORUM FOR MORE INFORMATION. IT'S NOT FREE!

Features:

– 81 High Resolution Sky Textures
– Better Transition
– Better Dusk and Rain
– Better Bloom
– Better Lighting
– Better Contrast
– Better Color Balance
– Better Color Saturation
– Better Color Temperature
– Sunrise 6am/Sunset 18pm
– Less Auto Exposure
– Less Glass Opacity for SCS Trucks

THIS VERSION DOES NOT WORK 100% IN V1.36 AND V1.37.

Changelog:

v1.6.6.1 (27-5-2020)

– Fixed: Sun Texture Path

Note: Activate High Dynamic Range HDR and Color Correction in Graphics Options. Disabled Time Zones in Gameplay Options.

Compatible: ATS/ETS2 1.33.x, 1.35.x, 1.36.x for DX9 and DX11, ProMods, EAA, MHAPro, RMP, Viva México, CanaDream, C2C, ATMX, JBX Settings

Credits:
JBX Graphics (Mod), Viz-People (Author), Hyperfocal Design (Author), HDRi-Skies-360 (Author), SCS Software (Author)

10 Dec 21:17

Version 1.3

JBX Weather is a modification to improve lighting, automatic exposure, bloom and color temperature. It can be used without Reshade or complement with my JBX Settings.

Features:

– Less Bloom
– Less Auto exposure
– Better Lighting
– Better Color Temperature

Changelog

v1.3:

– Better Ambient Color
– Better Ambient Light
– Better Lighting
– Less Auto exposure

Note: JBX Weather should always be on top of the other MODS.

Adjustments required* in the Game

– Anti-Aliasing (MLAA): OFF (*)
– High Dynamic Range: ON (*)
– Depth of Field (DOF): OFF (*)
– Rays of Sunshine: ON (*)
– Color Correction: OFF
– Anisotropic Filtering: Maximum

Adjustments required* in Config.cfg

– uset r_gamma "1" (Important)
– uset r_color_correction "0" (Optional)
– uset g_bloom "1" (Optional)

Path: DocumentsAmerican Truck Simulatorconfig.cfg
Path: DocumentsEuro Truck Simulator 2config.cfg

Note: Exit the game before modifying config.cfg

I recommend playing in the best graphic quality + 400% Scaling + Full HD

For better visual quality apply all the graphic settings I recommend. It affects the performance*

Compatible: ATS/ETS2 1.31.x, 1.32.x, 1.33.x, Grimes Weather, ProMods Map, EAA Map, Viva México Map, JBX Settings

Incompatible: Realistic Graphics Mod, Piva Weather, New Weather, HDR Fix, Improved Weather Reload

23 Nov 17:30

Version 1.1
images
Files
Empfehlungsrate
-/-
noch nicht genug Stimmen
Do you think this mod should be featured?
}