Giants Elite Reloaded
V 3.1 mod for Farming Simulator 17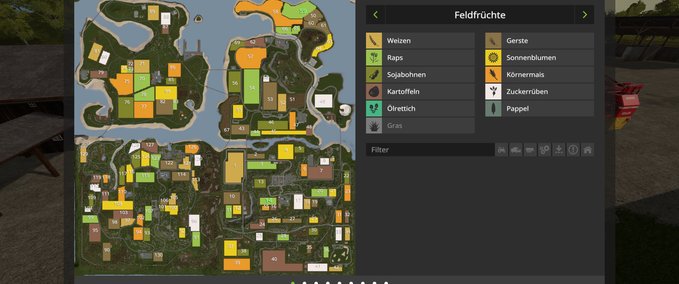 description
The map was rebuilt from scratch, there are about 850 hours of work in the map.
The map consists of four maps:
LS2009

LS2011

LS2013

LS2015
Many details and large forests characterize the map.
The fields also have something for everyone, whether large or small fields, whether quadrangular or polygonal fields. The choice is up to you.
Have fun with the map. :-)
!!! The complete map has been updated to the latest version of the LS 2017 and tested in single as in multiplayer !!!
Additionally installed were:
Version 1.0: The water trough addon
In the following versions maybe a few new animals and factory script objects will be installed.
Thanks for the objects:
Niggels

Katsuo (Agrarteam Franken)

Steffen30Muc (Agrarteam Franken)

Basti Pickel (Agrarteam Franken)

FQC-Art

DaGoasse

GSI Flash

B34STx

Jauch Paule

kevink98

Marhu

fqC Art.

LS-Modcompany

Farmer_Andy

Christians farmland technique

Desperados93

robbie / rwm

RC Devil - Black Sheep

RedSky

Fendtfan1

GTX (LS-MODCOMPANY)

   In case of errors or other suggestions please contact us !!!

The map may be shared :)
Credits
Modell: 
Textur: 
Script:
Idee / Konzept: MN99
Tester:
Sonstige: 
changes
16 Aug 12:15

Version 3.1

Schlamm

16 Aug 12:14

Version 3.0

Verkehr eingefügt
Schwebende bäume entfernt
weitere Plantagen eingefügt
Leuchtturm Fehler entfernt
Zug auf 260 kmh erhöht
Pflaumen
Kirschen
Fehler Zugspline behoben

09 Aug 19:50

Version 2.0

Eingefügt wurde: Futtermischer- Schweine/Kühe
Wasserspeicher
Silo für Kalk/MineralDünger/Saatgut
Seedmaster
Kalk
Compost
Gülle Mist und Kalk Mod
Choppedstraw
Sojamilch Produktion
Pro Nature Ag
Sägewerk (Bretter Herstellung)
Tomaten
Gurken
Kopfsalat
Äpfel
Butter

03 Aug 07:13

Version 1.0
Files

Do you think this mod should be featured?
Unterstütze den Entwickler!
Jetzt mit PayPal spenden
}