Sudenhagen
V 2.0.1 mod for Farming Simulator 15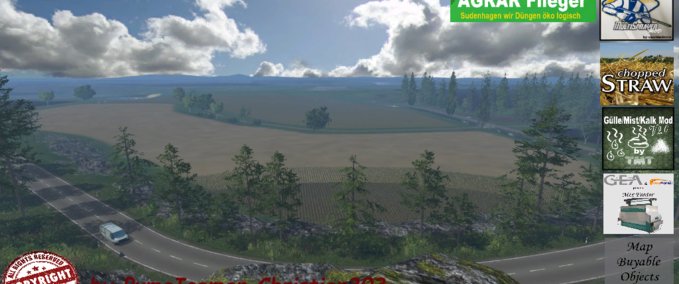 description
featured
This is the first attempt by me to build a map. I hope there are not too many errors in it, Singel and multiplayer everything was great. On the server, not tested. I would like to thank all the modders: Items without their buildings and for me a map construction would not be possible. Suggestions for improvement I am always open, perhaps there is indeed one or the other of me can support.
Welcome to Sudenhagen.Ihr farms an agricultural cooperative that one Nebenhof where you can store fruits and a main courtyard of the dairy farm and there is a little off there are sheep.
Furthermore, there is a Schweinezuchthof.Ihr Have Two biogas plants, a business park where you can wool, rape, sugar beet, pigs and cattle sell a riding there can beet, straw, grass and hay are sold. Agravis buys all the fruits and there Can you fertilizer, lime and seed Buy a distillery buys wheat and potatoes.
In this map the slurry, manure, lime weed and chopped straw mod is installed. To fertilize it git catch crops clover and alfalfa. Now I wish you much fun while gambling.
The map may be offered only to the original link in other forums or the like!
The file can not be uploaded again, I ask for your understanding and have fun with the map
changes
08 Oct 21:55

Version 2.0.1

performance Verbesserungen, fehler mit Schwad und Particle System behoben diverse kleine Verbesserungen.

23 Jun 20:35

Version 2.0 mit Damage Mod und Hard Point

Version 1.0

27 Jun 18:52

Version 0.9 Beta

SoilMod,Multifruit,Kaufbare Opjekte,

09 May 23:05

Version 0.6Beta

Nun das Update auf Version 0.6Beta, Beta deshalb weil ich noch keinen KI Verkehr eingebaut bekommen habe.

So nun zu den Neuerungen:  -Preise für Rinder und Schweine angepasst

-Beim Agravis kann jetzt Kalk,Saatgut und Dünger gekauft werden und beim Nebenhof eingelagert werden.(Schilder sind an den Lagern dran)

-Klee Luzerne wird jetzt bei den Früchten angezeigt

-Pferdehof kann jetzt Stroh verkauft werden

-Füllstandsanzeigen Futterlager und LU Hof

-Kompost Master eingebaut am Pferdehof

-Felder alle Kaufpaar

-Eier können jetzt bei Agravis in Sudenhagen und Wartenberg verkauft werden

Wachstumszeiten: Wheat,Barley,Rape =120.0Std.(5Tage)pro Wachstumsstufe

Erdäpfel,Zuckerrüben = 72.0Std.(3Tage) pro Wachstumsstufe

 Maize                        = 96Std.(4Tage) pro Wachstumsstufe

Klee, Luzerne             =48Std.(2Tage) pro Wachstumsstufe

Grass                        =24Std.(1Tage) pro Wachstumsstufe

Benötigte Mods: ChoppedStraw, GülleMistKalk,MultiSprayerHerbizideMod für Unkraut zu finden in der MigMapCelle und wer will der AmpelMod geht aber nur im Singelplayer

Empfohlene Mods: GründüngerMod, Zitat:Der Gründünger-Mod fügt allen Grubbern, Pflügen und Direktsaatmaschinen im Spiel die Fähigkeit hinzu, durch das Einarbeiten einer Zwischenfrucht zu düngen.                                             MultiMowingMod,  Dieser Mod erweitert die Funktionalität von Mähwerken um das Mähen von Getreide Klee Luzerne und um eine Ertragssteigerung bei Grünlanddüngung. Letzteres setzt den Gülle/Mist-Mod vorraus.
Files
| | |
| --- | --- |
| checksum: | 5ef80e6fd491ffe49e396337982c12a2 |
| Version: | 2.0.1 |
| multiplayer ready? | yes |
| Author: | PumaIceman |
| price in shop: | LS |
| name in shop: | Sudenhagen GMK |
| description in shop: | Wilkommen in Sudenhagen. |

Do you think this mod should be featured?
}