Felsbrunn_Edit_By_MC
V 4.0MultifruitTriggerUpdate mod for Farming Simulator 19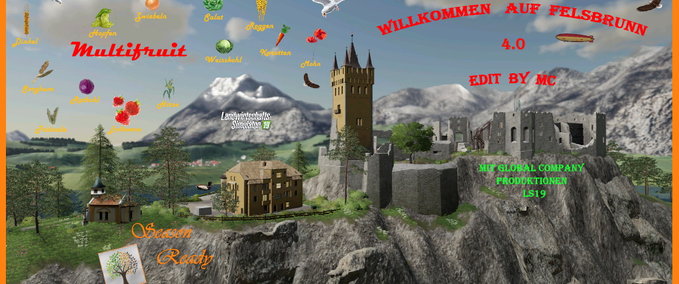 description
featured
Hello LS19 fans
Hereby I make my converted Felsbrunn 1.3 standard fruit available to all. The farm I have put on a different terrain and the stables of the animals are also housed in the farm. Also, I have a few small things built with you have to explore yourself. The launch vehicles and takeoff fields are also changed. I hope you like my processed Felsbrunn.Einige open spaces are also available. I have done my best and the log is up on the bush01 which is a bug of Giants error-free. Still, I do not exclude errors that were not apparent to me. If someone finds fault, please let me know.
I will try to change that.
The PDAMap version 1.3 standard fruit is now in several sections scanned, assembled by hand and included in this version for the first time.
Much has been rebuilt, replaced or redesigned what a new score vorraussetzt. The log is so far except for the errors caused by Giants own error and error messages. Still, I do not exclude minor inattention on my part in the design of the map, such as: floating objects, etc ,
On the installation of a Wurzelfruchtlagers I deliberately omitted because there are already several possibilities of mods that allow anyone to place on the open spaces his silos themselves.
And now I wish you much fun with the Felsbrunn
MC / Jürgen
Credits
Modell: 
Textur: 
Script:
Idee / Konzept: 
Tester:
Sonstige:
Credits:Motorboot mit Sound und Beat von Maulwurf 63 , Kaufbare Hallen von Vertex Dezign , Strohlager von Hasco , Schneidwerksregal von San Andreas , NewVehicleShop :Dachschilder: Kirtz Pierr , ShopUmbau: Joerg_B , Deko: AllgäuerGarde, Claas_Evolution, speedy77,
changes
17 Jan 17:07

Version 4.0MultifruitTriggerUpdate

Alle Trigger bei Gewächshäuser korrigiert.

Spieleigene Fruchtsilos modifziert und Kaufbar gemacht mit Multifruit.

Leichte Terrainänderungen und Triggerkorrekturen bei der Bierherstellung.

Ebenso leichte Terrainänderungen und Triggerkorrekturen bei der Backwarenherstellung.

Triggerkorrekturen bei der Rum/Whiskyherstellung für die Fassannahme.

22 Dec 16:26

Version 4 .0 Multifruit

1. Alle Produktionen Ingame eingebaut somit auch einem Farmland zu geordnet welches zuvor gekauft werden muss um zu Produzieren.

Auch wird das Menü der Fabrik erst angezeigt wenn man im Besitz ist und dann erst Produktiv werden darf.

2. Die fillTypes.xml wurde korrigiert.

3. Collision der Regenabwasserrinne beim Pferdestall wurde entfernt die durch die Scalierung des Stalle entstanden und somit

mit eine Fahrzeug hängengeblieben war.

4. Brunnen Stadtzentrum eingebaut.

5. Abladetrigger der Bäckerei korrigiert bzw versetzt sodas man Palettenware besser Abladen kann.

6. Bretterpaletten und leerpalettenlager eingebaut.

7. Saatgutlager , Duengerlager und Kalklager eingebaut.

8. Trigger bei der Obstfarm und beim Lidl korrigiert.

9. Bei der Backwarenherstellung und der dazugehörigen Sprachdatei wurden 2 begriffe Wasser und Milch vertauscht. Diese sind korrigiert.

10. Alle Trigger überarbeitet.

11. Güllelager mit Digitalanzeige ausgestattet.

12. Herbizidelager und Flüssigdüngerlager eingebaut.

13. Hubschrauberlandeplatz ( Deko ) eingebaut.

14. Aussichtsplattform eingebaut.

15. Erdfruchtlager eingebaut.

16. Lagerhalle und Erdfruchtlager mit Manuellem Licht ausgestattet.

17. RotkohlWeisskohlherstellung eingebaut.

18. Swimmingpool eingebaut.

19. Eisplanen eingebaut und getestet.

20. Trigger bei der Molkerei , Hohlzkohleherstellung , Stoffherstellung und der Backwarenproduktion/Mehlanlieferung korrigiert.

21. Karottensaftproduktion eingebaut.

22. Bei der Dieselherstellung wurden erst beide Rohstoffe benötigt. Dies habe ich geändert sodas man nur ein Rohstoffe benötigt um die Produktion zu aktivieren.

23. Weisskrautsalat und Rotkrautsalatherstellung eingebaut.

19 Nov 16:56

Version 3.0MultifruitTriggerUpdate

1. Wer FS19_AnimalPenExtension genutzt hat musste feststellen das die Installation des Wasserauffüllrades im Pferdestall nicht gerade Nutzerfreundlich Installiert war.

Diese wurde jedoch geändert und der Wassertrigger befindet sich jetzt nun ausserhalb des Stalles auf der Weide.

2. Sound des Kuckucks leiser gemacht.

3. Triggerkorrektur bei Milchprodukteherstellung Stoffherstellung Holzkohleherstellung.

25 Oct 15:18

Version 3.0MultifruitUpdate2

1. Die fillTypes.xml wurde korrigiert.

2. Abladetrigger der Bäckerei korrigiert bzw versetzt sodas man Palettenware besser Abladen kann.

3. Alle Trigger überarbeitet.

11 Oct 12:47

Version 3.0MultifruitUpdate

1. Schwebender Stromkasten Hafen Nord korrigiert.

2. Fehlende Textur etiketkascheitholz wurde hinzugefügt.

3. Beschriftungen Tafel Sägewerk Produkte und Rohstoffe wurden vertauscht und korrigiert.

4. Wenn das Spiel in Englisher Sprache gespielt werden werden Missings

angezeigt. Diese sind behoben.

5. Wenn man den Hotspot Komposter benutzt steht man im Komposter drin ,

diese hab ich ebenfalls korrigiert.

6. Informationstafeln "Verkaufstellen und Produktionstafeln" geändert.

7. Malzproduktion Wasser hinzugefügt und Rohstoffoptionen geändert. Es

werden jetzt "Weizen oder Gerste und Wasser" benötigt und nicht "Weizen und

Gerste".

8. Bretterpaletten ausgetauscht sodas jetzt mehrere auf einmal erzeugt

werden können.

9. Grasplane beim Silagefermenter korrigiert.

10. Symbole der Bretterpaletten ausgetauscht.

11. Alle immergrünen Bäume entfernt weil sie auch im Winter ein Blätterdach

haben und das sieht nicht Realistisch aus.Wurde von Usern bemängelt.

12. Stoffherstellung geändert. Rohstoffe "Wolle und Baumwolle" wurden zu

"Wolle oder Baumwolle" als Rohstoffe geändert weil im Winter keine

Baumwolle wächst und somit keine Stoffe produziert werden es sei denn

man möchte sie kaufen für viel Geld.

13. Komplett die Originalen Wasserfälle aus der Felsbrunn entfernt (wegen

Errormeldungen in der log) und ebenso komplett neue Wasserfälle einzeln neu

Importiert ( ca 80-100 imports der eigenen neu angelegten wasserfall.i3d).

14. Trigger beim Lidl und Raiffeisen ausgetauscht.Abladen mit einem

Autoloadfahrzeug funktioniert jetzt einwandfrei.Im Anhang siehe Bilder

15. Leerpaletten zum Verkauf bei Raiffeisen hinzugefügt.

16. Vertauschte Begriffe in der Sprachdatei Leerpalett und Saagtgut korrigiert.

17. Teilweise Trigger ausgetauscht wegen dem Autoupload von Paletten.

Nach einer Testphase funktioniert auch das problemlos.

18. Bei Strassenschildern collisionen ausgebaut.

19. Sprachdateien in Spanisch hinzugefügt. Somit kann man das Spiel auch in

Spanischer Sprache spielen. Andere Sprachen werden folgen.

04 Oct 18:44

Version 3.0Multifruit

1. Lidlplakat am Lidl wurde korrigiert.

2. Pfade der Tiere wurde von Mapeigene dateien auf Giantsdateien geändert sodas das APE mod funktioniert. Lediglich beim Pferdestall funktioniert das APE mod nicht weil das ein Externes Pferdestallmod ist.

3. Mist wird jetzt in der Preistafel im Menü angezeigt.

4. Abladestelle der Kartoffelfabrik ist korrigiert.

5. Sounddateien des Trainsystems wurden korrigiert.

6. Kompostherstellung eingebaut.

7. Map auf Season Ready vorbereitet.

8. Kartoffelwascher eingebaut.

9. Malzherstellung , Kraftstoffherstellung eingebaut.

10.Zuckerherstellung eingebaut.

11. Mehrere Gebäude für Produktionen eingebaut.

12. Manuelles Licht in RumWhiskyherstellung eingebaut.

13. Korrekturen Animerte Holztore schoben sich in verbaute Deko hinein.

14. Viele kleinere Details und Deko eingebaut.

15. Unnötige Specular aus Map entfernt die in LS19 nichtmehr gebraucht werden und weitere diverse Optimierungen wie ClipDistancen verkleinert (teilweise von 1 000000 auf zB 500 gesetzt).

16. Bäume gepflanzt Regionen verschönert.

17. Tipcol der Map auf die entsprechenden eingebauten Gebäude angepasst sodas Schnee nicht in Gebäuden liegt.

18. Zusätzliches Sägewerk für Produktion von Leerpaletten und Bretterpaletten eingebaut.

19. Mistlager Kopostlager und Güllelager eingebaut.

20. Felder angepasst bzw geändert.

21. Kartonproduktion , Mehlproduktion , Holzfassproduktion eingebaut und vieles vieles mehr.

22. Tabak texturen erstellt und als Fruchttyp eingebaut.

23. Zigarettenfabrik eingebaut.

19 Jul 16:55

Version 2.2 Multifruit

1. Erdbeeren eingebaut freigabe von Team Rheinlandpfalz.

2. Mohn eingebaut freigabe von Team Rheinlandpfalz.

3. Auf einigen Kreuzungen die Col aus den Strassenschildern entfernt (Userwunsch).

20 Jun 16:03

Version 2.1 Multifruitupdate

1. Schiebetore sind jetzt mit Collision versehen.

2. Doppelter eintrag carrot in modDesc korrigiert.

3. Doppelte Beleuchtung beim Sägewerk entfernt.

4. Hofbeleuchtung bei der Whiskybrennerei eingebaut.

5. Strassenbeleuchtung bei Zugstation/Sägewerk eingebaut.

6. Kapazitäten der Zugstationen/Speicher/Silos erhöht auf 500 000.

7. Bahnsilo Sued eingebaut bei der Brauerei.

8. Farmsilo kapazität auf 500000 erhöht.

9. Mälzerei wurden die Trigger und Abladestellen geändert und funktioniert jetzt mit dem Abladen.

10. Barriere Strassenübergang bei Getreidespeicher Ost wieder eingebaut nachdem Giants ( warum auch immer) dieses entfernt hatte. Auf der Originalen Felsbrunn fehlt sie noch immer.

11. Durch den Patch entstandene Errors und Meldungen oder Warnungen wurden korrigiert.

29 May 16:04

Version 2.1Multifruit

Versions 2.1

1. Lavendelpflanze beim Waschplatz aus der Luft entfernt

2. Getreide am Strohlager entfernt

3. Zug ausgetauscht gegen Diesellok

4. Alle Oberleitungen des Zugverkehrs entfernt sodas man auch den Holzwagon be und entladen kann

5. Hebecrane eingebaut beim Sägewerk

6. Hebecrane bei Bahnsilo West eingebaut

7. Übersichtstafel Platzierbar gemacht ( zu finden unter Decoration ). Somit kann jeder den standort selbst wählen wo sie stehen soll. Die Tafel kann jederzeit verkauft und neu platziert
werden. Die Tafel verursacht keine tägliche kosten.

8. Neue Fruchtsorten Weisskohl , Rotkohl und Salat eingebaut.

9. ClipDistancen optimiert.

10.Abladerampen in der KraftstoffRaffinerie herabgesetzt ( hingen etwas in der luft).

11.Parkendes Auto auf Freifläche Hafen/BGA entfernt.

12.Bäume gepflanzt.

13.Raiffeisen am Hafen eingebaut als Verkaufspunkt für viele weitere Produkte und Fruchtsorten.

14.Dekoration und Beschilderungen eingebaut.

10 May 18:11

Version 2.0MultifruitUpdate

Sägewerk in der Verkaufsübersicht war verschwunden und wurde korrigiert (wird wieder angezeigt)

18 Apr 19:44

Version 2.0

Version 2.0

1) Patch 1.3 muss Installiert sein
2) Viele neue Gebäude eingebaut
3) Animiertes Licht (manuelles einschalten des Lichts) bei verschiedenen Gebäuden eingebaut
4) Neue Fruchtsorten Hirse , Dinkel , Triticale und Sorghum
5) 6 neue Felder wurden hinzugefügt
6) Map wurde erweitert
7) Pda wurde angepasst
8) Deko und Gelände wurde umgebaut und eingebaut
9) Alle Pfade der Texturen wurden geändert und Optimiert
10) Überflüssige und doppelte Dateien wurden entfernt
11) Felder wurden angepasst
12) einige Bugs wurden entfernt
13) Splines wurden angepasst
14) Farmlands wurden erweitert und angepasst

Durch die vielen Änderungen ist ein neuer Spielstand erforderlich.

26 Mar 16:21

Version 1.4MultifruitUpdate

Update
1.Verkauf von Farmgebäuden wieder verfügbar.
2.Das Gras im Landscaping Modus (Wachstum im ersten Stadium) wächst wieder und ist gefixt.

24 Mar 09:25

Version 1.4 Multifruit

1. Karotten Zwiebeln Hopfen und Roggen eingebaut
2. Animiertes Licht eingebaut
3. Deko eingebaut
4. kleinere Fehler behoben wie schwebende Objekte (Korrekturen)

10 Mar 09:50

Version 1.3.1 Standartfrucht Update

1. Fruchtsorten werden im Menu nicht mehr doppelt angezeigt
2. Rolltore funktionieren jetzt
3. Deko eingebaut
4. kleinere Fehler beseitigt

14 Feb 19:24

Version 1.3Standartfrucht_Update

Pfade geändert , Überflüssige dateien gelöscht,Landschaft etwas verschönert und kleinere Korrekturen

10 Feb 08:45

Version 1.3 Standartfrucht

Do you think this mod should be featured?
}