Felsbrunn_Edit_By_MC
V 4.0MultifruitTriggerUpdate mod for Farming Simulator 19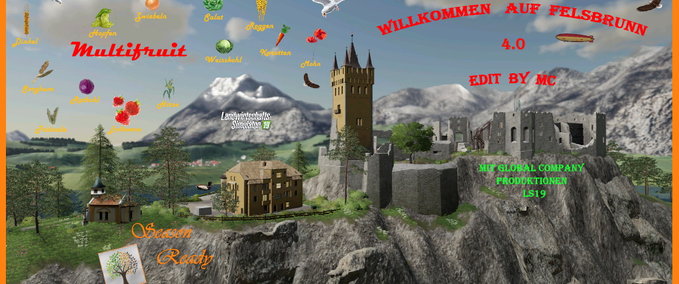 description
featured
Hello LS19 fans
Hereby I make my converted Felsbrunn 1.3 standard fruit available to all. The farm I have put on a different terrain and the stables of the animals are also housed in the farm. Also, I have a few small things built with you have to explore yourself. The launch vehicles and takeoff fields are also changed. I hope you like my processed Felsbrunn.Einige open spaces are also available. I have done my best and the log is up on the bush01 which is a bug of Giants error-free. Still, I do not exclude errors that were not apparent to me. If someone finds fault, please let me know.
I will try to change that.
The PDAMap version 1.3 standard fruit is now in several sections scanned, assembled by hand and included in this version for the first time.
Much has been rebuilt, replaced or redesigned what a new score vorraussetzt. The log is so far except for the errors caused by Giants own error and error messages. Still, I do not exclude minor inattention on my part in the design of the map, such as: floating objects, etc ,
On the installation of a Wurzelfruchtlagers I deliberately omitted because there are already several possibilities of mods that allow anyone to place on the open spaces his silos themselves.
And now I wish you much fun with the Felsbrunn
MC / Jürgen
Credits
Modell: 
Textur: 
Script:
Idee / Konzept: 
Tester:
Sonstige:
Credits:Motorboot mit Sound und Beat von Maulwurf 63 , Kaufbare Hallen von Vertex Dezign , Strohlager von Hasco , Schneidwerksregal von San Andreas , NewVehicleShop :Dachschilder: Kirtz Pierr , ShopUmbau: Joerg_B , Deko: AllgäuerGarde, Claas_Evolution, speedy77,
changes
17 Jan 17:07

Version 4.0MultifruitTriggerUpdate

Alle Trigger bei Gewächshäuser korrigiert.

Spieleigene Fruchtsilos modifziert und Kaufbar gemacht mit Multifruit.

Leichte Terrainänderungen und Triggerkorrekturen bei der Bierherstellung.

Ebenso leichte Terrainänderungen und Triggerkorrekturen bei der Backwarenherstellung.

Triggerkorrekturen bei der Rum/Whiskyherstellung für die Fassannahme.

22 Dec 16:26

Version 4 .0 Multifruit

1. Alle Produktionen Ingame eingebaut somit auch einem Farmland zu geordnet welches zuvor gekauft werden muss um zu Produzieren.

Auch wird das Menü der Fabrik erst angezeigt wenn man im Besitz ist und dann erst Produktiv werden darf.

2. Die fillTypes.xml wurde korrigiert.

3. Collision der Regenabwasserrinne beim Pferdestall wurde entfernt die durch die Scalierung des Stalle entstanden und somit

mit eine Fahrzeug hängengeblieben war.

4. Brunnen Stadtzentrum eingebaut.

5. Abladetrigger der Bäckerei korrigiert bzw versetzt sodas man Palettenware besser Abladen kann.

6. Bretterpaletten und leerpalettenlager eingebaut.

7. Saatgutlager , Duengerlager und Kalklager eingebaut.

8. Trigger bei der Obstfarm und beim Lidl korrigiert.

9. Bei der Backwarenherstellung und der dazugehörigen Sprachdatei wurden 2 begriffe Wasser und Milch vertauscht. Diese sind korrigiert.

10. Alle Trigger überarbeitet.

11. Güllelager mit Digitalanzeige ausgestattet.

12. Herbizidelager und Flüssigdüngerlager eingebaut.

13. Hubschrauberlandeplatz ( Deko ) eingebaut.

14. Aussichtsplattform eingebaut.

15. Erdfruchtlager eingebaut.

16. Lagerhalle und Erdfruchtlager mit Manuellem Licht ausgestattet.

17. RotkohlWeisskohlherstellung eingebaut.

18. Swimmingpool eingebaut.

19. Eisplanen eingebaut und getestet.

20. Trigger bei der Molkerei , Hohlzkohleherstellung , Stoffherstellung und der Backwarenproduktion/Mehlanlieferung korrigiert.

21. Karottensaftproduktion eingebaut.

22. Bei der Dieselherstellung wurden erst beide Rohstoffe benötigt. Dies habe ich geändert sodas man nur ein Rohstoffe benötigt um die Produktion zu aktivieren.

23. Weisskrautsalat und Rotkrautsalatherstellung eingebaut.

Do you think this mod should be featured?
V 4.0MultifruitTriggerUpdate
}