Multi Overlay Hud
V 2.6 Final mod for Farming Simulator 15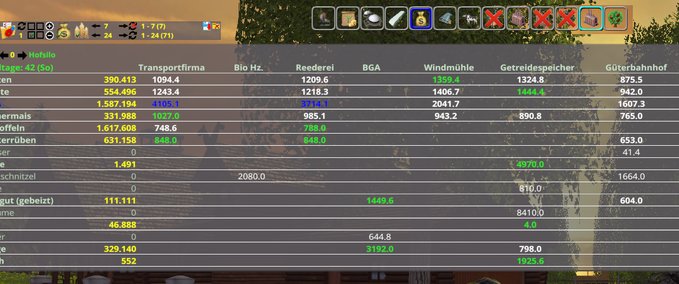 description
featured
Der MultiOverlay V2 Hud Mod soll euch eine schnelle Informations Übersicht über einige wichtige Features des Spiels liefern.
Schnell Übersicht:
Tiere*8, UPK Objecte*6, Treibhäuser, Lager, BestPreise, Felddaten, Bga, Silos, Platzierbare Objecte, Map verbaute Objecte, marhu FabrikScript Objecte und vieles mehr über ein komfortables miniPda Settings Menü *3

Zusätzlich gibt es einen VehicleInspector(VI) den ihr nutzen könnt.*5
Bitte schaut erst in die Bugliste bevor ihr einen Fehler meldet oder Probleme mit etwas habt.
Hinweiss bitte auch mal lesen. Thx
Extras:
optionale artDesigns (braucht das ArtDesign Addon) <---klick
artDesign Settings Menü(Bild)
jeder miniPda Slot hat seine eigenen individuellen Settings(Bild)

optional kann man die Anzeige Objecte selbst zuordnen
Standortanzeige von Objecten auf der Map
optional zwei/drei/horizontal/vertical miniPda Anzeige
autoDisplay Korrektur 4/3, 5/4, 16/10(default 16/9) *4

Fruchtnamen und Stationnamen Änderung über die Sprachdatei(Bild)
universal Spachdatei die ihr selber Konfigurieren könnt
mouseKey Switch funktion *1

optional kann alles nur mit der Maus gesteuert werden
PalCollector/WoolCollector Auto Erkennung
WaterMod Auto Erkennung
FabrikScript Auto Erkennung(slot other1)
Bga/SilageSilo Extension Mod Unterstützung *2

zuschaltbare GroßeNachfrage/Rabatt Ein/Verkauf Client
GroßeNachfrage/Rabatte auf Server/Host deaktiverbar(Bild)
optional MiniMap/Vehicle/Weather... Huds ausschaltbar
Slot updateInterval optional einstellbar über clienSettings.xml
VehicleInspector Settings Menü(Bild)
eigene MouseCursor Überwachung und Steuerung *7

eigenes Settings Verzeichnis mit allen benötigten xml Dateien
und vieles vieles mehr
Single/Multiplayer Support: JA
DetiServer Funktionen: KEINE (muss nur durch Anwesenheit glänzen) Optional serverSettings.xml Datei zum freischalten der großenNachfrage/Discount für Clients.
Ein GROßES DANK auch an RubberDuck2, JoPim(+Video Vorstellung), Pandahma, RealViking, buchen89, Rasced, biface, Bluebaby210, mor2000 die die neue Version ausgiebig auf Fehler getestet haben, beziehungweisse den Mod Unterstützen oder ihre Zustimmung für eine Anzeige Implementierung in diesem Mod zugestimmt haben.

Sprachdatei: deutsch, english(octopus), niederländisch(RealViking)
Schaut euch bitte unbedingt die Videos (Mod Vorstellung etc.) von JoPim an, dort wird etliches erklärt und gezeigt. Dadurch spart ihr euch die eine oder andere Frage :-) Und lasst auch ein Danke da, weil es auch mühe und Arbeit macht und nicht selbstverständlich ist.

preview next Version: hier
v1.x "Kleine Mod Anleitung": siehe Videos
v1.0 Changelog:
v1.0 BugListe: hier
Konfiguration: (Standart Tastatur/Maus Einstellung)
F11

öffnen/schliessen des MultiOverlay V2 Menüs

F12

MouseCursor On/Off *7


Num Enter

switch Funktion für Slot/Page, wenn vorhanden
----Nicht belegt und Optional zubelegen----

MoV2MiniMap

miniMap Hud On/Off

MoV2VsHud

vehicleSchema Hud On/Off

MoV2WtmHud

weather/Time/Money Hud On/Off

KeySwitch Right

nächsten Slot rechts anwählen


KeySwitch left

nächsten Slot links anwählen


KeySwitch Open/Close

öffnen/schliessen eines Slots

Slot 1 bis Slot x

wenn vergeben und mouseKeySwitch Off ist

MoV2ViHiden 

VehicleInspector Anzeige verstecken

MoV2MiniPdaHiden 

miniPda/slots Anzeigen verstecken
Wer sich wundert warum bei den Bildern Fruchtsorten im Verkauf stehen die man so nicht im Verkauf hat. Der sollte sich mal diesen Mod(TriggerExtend) anschauen.
Xml Konfiguration Dateien: ls15 verzeichnis../moV2Hud_Settings/ (Bild)

clientSettings.xml (hier muss man garnichts drin verstellen oder ändern)

serverSettings.xml (nur für DetiServer/HostServer Betreiber)
language_...xml (sprachdatei die man bearbeiten oder ändern kann)
objectSettings.xml (hier könnt ihr eure Map/Platzierbaren Mods eintragen etc.)alle gängigen Map verbauten oder platzierbare Mods habe ich schon hinzugefügt. Alle anderen müsst ihr selbst hinzufügen. Dabei müssen die modType/xmlString unbedingt beachtet werden. Map verbaute FabrikScript Mods werden automatisch im slot other1 angezeigt und other Objecte im slot factory1.Sind für die Objecte factoryName hinterlegt,könnt ihr optional den slotType und den Displaynamen ändern,sonst nicht. Eintragen könnt ihr dort soviel ihr wollt,unabhängig ob es verbaut oder als platzierbarer Mod von euch gerade benutzt wird. Bei gleichen Namen und doch unterschiedlichen FabrikScript Objecten kann es allerdings unter umständen zufalschen Anzeigen kommen. Einige Mod Mapper werden deshalb eventuell eigene objectSettings.xml bereitstellen,die ihr ja dann nutzen könnt.

*1)Mit der MouseKey Switch Funktion kann man mit nur 2-3 Tasten das miniPDA bedienen. 1xTaste rechts scrollen,1xTaste links scrollen,1x Taste zum öffnen/schliessen. Rechts/Links ist optional,es würde auch eine reichen
*2)Es werden auch die Mods BGA Extension und die Silage/Silo Extension Unterstützt und zusätzliche Daten entsprechend angezeigt. Wenn man möchte kann man auch den Bga und Silage Slot kombinieren.Es werden dann nur noch max 4 Bgas und max 7 SilageSilos angezeigt.Optionale kann man SilageSilos eigene Namen geben. Siehe Bild
*3)Unterstützung für HeapTipTrigger, MixFeeder, Mischstation, SeedMaster, beetMaster, KompostierAnlage, MixFeeder, Rübenschneider, Kartoffelwascher, PigForageMaster, Kartoffeldämpfer und generelle Mods die das FabrikScript von marhu benutzen. Alle Upk Objecte. Namen bei verbauten Mods mit dem FabrikScript können über ein UserAttribut vergeben werden,anderfalls heisst es dann nur Fabrik. Siehe Bild Nur wenn das UserAttribut(FabrikScript) vergeben wurde könnt ihr den slotType und DisplayNamen über die objectSettings.xml ändern. Upk Objecte können ebenfalls über den vergebenen Namen geändert werden. Dazu sollte man im miniPda Settings das Drucker Symbol anklicken,dann werden entsprechende Daten in die Log.txt des Spiels geschrieben. slotType other Objecte können nur hinzugefügt werden wenn diese von mir hinterlegt wurden(die Unterstützten wurden bereits in der objectSettings.xml hinterlegt)
*4)5/4, 4/3 und 16/10 Auflösungen können über die clientSettings.xml nachgebessert werden um Überschneidungen zu verhindern.Standart mäßig versucht der Mod das alleine zu verbessern. Wer es selber machen möchte der muss <screenAspectRatioAuto> auf false stellen und kann dann bei <screenAspectRatio> selbst einen Wert eintragen.(wird nicht empfohlen)

*5)Der VehicleInspector ist mit paar kleineren Änderungen nur 1 zu 1 übernommen worden.(Eine General Überholung steht als letztes auf der Liste)
*6)Upk Objecte sind immer noch an dem alten Script gebunden,was nur leicht modifiziert wurde damit Map Verbaute Sachen angezeigt werden können. An dem neuen Scriptteil wird noch weiter gearbeitet und steht noch nicht zur Verfügung,weshalb auch bei Upk Objecten noch die Fruchtnamen alle einzeln angezeigt werden müssen. Shops gehen generell noch nicht,können zwar in der objectSettings.xml angeben werden nur bringt es euch noch nicht sehr viel.

*7)mouseCursor, dieser wurde mit einer eigenen Überwachung und Abfrage Steuerung ausgestattet,dadurch sollte der Mauszeiger nicht mehr einfach so verschwinden. Die Besonderheit ist auch,das eine Interaktion mit den Slots oder anderen Objecten in diesem Mod nur darüber funktioniert. Die Keyswitchtasten sind bei aktiverten mouseCursor deaktivert und Funtionieren dann nicht. Wird der mouseCursor über einen anderen Mod aktivert hat dieser keine Funktion in diesem Mod sondern wird dann ignoriert.
*8)Bei Tieren und den marhu Schweine/Rinder Script wird nur die orginal Scriptdatei akzeptiert.Änderungen an dieser werden nicht berücksichtigt. Der einfacherhalber habe ich bereits die Hasenzucht und die Lammzucht bereits implementiert.Zusätzliche Tiere die auf das Script aufbauen aber nicht das Orginalscript enthalten,können nicht berücksichtigt werden und müssten erst mit den entsprechenden Änderungen hinterlegt werden.
Einige wichtige Features/Settings Infos:
closeAllHuds

-Deaktivieren der Ls15 Huds (Weather/Vehicel/MiniMap etc.) diese Funktionieren nur für die Huds wo ihr eine Tastaturbelegung hinterlegt habt,damit ihr auch die Möglichkeit habt den Hud wieder zu aktiveren bei fehlern.

permantesUpdate

-dadurch wird der updateInterval ignoriert und der jeweilig geöffnete Slot wird immer direkt geupdatet. (Dies kann bei langsamen Rechner zu performens einbussen führen)
mouseCursor ..

Automatisches aktiveren/deaktivieren der Maus wenn man den Slot öffnet

warnings

Aktivert eine Produktions Warnung für den Slot wenn verfügbar(für alle Objecte im Slot),optional kann man in der clientSettings.xml den blink warningTakt noch einstellen(wenn es vom entsprechenden artDesing unterstützt wird). Standart ist er eigentlich perfekt eingestellt.


Stationnamen, Fruchtnamen

ändern(Bild) station_ oder fruit_ muss vorran gesetzt werden

objectSettings.xml

, alle Eintragungen dort könnt ihr individuell selbst machen,bei Fehlern entweder wieder raus löschen oder schauen was falsch ist.

language_...xml

Diese wird immer in der jeweiligen Sprache eures Spiel hinterlegt und sind entweder Deutsch(language_de.xml),English(language_en.xml),Niederländisch(language_nl.xml). Alles andere ist immer english Txt(language_fr/es etc etc) und kann von euch selbst übersetzt werden
separated(objectSettings.xml)

das würde jedes Object im Slot einzeln oder summiert darstellen(sprich Bsp. jeden Upk Baum einzeln(true) oder alle zusammen gerechnet(false))
BugListe: Fix Prüfen Nicht Reproduzierbar
Preview next version:
Hinweiss:
Dieser Mod ist nicht kompatibel mit dem alten MultiOverlay Hud Mod und sollte unter keinen Umständen zusammen betrieben werden,weil es sonst zu konflikten kommen kann. Der Mod wurde komplett neu aufgesetzt um alle gewünschten Funktionen umsetzen zu können und damit ihr selber bestimmen könnt was ihr sehen wollt/wo ihr es sehen wollt und wie ihr es sehen wollt. Das heisst aber nicht Automatisch das der Mod alles Anzeigen kann was noch kommt. Das ist einfach durch die verschiedenen Scripts etc. nicht realisierbar. Es ist aber soweit mit vielen Mods etc. die es gibt kompatibel. Alles was dann noch kommen sollte und nicht einen gewissen Standart entspricht muss dann erst von mir entsprechend hinzugefügt werden.
Und wer es nicht mag der sollte es einfach nicht laden :-)
1.Veröffentlichung nur mit Original Downloadlink. KEIN Ersatzlink
2.Das verändern sowie erneutes hochladen ist nicht gestattet
changes
22 Sep 12:32

Version 2.6 Final

****Es wird keine weiteren Versionen geben,es sei denn es ist unbedingt notwendig(extrem bug)****
****Lest bitte mal den zweiten Kommentar von mir(THX)****
*Fix:

-Fix wtmHud aktivieren(no key bindings)wenn man zwei Tasten belegt hat(Lösung:Belegt nur eine Taste oder aktiviert das wtmHud manuell über die clientSettings.xml)
-Pal Früchte wurden teilweisse nur noch die Pal Bestände der Frucht angezeigt und wenn auch ein normaler Bestand vorhanden war,wurde dieser Ignoriert
-Fix DetiServer Event-die Daten der serverSettings.xml wurden nicht korrekt an die clients gesendet

----------------------------------------------------------------------------------------

*New:

-keyControl Bindings kann über die XML(inGame) deaktiviert werden(benutzung auf eigene Gefahr hin)
-Map verbauter LiveTicker kann über XML(inGame) optional Deaktiviert werden(user wunsch)
-VI MietMod Unterstützung hinzugefügt(kürzel RC),wenn Zeit abläuft blinkt das entsprechende Fahrzeug(anhänger etc.) und die Restzeit wird angezeigt(optional die Mehrkosten bei Überschreitung pro Stunde)optional aktivieren/deaktiviern im VI Settingsmenü
-FillablePalettSellTrigger2 können optional gesucht werden,wenn die FillablePalettSellTrigger2.lua nicht vom Mapper/oder euch modifiziert wurde(xml inGame Settings,default false)(start Verzögerung dadurch ca.15-30 sec.)

12 Aug 11:03

Version 2.5

*Fix
-SilageSilo Slot--->E:/Dokumente/My Games/FarmingSimulator2015/mods//MultiOverlayV2/scripte/draw/moDrawBga.lua:303: attempt to perform arithmetic on a nil value
Error: Running LUA method 'draw' (schuld sind die Freilandsilos die ein falsches userAttribut haben)
-Fix HeapTipTrigger(Haufen) Diese wurden nicht mehr angezeigt.
-Fix Silage/Bga Slot outPutFillTypes(wurde immer mit 0 angezeigt,wenn zuviele Fruchtnamen, obwohl es mehr waren)
-Fix fieldsSlot wenn die schlammloch.lua benutzt wird
-Fix F1 Anzeige und Schriftfarbe(warning ls info)+artDesign(blueWhite) Schriftfarbe
----------------------------------------------------------
*New
-bestPrice Slot kann man jetzt die Switch funktion und die anzahl der stationen selbst einstellen so das auch bei mehr als xxx Verkaufsstationen es nicht aus Bildschirmrand geht (user wunsch)
-FillablePalettSellTrigger2 Unterstützung hinzugefügt(FillablePalettSellTrigger2.lua muss modifiziert werden)
-optional Animals Capacity(xml inGame settings) hinzugefügt(Schweine/Rinder benötigen eine lua modifzierung sonst wird nur ein ca. wert angezeigt)+waterMod capacity
-HeadyBGA Silo unterstützung hinzugefügt(kann wegen beta und vielen fehlern optional deaktiviert werden in xml inGame settings)/optional silageSiloName nutzbar wenn MapBGASilo.lua modifiziert wird/
-repairMod unterstützung für VI hinzugefügt
-pal Früchte(Wolle etc.) werden als solche angezeigt(braucht artDesign 1.4 oder höher)
-pal+balen DetiServer Event hinzugefügt(kann über die serverSettings.xml auch deaktivert werden und man kann den Interval einstellen)default true alle 1.8 min ca.
-max anzahl der objecte pro slot switch(default 40) über clientSettings.xml verstellbar(user wunsch)(geht nicht inGame sondern muss bei bedarf direkt in der xml geändert werden,empfehle notepad++ dafür)

25 Jun 16:09

Version 2.4

- optional moneyChangeColor hinzugefügt
- optional moh wtmHud lock miniPda hinzugefügt(richtet sich dann an die miniPda leiste aus)
- miniPda lock wtmHud wird beim verschieben das wtmHud mitangezeigt
- mist/gülle von den Tieren im gesamt Lagerbestand hinzugefügt
- fix position Y beim verschieben des wtmHuds
- bestPrice Slot angepasst,so das generell alle Verkaufsfrüchte angezeigt werden(StationsTriggers)
- amount für gasStations(Trigger) und Anzeige hinzugefügt...Hoftankstelle...
- Xml Settings freigeschaltet(dort kann man schon einige sachen einstellen die man vorher nicht online ändern konnte)
- moneyColor wechselbar hinzugefügt(user wunsch)
- siloSlot FillPlane Anzeige hinzugefügt(10%FillLevel und/oder 98% Verdichtung)
- page1 optional alten preis der Frucht anzeigen(Stationpreis und Mappreis)
- page1/bestPrice Slot großeNachfrage,wechselAnzeige Preis Mulitplikation und Ablaufzeit
- helpHud(F1) Settings hinzugefügt (Bild)
- objectSettings.xml über inGame Anzeige editierbar (Bild)
- mist/gülle/silage über Xml Settings entkoppeln(Tiere,Bga,Lagerbestand werden dann nicht summiert)
- page1 Settings hinzugefügt(SP)(bearbeiten/löschen/hinzufügen/ändern etc.)(Bild)

13 Feb 11:39

Version 2.3

-diverse Bugfix
-optional wtmHud Settings freigeschaltet
-language spanish hinzugefügt
-fieldInfo Slot neue Berechnungs Table(test) hinzugefügt(optimiert für normale maps) genauigkeit liegt dann bei 99.9% braucht aber auch 0-1 min je nach Rechner zum berechnen.Plus Erkennung von Feld Zusammenlegungen,optional zuschaltbare Ertragsmenge(nicht für 8xfach Maps geeignet)optimiert für 2xfach Maps
-schnell Zugriff auf Blackboard(Missionen) hinzugefügt-page 2
-saveWeather für SoilMod nutzer hinzugefügt SP und (MP über serverSettings.xml)
-fix saveFunktion bei den Slots(kleiner geldsack) wurde nicht richtig gespeichert
-VI Anzeige der Füllstände von Prozent auf Liter umschaltbar(user wunsch)
-fix Tierpreise bei bestPrice Slot und im vsHud
-fix fieldsInfo Slot Anzeige der Rotten fruits
-deaktiverbarer ls 15 moneyChange hinzugefügt
-einstellbarer ls 15 moneyChange Timer hinzugefügt
-fieldsInfo Slot Erntereife Wachstumsstufe/Prozente(prozentual) hinzugefügt(user wunsch)

21 Nov 13:06

Version 2.1

- diverse Bugfix
- language polnish hinzugefügt
- vsHud Settings und einige Funktionen freigeschaltet
- VI Felderkennung optimiert
-MapBuyableObject Unterstützung hinzugefügt(Page 2,switch 3)+Hotspot buy option
-modType="other" (Klassifiziert-all Mischstation,FermentingSilo,MixFeeder) -optional factoryName-
-optional load savegame Settings(clientSettings/objectSettings.xml)
-1000L ----> 1.000L
-optional kann man nur die Objecte laden die in der objectSettings.xml hinterlegt sind
-slot fieldsInfo freigeschaltet(simple)
-Train Stationen können optional mit Angezeigt werden.Die Preise werden dann berücksichtigt
- Preis Steigerungen werden mit angezeigt(Page 1, bestPrice Slot)
- optional können Felder gekauft werden über die Slots fieldsprice
- modType="animals" (klassifiziert) werden jetzt einzeln gesetzt (max 5 pro Tier)
- fix warnings bei bestPrice nach ablauf der Zeit Error: Running LUA method 'mouseEvent'.
C:/Users/Ollwaine/Documents/My Games/FarmingSimulator2015/mods//MultiOverlayV2/scripte/mouseKeyEvents/moSetGetKeyMouseEvent.lua:31: bad argument #1 to 'getn' (table expected, got nil)
-fix bei Aktivierung der keySwitch Funktion ohne das vorher ein slot im miniPda gesetzt wurde kommt es zu einer fehler Meldung
-fix marhu Script Tiere werden nicht angezeigt,wenn sie auf der Map im Shop deaktiviert wurden
-fix sheep wool FillLevel(MultiPlayer) Update all 15 min(Gigant)
- fix PalSammler(MultiPlayer) Update all 15 min(marhu mp)
-fix permanentUpdate/intervalUpdate Slot fieldsprice lua error

25 Oct 16:55

Version 2.0

Do you think this mod should be featured?
Unterstütze den Entwickler!
Jetzt mit PayPal spenden
}