New radio streams
V 4.0 mod for Eurotruck Simulator 2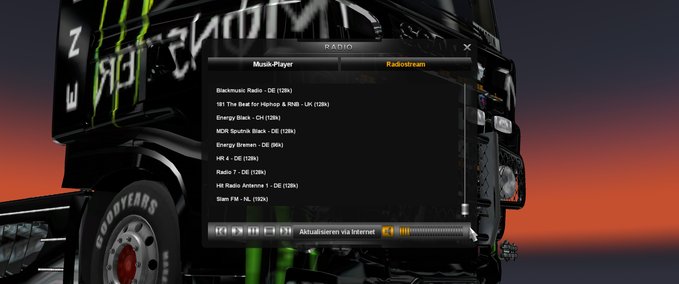 description
Hallo liebe Modhoster Gemeinde geht zusammen mit mir und dem Eurotruck Simulator 2 in die Version 4. der neuen  Radiostreams.Da ich wieder einmal gute Feedbacks und verbesserungsvorschläge bekommen habe,stelle ich euch nun nach längerer arbeit meine neue 3 live_streams.ssi Datei vor mit vielen neuen Radiosendern aus Deutschland,Österreich,Niederlande und International.Ich kann euch leider keine Garantie geben das der Mod mit allen Patches funktioniert aber bislang kam die neue Datei mit jeder Version erfolgreich zurecht ohne Fehler!Ich musste jeden einzellnen Stream manuell neu ins Spiel einbauen und das Spiel immer und immer wieder neu Starten und darauf einstellen bis alle Streams erfolgreich zum laufen gebracht wurden.Alle Sender sind wie gewohnt im Spielemenü unter Radios zu finden und können dort umgeschaltet werden.Diese Version läuft auf den Patches 1.0 und 1.1.3 und 1.2.5 und 1.3.1

Bei weiteren wünschen oder anregungen bitte ich dieses mal um eine Private Nachricht die ihr mir zusenden könnt,diese werde beantworten.Sollten keine Nachrichten eingehen ich beobachte Täglich das geschehen der Kommentare unter dem Mod nur so zur Info :)

Wie immer gebe ich wieder an dieser Stelle einen besonderen Dank an folgende User für eure Wünsche:

 
Halli1975                             <<<<< Wünschte sich: WDR 4
 
JohnDeere_7280r               <<<<< Wünschte sich: NDR Meklenburg und Antenne Meklenburg F

unimog1500                        <<<<< Wünschte sich:  Gong FM

BLENDER                             <<<<< Wünschte sich: Hip Hop  Blackmusic Radio,181 The Beat for Hiphop &          
                                                                                            RNB,Energy Black,MDR Sputnik Black
heyhobauer1                      <<<<< Wünschte sich: Kiss FM

vincent20                           <<<<< Wünschte sich: Energy Bremen

Bauerfranz 97                   <<<<< Wünschte sich: HR 4
Simnon95                           <<<<< Wünschte sich: Radio7 Und Hit Radio Antenne 1
Nik 98                                 <<<<< Wünschte sich: Q Dance Radio
Daniel Sch.....                   <<<<< Wünschte sich: Top 100 Station
xxischxx                            <<<<< Wünschte sich: Slam FM


Wichtiger Hinweis:

Diese Streams wurden wieder unter meiner Spieleversion mit dem Patch 1.2.5 überarbeitet und erfolgreich getestet.

Die Datei ist wieder in Win Rar Archiv gepackt worden.Ich habe dort noch ein Readme Textdokument mit bei gefügt mit der auflistung aller Streams und der Installation dieser Version.Bitte beachtet vorab die Readme Datei!!!

Dieses ist kein Mod den ihr in den Modordner packen könnt es handelt sich um die Originale .ssi Datei im Eurotruck Simulator 2 Ordner die ersetzt werden muss.Die Skripte befinden sich schon alle eingelesen und das Spiel muss nur noch gestartet werden

Wie schon bei den anderen Version,kann es sein das der PC kurz nicht reagiert wenn ihr die Sender umschalten wollt,aber keine sorge das geschieht nur weil die verbindungen zum Server aufgebaut werden müssen.
Die Datei kann einfach ohne meine Erlaubnis erweitert werden oder überarbeitet werden und auf anderen Plattformen zur verfügung gestellt werden

So nun viel Spass mit den neuen Radiosendern egal ob ihr auf Deutsche,Polnische oder Österreichische Strassen seit :)
Aus den anderen Versionen übernommen und überarbeitet:

Technobase FM

Hardbase FM
RSH
Delta Radio
Radio Hamburg
Ostsee Welle Hitradio Mecklenburg Vorpommern
NDR 2
Alster Radio
Bayern 1

Hit Radio FFH 
Alster Radio
MDR Jump
Radio EINS
WDR 2
YOU FM
SWR 1 Baden Württemberg
Radio Nora
N Joy
NDR 1 Welle Nord
Bremen Eins
Star FM (Maximum Rock)
Rautemusik FM (Schlager,Olies,Hardstyle,Techno ...uvm...)

JAM FM (New Music Urban Hits & Black N Dance)
BIG FM
Hardstyle nu

Danceattack eu

RTL 89.0

Kronehit AT

Sunshine Live

RPR.1

Energy Sachsen
Planet Radio
90 Elf dein Fussball Radio
OE 3 (Österreich 3)
HR 1 bis 3
Ego FM
Upper Echolon Radio (Hiphop,RNB) Sonderwunsch!
PVP Jamz (Hiphop,RNB) Sonderwunsch!
Radio FFN Niedersachsen
Radio 21
Radio Regenbogen
Radio PSR
Hit Radio Augsburg RT1
Radio 538 NL
I love Radio
Antenne Bayern
Bayern 2 und 3
****Neue Sender****
- WDR4
- NDR Meklenburg und Antenne Meklenburg
- Gong FM
- Hip Hop  Blackmusic Radio
- 181 The Beat for Hiphop & RNB
- Energy Black
- MDR Sputnik Black
- Kiss FM
- Energy Bremen
- Hr 4
- Radio7
- Hit Radio Antenne 1
- Q Dance Radio
- Top 100 Station
- Slam FM

Das Wort zum Schluss:

Über ein Kommentar,danksagungen oder positive feedbacks würde ich mich sehr freuen.Jede einzellne Anfrage zum Mod werde ich bearbeiten und auch Antwort geben.

Ich kann leider keine Garantie übernehmen das alle Streams auch in weiterer Zukunft laufen da jeder Radiosender  die Streamdaten ändert.Sollte dieses der Fall sein dann werde ich versuchen alle Sender die nicht mehr laufen wieder zum laufen zu bringen.Solltet ihr ein Sender finden der nicht funktioniert bitte lasst es mich wissen ich kümmer mich drum

Credits
ferrari360mondena
Files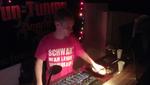 Do you think this mod should be featured?
}