Rügener Hofgut
V 1.02 mod for Farming Simulator 2011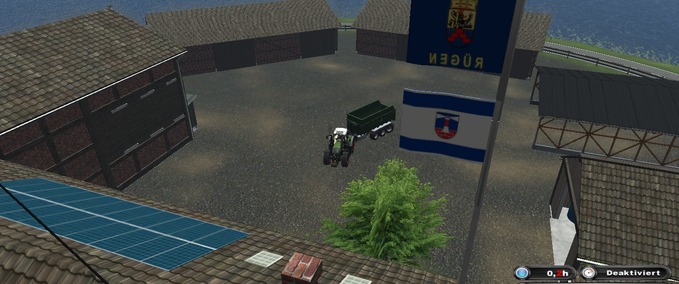 description
Hallo Modhostergemeinde,
heute möchte ich Euch, nach langer Umbauzeit, das Rügener Hofgut vorstellen, welches dem virtuellen Lohnunternehmen
--> LU - Ost & West GmbH gewidmet ist. 
Urspünglicher Name der Map war BadenBauers Hofgut, der Urmodder bzw. Mapper ist BadenBauer welcher mir freundlicherweise auch die Genehmigung gab die veränderte Version von mir erneut zum DL zu stellen. Herzlichen Dank für die Genehmigung BadenBauer. 
Zusätzlich geht noch ein Dankeschön an folgende Leute, Sylvio25 und Bauerrudi die mich immer Tatkräftig unterstützen, Heewaaa der immer bei Fragen für mich da ist und dessen Werkstatt ich auf der Map verbauen durfte, MAurUS dessen Stall zum Ausmisten und Güllegrube ich verbauen durfte und alle anderen Modder deren Objekte auf der Map verbaut sind. 
So nun zur Map, sie spielt so um die Zeit ca. 5-6 Jahre nach der Wende, es sind moderne Gebäude als auch ältere Gebäude und Objekte verbaut worden.
Schaut Euch bitte die Bilder an dies klärt schon einige Fragen!!!!!!
Mapbeschreibung:
Das ist das Rügener Hofgut. Es ist ein komplett neues Gebiet mit neuem Straßennetz. Der Verkehr wurde angepasst, der Milchlaster fähr und holt die Milch ab. Der Hof und die Weide wurden separat angelegt.
Zusätzlich zu den Standardfrüchten gibt es noch Sonnenblumen, Kartoffeln, Zuckerrüben und Karotten.
Die Felder sind zum Teil schon bepflanzt, die anderen sind vorgepflügt bzw. vorgerubbert.

Eine BGA mit Ballenkraftwerk ist auch vorhanden.
Abladestellen:

Mühle:

-Weizen
-Gerste
-Raps
-Sonnenblumen

Zuckerfabrik:

-Zuckerrüben

Landhandel:

-Kartoffeln
-Karotten
-Sonnenblumen
-Körnermais

Brauerei:

-Weizen
-Gerste


Die Sonnenblumen, Kartoffeln, Zuckerrüben und Karotten müssen mit einer Multifruit-Schaufel aus dem Getreidelager entnommen werden.

Um die Karotten, Kartoffeln und Rüben zu ernten empfehle ich diesen Rodder:

http://www.modhoster.de/mods/ploeger-2000-roder

Und zur besseren Übersicht der Früchte empfehle ich einen PDA Mod zu verwenden, dieser hat bei mir gut funktioniert.

http://www.modhoster.de/mods/pdamod-workersandmultifruit

Für die BGA werden die Scripte, 

MapBGAzip

MapBGASilozip

sowie die Siloschaufel von Heady benötigt:

diese Sachen findet ihr hier:
www.planet-ls.de/board/index.php?page=Thread&threadID=7761

www.planet-ls.de/board/index.php?page=Thread&threadID=7762

www.planet-ls.de/board/index.php?page=Thread&threadID=7763
Diese Dateien ebenfals in den Modordner kopieren.


Es ist nicht gestattet eine veränderte Version zum download zu stellen.

Die Map darf unter Verwendung des original download-Link auch auf anderen Seiten angeboten werden.

The mod may be published on other sites as long as the ORIGINAL LINK will be used!


Le mod peut être publié sur d'autres sites aussi longtemps que le lien original sera utilisé!


O mod pode ser publicado em outros sites, desde que o link original será usado!



Und nun viel Spaß auf dem Rügener Hofgut wünscht Euch Jabba42!!
Credits
BadenBauer, Heewaaa, Jabba42
changes
14 Jun 17:43

Version 1.02
Files

Do you think this mod should be featured?
}