[Skin] Katana Set
V 1.1.0 mod for MORDHAU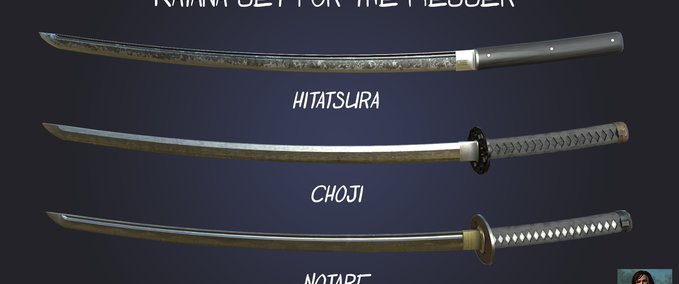 description
Since the last Patch #17 of Mordhau, Local mods which change clientside Skins such as Weapons and Armor (sadly) no longer work.
Please Note that im working on an actual Mod (not only Skins) that will introduce a japanese map, weapons, armor, and other stuff to be playable on servers. This also make sure that the japanese Theme is consistent. (No Knights running around in that mod viceverse no samurai on medieval maps). I will notifying the progress on the Modding Discord.
This is a cosmetic mod that will be visible only for the player installing it. It replaces the messer weapon.
It is not compatible with auto-download. Subscribing to it won't make it available on your server/game.
To install it, download the file directly from here, and follow this guide : Mordhau.mod.io
This Cosmetic Mod Entry for Mordhau Mod.io contains my Katana Set as a Replacement for the messer. This Katana set consists of 9 parts: 3 blade parts, 3 guard parts, 3 grip parts. There is also one guard that is invisible, this is not an error, it's just for a katana without guard. All three parts of the Katana are recolourable (metal blade/guard, wooden guard and fabric guard). Also the bloodmask is working allowing you to kill your enemies with some blood on the blade.
Once you start Mordhau the vanilla messer skins are replaced by the custom katana skins. This is only clientside, means only you can see yourself with the katana and others using it. Other people on there PC's will not see it because they do not have the files replacing it.
I really hope you enjoy the Katana Set and i wish yours a bloody good time with it. This is the first japanese mod set i releasing today. I already work on a complete Japanese Samurai/ Ninja themed Mod including Weapons, Armor, maps and many more things.
When you are interested into more of this you may want to check out my discord channel, http://discord.gg/xSS5sEt
Sketchfab Model: https://skfb.ly/6NrtT
Thank you!
By Mary's Revenge
Credits
changes
14 Jul 05:15

Version 1.1.0

-Skin is working again, following the November 25th update pak.file guide by Teslov. Let me know if it works.

Empfehlungsrate
-/-
noch nicht genug Stimmen
Do you think this mod should be featured?
}