Fight Club Horde
V 2.0.0 mod for MORDHAU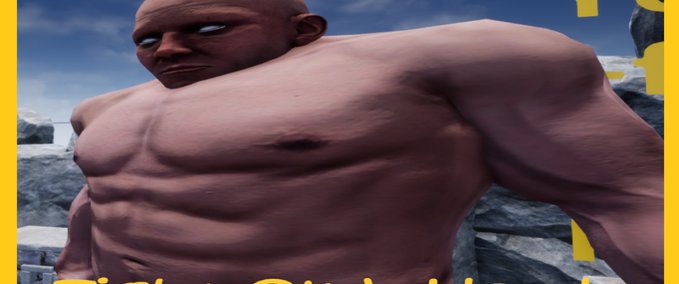 description
This is my first Mod ever for any game, I am actively trying to fix any bugs that may be seen, please report any issues to me on Discord SoomRK#1759, would be much appreciated.
Fight Club is a team-based Boss fighting horde map. Every boss will have different play-styles traits and weaknesses. This is Team-oriented it is not a map to solo, this is meant to be challenging. Settings/Config will be tweaked as needed with planned expansion for the map (5 additional bosses and weapons).
This map is best played with 4-6 people.

*Known Bugs*
There is a random crash that happens on round 6 at the start of the round, it happens 1 out of every 10 games, not sure what is causing it yet.
Mineable rocks still don't disappear. You can walk through them though after hitting with pickaxe.

[/Script/Mordhau.MordhauGameSession]
Mods=681881
[/Script/Mordhau.MordhauGameMode]
MapRotation=HRD_FightClub

Default Map Location:
/Game/Mordhau/Maps/FightClub/HRD_FightClub
-Thanks Cabbageman3

Once you Jump into the Arena, you cannot get out unless you die. (Press end in between rounds)

Player Perks: Fleshwound, Cat, Rat, Second Wind
9 custom weapons scattered /hidden throughout the map. All weapons will have descriptions next to them on their playstyles
15 Rounds, with Custom bosses each round
Bosses will drop their custom weapons when dead, and armor (With the Exception of a few OP ones.)
500G per Round Custom player weapons cost 1000-3000.
8 Player weapons - True King's Sword, Enchanted Blade, The Avenger, Sledge, Bone Breaker, Great Axe, Whirlwind Blade, Soul Reaper
5 Boss weapons - Conqueror's Spatha, Leonidas's Sword, Grey Wizard Staff, Tizona, Colada, Executioner's Bane, Naginata, Tizona, Colada,
Inside the arena are boatloads of normal weapons on the ground for players to be able to adapt to bosses weaknesses and change playstyles when needed. More chests scattered on map.
Boss list from Round 1-15: Chad, Patches, The Conqueror, The Executioner, Tizona, Leonidas, Gandolf, Gordon Ramsay, Colada, Captain Falcon, The Former Champions, Black Knight's Army, Damocles, White Gandolf, The Return of Chad
Spawn in with a set of T3 Armor Free T3 Armor in Arena.
When you die, all your stuff is gone. <- This may be is definitely broken
MAP CREDITS:
For Teaching me How to Make Map,
Otherwise we wouldnt be here:
DaBirds
For Helping me Alot:
NetSlayer - Weapon Meshs
Squackety - Lighting
Your Sponsor - Mineable Rocks
Revenant - Tizona & Colada Character Appearance
Asriel Lamb - Gandolf Boss & Leonidas Boss Appearance
Non-Mordhau Map Meshes:
Purchased from Next Level 3D
Music:
GWriterStudio
Weapon Textures:
Purchased from MihajloStojadinov, Prop Garden, AdrianBiszczak, Deadly Props, Facetious Creations
To my server community for vigorously helping me test this map.
To the Mordhau Modding Community for all their available resources

This Map is being hosted on "SoomRK's - Modded Horde" along with all other modded maps that are available if you want to come and join us! (US East)
If you're another modder playing on my map and you notice something that isnt right, please say something to me, chances are I do not know how to fix it or that its a problem. I would appreciate it thank you!
Credits
changes
26 Feb 21:23

Version 2.0.0

*FightClub Expansion 1*
-Removed Boss weapons from the map purchasables, They still drop from bosses.
Added 4 more player weapons - Soul Reaper(Scythe), Whirlwind Blade (ExecSword, very long windup high dmg), GreatAxe(battleAxe with buffed stats/speed), BoneBreaker(Falchion High DMG against no armor)
-Added 5 More Rounds-
"The Former Champions"
"Black Knight's Army"
"Damocles"
"White Gandolf"
"The Return of Chad"
-Fixed Mineable Rocks, added 3 total. Pickaxe is in the Mineshaft below the map for 1000g.
-Adjusted Weapon DMG on all custom player weapons (stronger now, worth buying)
-Reworked several boss behaviors
-Added Weapon Descriptions to all weapons
-Changed Music (Let me know what you think!)
images
Empfehlungsrate
-/-
noch nicht genug Stimmen
Do you think this mod should be featured?
}