Medieval Stone Walls
V 3.5.0 mod for Foundation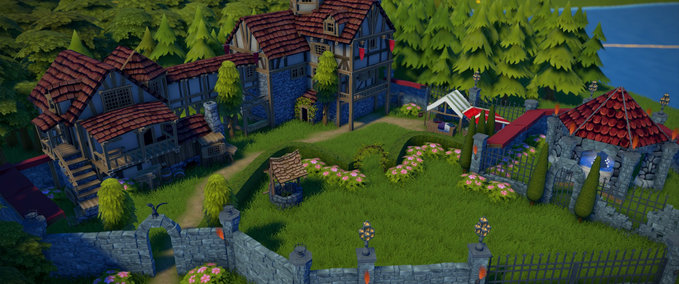 description
This is a decorative set of modular wrought iron fence and stone brick wall parts you could use for graveyards, lord manor courtyards, churches, or even a dungeon maze.
All the pieces have snap points for straighter layouts.
All the wall pieces also have a fence version for drawing around located in the fence drop-down menu.
Pillars and pillar decorations will snap to the cobblestone base. The stone pathway can only snap to itself but will curve to fit the terrain.
There is a light and dark variant of most pieces.
---
In this collection, there are :
2 Brick Flooring Styles
Cobblestone Pillar Base
9 Stone Brick Walls

Full Wall
Half Wall
Short Wall
Short Half Wall
Full Wall (Broken)
Half Wall (Broken)
Short Wall (Broken)
Archway
Short Wall (Cobblestone)

5 Iron Gate Parts


Full Iron Fence
Half Iron Fence
Single Iron Gate
Locked Iron Gate
Iron Gate Door

9 Stone Pillars

Cobblestone Square
Cobblestone Square w/ Decorations
Cobblestone Pedestal
Cobblestone Octagon
Cobblestone (Broken)
Stone Brick Square
Stone Brick Square Short
Stone Brick (Broken)
Stone Brick Octagon

2 Stone Buildings
3 Fence Ornaments

Fleur-de-lis Ornaments (Gold and Iron)
Cross Ornaments

3 Wall Decorations

Canopy
Wall Torch (Burning)
Red Banner

9 Pillar Ornaments


Cross
Large Cross
Dragon
Lantern
Sundial
Fleur-de-lis Statue
Brazier (Smoking)
Brazier (Burning)
Brazier (Extinguished)
---
I hope you all enjoy this collection! I've had a lot of fun creating this mod.
Feel free to let me know of any additions you'd like to see in the game. I'll try my best to keep new things coming.
---
I post new decoration updates every once in a while
---
If you like the mod and want to help support:
https://cash.app/$RaisinMuffin
https://paypal.me/RaisinMuffin
---
Credits
changes
14 Jul 19:12

Version 3.5.0

Added 6 new items
- Sundial
- Cobblestone pillar (broken)
- Stone brick pillar (broken)
- Short square stone brick pillar
- Short half wall
- Short wall (broken)
Empfehlungsrate
-/-
noch nicht genug Stimmen
Do you think this mod should be featured?
}