Cattle and Crops Gameplay Mod
V 004 mod for Cattle and Crops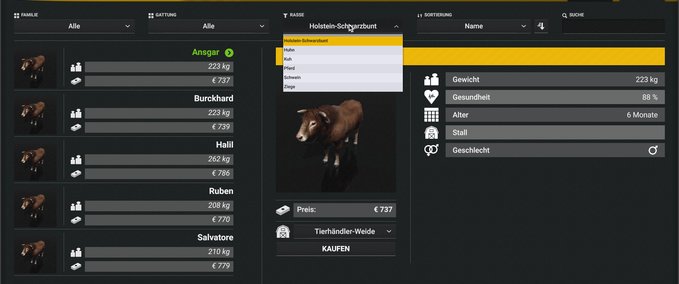 description
Version 001
New animals (geese, chickens, pigs, horses, sheep, goats, cows)
.
The animals can all be transported in the Joskin RDS. Each barn on the farm and the pasture currently allow all types of animals. So goats, cows, sheep can be accommodated at the same time
.
New crops (winter oats, winter oilseed rape, sugar beet
New concentrates (pig feed, horse feed, chicken feed
New fertilizer EasyFert with an NPK content of 100-100-10
Adapted growth phases to simulate winter. Canola and oats must be seeded in the fall to mature the following year. Other crop varieties (except field grass) cannot be grown to full maturity several times a year
.
Plants die at BBCH 90 and there is no yield. Harvest must now be done by BBCH 89 at the latest
.
Adjusted NÜK requirements of plants. For optimum growth it is no longer sufficient to fertilise the crop only once
.
Animals on pasture at the farm, not at the dealer, are no longer starving. But may not grow (much)
Various storage places and traders have larger stocks, e.g. seed pallets, fertiliser store, grain store yard, slurry trader at the port
.
In the barn, straw BALLS can now be interspersed in the stalls. To do this move the bale spike quite high to catch the trigger. Move the bale flat above the ground to pass a stall without interspersing straw
.
Bulls now generate slightly more slurry than before, as it was probably well below what is generated in reality before
.
The specific gravity of field grass variations has been adjusted, as well as straw and a few other things, so that they have realistic values and not just a placeholder
.
Constraint
.
straw is not yet being utilized, and if it is, it is not being utilized as desired
New crop seed and grain prices are approximate
Not all animals have realistic growth curves and feed intakes (MJ, protein, crude fiber). Adjusted are
Bulls, cows, chickens (approximate), pigs
.
Horses are expensive and sell poorly. They serve as a luxury good, not a sausage supplier
.
Sheep, geese, goats grow like "default
.
No concentrates can be mixed yet. If you want to feed your animals anywhere near optimal nutrition, you have to buy concentrates at the dock or just feed as is
.
Translations mostly only German and English, other languages are missing or show wrong text
.
New fruit types look like barley, as I don't know how to edit pictures
.
For sugar beet there are no machines yet that can harvest it
.
Version 002
Added two offspring barns to the animal menu so you can see the increase in chickens
.
Pasture at the merchant now provides field grass and the animals grow. The field grass "grows back" when it runs out.
Claas Jaguar 960 Tipper Register extended a bit to the rear.
Claas Quadrant "Feeder Tank" indicator removed from side display. Only the pickup is now displayed.
Created two new FillTypes, "Solid,OrganicFertilizer,BullManure" (cattle manure) and "Solid,OrganicFertilizer,PigManure" (pig manure)
.
Now (wheat, rye, barley, canola, oats) straw can be interspersed in the bull stalls and it will be converted to cow manure according to real values. If there is no straw, there is no manure but no other disadvantages. The manure pile is next to the barn exit where the rooster crows. A bull produces about 600L manure/month/animal. The manure production depends on the barn and cannot be done individually per animal, i.e. if other animals are housed in the (bull) barn, they will also consume straw and produce manure, but more or less depending on your weight and feeding amount.
.
Fertilizer calculator updated, it can now handle the new types of manure and the price of sewage sludge lowered from 5 to 4.
After years of multiple requests from a single person, two new liquid fertilizers have been integrated that are the stuff of fantasy. In addition to AHL28 (36N), there is now AHL28P (P36) and AHL28K (K36). Despite some research, I guess you just don't fertilize P and K liquid. Instead, I guess you fertilize sulfur, iron, and other things, but they have no effect in the game.
Manure production for geese, chickens, goats, sheep set close to 0. Pig manure about 0.43m³ (430 L/month/animal) and bulls about 0.6m³ (600L/month/animal) and dairy cows about 2.4m³ (2,400L/month/animal)
Fodder troughs in bull pen again allow all feedable materials except straw for now until we can sensibly mix feed etc (Solid,Feed;Solid,Chaff;Solid,ThreshedFruit;Solid,Swath,FieldGrass;Solid,Swath,FieldGrassSilage;Solid,Swath,FieldgrassHay)
Prices for loose straw, fieldgrass (silage, hay) has been reduced. Prices for straw bales have been adjusted to reflect current market prices. It should now be worthwhile baling grass in the field rather than just selling it loose. Happy to provide feedback if it should be different.
You can now fill 10,000L of straw, which is exactly equivalent to 2 bales of straw at 5,000L (200kg) each. The "level indicator" of straw in the barn has been made visually clear in addition by bales that decrease depending on the filling level.
Adapted language files so that all new feed troughs, fruit types etc. should now be available in all 8 languages (using Google Translate).
Tucano can fertilize, so once the straw spreader is set to chop and eject the straw, it will fertilize the soil a tiny bit. This is to simulate nutrient return through the straw. If the straw spreader is set to "windrow," then no fertilizer is applied.
Pasture on the farm now provides field grass and the animals are growing. Field grass "grows back" when it runs low.
Limitations:
see v001
Manure spreader is not included in the mod, but will likely come as a separate mod or then with v003.
Credits
Modell:
Textur: Deutzfahrer
Script: Nachtfalke
Idee / Konzept: Nachtfalke
Tester: Nachtfalke
Sonstige: 
changes
01 Dec 00:33

Version 004

v004 - 2021-12-01
- Es werden nun 24h nach Spielstart neue Tiere jeder Art beim Tierhändler generiert. Ab diesem zeitpunkt etwa alle 4-7 weitere neue Tiere jeder Art. Dazu wird im Hintergrund per Script, unsichtbar für den Spieler, eine "Mission" gestartet welche die Tiere generiert.

- Wenn man nun mit einem Fahrzeug "Futter" einlädt, (Solid,Feed), dann wird nun im Trading Window der Gehalt von MJ, Rohfaser und Protein angezeigt. Diese Anzeige kennt man bereits von Dünger mit NPK. Diese Funktion hat noch keine weitere Funktion.

- Leider hat sich bei den Tieren eine Limitierung des Spiels gezeigt. Entgegen der Annahme, dass Schafe, Hühner, Gänse und Pferde genauso fressen und wachsen, scheint dies nicht der Fall zu sein. Diese Tiere haben zwar einen "Controller", welcher sie korrekt aussehen und laufen lässt, allerdings sind diesem Controller keine Funktionen hinterlegt, was das Wachstum angeht, d.h. sie fressen nicht und wachsen nicht. Wir haben diesen Tieren nun Controller von "Bullen und Schweinen" hinterlegt. Dadurch fressen sie nun korrekt, erzeugen Mist, trinken Wasser wie die anderen Tiere, allerdings sehen sie optisch entstellt aus. Um die Tiere nicht zu entfernen und damit die Möglichkeit zu verlieren, deren Erzeugnisse später nutzen zu können, bleiben diese Tiere im Spiel, sehen aber leider nicht schön aus. Das Wachstum und Aussehen von Bullen, Kühen, Schweinen und Ziegen funktioniert. Hier wurde nichts verändert.

- Die Verkaufspreise der Tiere wurden entwas angepasst. Die letzte Gewichtsstufe (bei Bullen z.B 700kg oder mehr) bringt nun nicht mehr den vollen Preis ein (Multiplikator kleiner 1), denn alte Bullen schmecken nicht. Sie bringen hingegen den vollen Preis zwischen 600 - 699kg. Die Preise schwanken grundsätzlich, aber ein "rechtzeitiger" Verkauf der Tiere ist profitabler. Dies gilt auch für alle anderen Tiere. Weitere Einschränkungen gibt es bei Kühen (Swiss-Fleckvieh). Diese Kühe dienen der Produktion von Milch (noch nicht implementiert). Ihre Aufgabe ist es Milch zu produzieren und nicht Fleisch anzusetzen, weswegen der Verkaufspreismultiplikator deutlich gesenkt wurde. Der Gewinn bei der Milchkuh entsteht über die Milch und nicht den Zuwachs von Fleisch.

- Die Meldung "Mindestens ein Tier im Stall X hungert" hat nun Auswirkungen. Wir haben eine Funktion implementiert, welche die Tiere hungern lässt. Fehlt eine der Komponenten Trinkwasser oder Futter, magern die Tiere ab. Die Tiere verlieren - variierend - zwischen ca. 5% - 10% ihres Körpergewichts pro Tag. Hungernde Tiere verlieren somit deutlich an Gewicht und damit auch an Wert. Falle die Tiere mit dem Gewicht unter das "Geburtsgewicht" (Bullen, Kühe, Pferde weniger als 100kg, Schweine, Schafe, Ziegen weniger als 20kg, Hühner, Gänse weniger als 0.2kg), dann wachsen sie nur noch sehr langsam. Es dauert bei guter Ernährung ca. 100-120 Tage, bis sie wieder das "Geburtsgewicht" haben und normal wachsen. Der Preismultiplikator liegt in diesem Bereich nahezu 0, d.h. man verkauft mit Verlust. Hungern die Tiere noch mehr und fallen unter eine Grenze von 10kg bzw. 0.05kg (Geflügel), dann simulieren wir den Tod der Tiere. In dieser Stufe fressen die Tiere nichts mehr, trinken nichts mehr, wachsen nicht mehr. Die einzige Möglichkeit die Tiere "los zu werden" ist der Verkauf. Dieser ist mit einem (deutlichen) negativen Preismultiplikator definiert, d.h. der "Verkauf" des Tieres kostet Euch Geld. Das soll die Kosten für den Tierverwerter simulieren als auch die Geldstrafe der Behörden. Da das Spiel per Script Editor keinen Zugriff auf die "Tierparameter" lässt, haben wir uns erneut über "Missionen" beholfen. Ein Script startet, je nach Zustand des Futter- oder Wassertrogs, eine unsichtbar im Hintergrund eine "Mission", welche die Tierparameter anpasst.

- Auch die Tiere auf der Weide am Hof und an der Weide beim Tierhändler können nun verhungern.

- Die Grundzüge des "Weide Management" wurde implementiert. Das bedeutet, die Weide am Hof wurde mit 1ha geschätzt und die Weide am Tierhändler mit 3ha. Weiterhin wurde anhand der Literatur eine "Zuwachs von Gras pro Tag pro ha" ermittelt. Diese 5 Bereiche erstrecken sich mit unterschiedliche starkem Zuwachs im Zeitraum von März bis November. November bis Ende Februar wächst es gar nicht bzw. nur minimal. Das Gras wächst täglich nach, die Kapazität des wurde an der Farm auf 1.000L (330kg) und beim Hädnler auf 3.000L (990kg) gesenkt. Eine Weide kann nun also auch überweidet werden, was darin resultiert, dass die Tiere hungen, abmagern oder sterben. Weiterhin sollte die Weide nicht überweidet werden, d.h. sind nur noch weniger als 15% Feldgras auf der Weide, dann wächst das Gras langsamer. Beachtet, dass Ihr nur so viele Tiere auf die Weide lasst, wie es die Jahreszeit zulässt.

- Französische Übersetzung von "Raps" angepasst.

24 Nov 23:35

Version 003

v003 - 2021-11-24
- Wasserverbrauch wird nun simuliert. Das Spiel lässt es nicht zu, dass mehrere Futterquellen pro Stall (ein Trog Wasser, ein Trog Futter, ...) gleichmäßig von den Tieren verwendet werden. Es wird immer nur eine Quelle genutzt bis diese leer ist und dann die Andere. Weiterhin ist die Nutzung von Wasser zwar in der XML definiert, aber es scheint keine Auswirkungen zu haben. Auch eine "waterConcentraion=0.0" als Attribut eines Futtertyps lässt die Tiere genauso schnell wachsen wie "waterConcentration=100.0". Glücklicherweise gibt es in der Literatur klare Definitionen, wieviel Futter (kg) ein Tier pro Tag zu sich nimmt und wieviel Liter Wasser es pro Tag benötigt. Daraus lässt sich ein Verhältnis von Futter und Wasser ableiten. Wir simulieren nun, dass bei Aufnahme von x kg Futter y Liter Wasser verbraucht werden und entnehmen dies dem Wassertrog. Weiterhin prüfen wir, ob Wasser im Trog enthalten ist. Ist der Wassertrog leer, wird das "Max Limit" des Futtertrogs auf die aktuelle Menge Futter im Trog reduziert. Anders ausgedrückt bedeutet das, dass der Futtertrog immer kleiner wird mit jedem kg das die Tiere fressen. Es besteht keine Möglichkeit das Futter wieder aufzufüllen. Die Tiere fressen also das Futter noch leer und hungern dann. So simulieren wir eine Auswirkung durch Wassermangel auf das Wachstum der Tiere. Sobald wieder Wasser eingefüllt wird, steigt auch das Limit des Futtertrogs wieder auf die normale Größe an.
- Auf der Rückseite des Stalls, zwischen dem Flüssigdüngertank und der Güllepumpe befindet sich nun ein noch unsichtbarer "Wasseranschluss". Hierüber können alle Wassertröge im Stall mit Trinkwasser versogt werden.
- Das "Hof Güllelager" wurde nicht mehr im Finanzmenü (F1 --> blauer Reiter) angezeigt. Gülle wurde dennoch eingelagert. Dieser Fehler wurde behoben.
- Am "Tipper Register" des Jaguar wurde etwas verändert, so dass die Reichweite nach hinten verlängert wurde. Dadurch sollte es möglich sein, dass auch der zweite Anhänger beladen wird, da dieser sonst oftmals außer Reichweite gelangte. Es ist wichtig, dass ein im Savegame bestehender Jaguar 960 einmal per RESET zurückgesetzt wird, damit er die Änderungen annimmt und Nebenwirkungen nicht auftreten. Sollte es dennoch Probleme geben, diesen Ordner löschen ..\Cattle and Crops\Mods\Base\machines\claas\jaguar900\. Dann wird die Originalmaschine verwendet.
- Es wurden auf der Map einige "Icons" hinzugefügt, welche zeigen, wo der Misthaufen ist und der Wasseranschluss. Man muss ggf etwas heran zoomen, da es doch sehr dicht beeinander liegt.
- Es gibt einen Strautmann Streublitz PS1201 - einen Miststreuer mit 12m Arbeitsbreite. Damit kann der Rindermist nun auf die Felder ausgebracht werden. Vielen Dank an @Deutzfahrer für die komplette Arbeit an diesem Modell.

20 Nov 16:31

Version 002
Files
Empfehlungsrate
-/-
noch nicht genug Stimmen
Do you think this mod should be featured?
}