New Holland 2305 forage harvester
V 1.0.2.8 mod for Cattle and Crops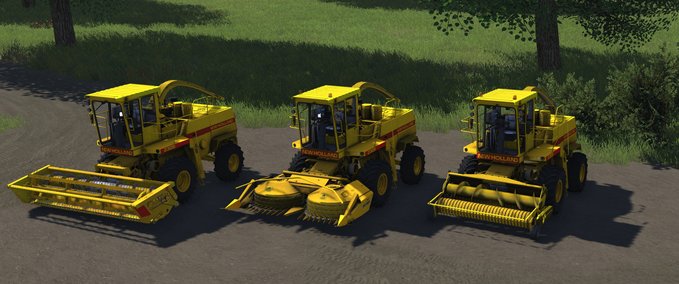 description
Here you get a forage harvester of the brand New Holland.
Included are 3 harvest headers:
M6R cornbill
DC500 directcut cutting unit
P31 Pickup (with this it is finally possible to pick up and chop every swath of any fruit)
Have fun with the old sweetheart
Please keep original downloadlink. its not allowed to upload it again
Credits
Modell: Shnurok edited by Deutzfahrer
Textur: Mr_Mazzony edited by Deutzfahrer
Script: Deutzfahrer
Idee / Konzept: Deutzfahrer
Tester: Deutzfahrer
Sonstige: Deutzfahrer
changes
11 Nov 23:00

Version 1.0.2.8

-Soundupdate
-KI Kompatibilität verbessert
-Auswurfpipe überarbeitet

15 Oct 10:18

Version 1.0

Für V1 angepasst

07 Jan 21:58

Version 0.9.0.3

angepasst an Update 0.9.0.3

22 Jul 22:46

Version 0.5.1.1

- Texturfehler behoben
- div. Anpassungen

18 May 07:12

Version 0.4

- geänderte Auswurfpipe (somit können auch große Anhänger beladen werden)
- diverse kleine Verbesserungen zur Verbesserung der Helfer-kompatibilität

26 Feb 20:22

Version 0.3

- neue Motoreinstellungen
- M6R Schnittbreite und Einzugsanimation angepasst
- P31 Texturfehler am Kettenschutz behoben
- P31 Schwadaufnahme angepasst. (bei angehobener Pickup wird kein Schwad mehr aufgenommen)

24 Feb 00:44

Version 0.2.1

- Einige kleine Fehler behoben
- Pipe und Auswurfradius angepasst
- Trittstufe im Heck klappt automatisch ein
- Zugmal hinzugefügt.
- Spiegelverstellung optimiert.
- Lichtkegelpositionen angepasst.

21 Feb 23:53

Version 0.1

Do you think this mod should be featured?
}