Euro pallet set and BigBags
V 0.6.0.10 mod for Cattle and Crops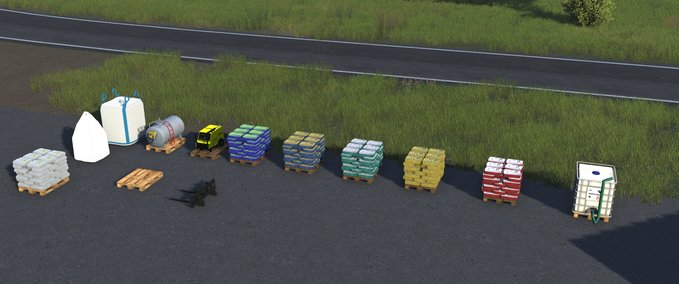 description
Euro pallet set with different functions.
Universal seed pallet
Seed varieties: wheat, barley, rye, corn, field grass
diesel tank
IBC container as a liquid fertilizer tank
high pressure cleaner
1000kg Universal BigBag
500kg Universal BigBag
suitable pallet fork
The package is still under development
More information can be found here:
Credits
Modell: SFM, euroDZN, Deutzfahrer
Textur: 
Script: Deutzfahrer
Idee / Konzept: Deutzfahrer
Tester: Deutzfahrer
Sonstige: Deutzfahrer
changes
26 Jul 22:06

Version 0.6.0.10

An CaC Update 0.6.0.10 angepasst:

- alle Düngersorten bei den beiden BigBags hinzugefügt
- AHL 28 zum Wassertank hinzugefügt
- Güllepumpe hinzugefügt ---> hier können Mastbullengülle und BGA Gärreste erworben werden.
- Europalette mit Düngestrategie - Rechner hinzugefügt

22 Jul 21:57

Version 0.5.1.1

-xml angepasst

15 Feb 22:16

Version 0.3

.xml changes

05 Feb 22:38

Version 0.2

Fehler bei Palettengabel korregiert

05 Feb 15:54

Version 0.1
Files

Do you think this mod should be featured?
}