Claas Corto 290FN
V 1.0.2 mod for Cattle and Crops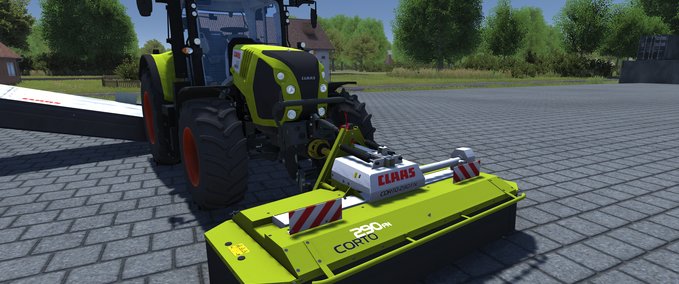 description
The Claas Corto290FN front mower is now available from your vehicle dealer
>br />The basic texture was created by Florian in 1986, I have now completely reworked the texture, because I have been working on the texturing in the last months and am now able to create my own textures according to the CnC standard.
Hinweis:
The helper does not yet work when using the front and rear mower.
Stay in contact with MBB, because the problem is in the game code
, because the front mower is still recognized as a rear attachment and therefore both devices hinder each other. Also the combination of the two
widths is therefore still not correct.
You have it on your TODO list and will probably look at it after the release of the 1.0.
br />We wish you a lot of fun mowing.
Credits
Modell: MOOSE / By PwrQuad/ Fabian aka Gogobear
Textur: Florian1986/ Deutzfahrer
Script: Deutzfahrer
Idee / Konzept: MOOSE /Deutzfahrer
Tester: MOOSE/Florian1986/Deutzfahrer
Sonstige: 
changes
26 Oct 13:50

Version 1.0.2

Texturupgrade

15 Oct 09:56

Version 1

Anpassung an Cattle and Crops V1

13 Aug 11:22

Version 0.9.8.2.2

AI Improvement

01 Aug 07:38

Version 0.9.8.2

Empfehlungsrate
-/-
noch nicht genug Stimmen
Do you think this mod should be featured?
}