Hammer CornKing 10000
V 1.2 mod for Cattle and Crops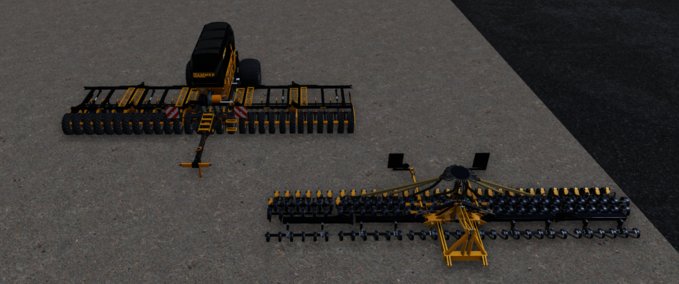 description
Hello,
enclosed you get the standard Hammer CornKing 6000 in the 10m variant Hammer CornKing 10000.
The implementation is "quick and dirty". I have only copied the machine parts and provided with appropriate functionality. The effort to develop separately for associated attachments and hydraulic cylinders I have saved.
Changes to the standard CornKing:
Working width 10 m
Significantly reduced cultivator function
(so far?) only available with cereal seed cultivation
(since V1.2) Tramline function
V1.2
Tramline function
If you did configure anything, the sowing machine will work like before: seet the whole width
optional you can configure the Tramline funkction and turn it ON. To do so you have to do before start seeding:

Open the radial menu from your vehicle
Change to seeding unit
Configure the Tramline function (from top to down, clockwise):

Configure the Tramline width. Possible values are from 10m to 60m in 1m steps via mouse click or mouse hold and mouse move.
Choose the starting side of your field. At which side do you start? At the right or left field edge.
Choose the track widht. For which vehicle should the seed unit configure the tracks? Possible are for the small Arion 530 or the big Axion 940.
Turn the Tramline function ON.
Close the radial menu.

Note / Important: At the end of each track you have to raise the machine. Because the raising is the signal to calculate the settings for the next track.
Note: Please change each setting at least one time. Otherwise it is possible that wrong settings will be used for calculation.
Greetings
Pebcak
IT IS NOT ALLOWED TO UPLOAD THE MOD AGAIN, PLEASE USE THE ORGINAL DOWNLOAD LINK
Credits
Modell: MBB
Textur: MBB
Script: MBB (base) and Pebcak (all other/additional)
Idee / Konzept: MBB (and a little bit Pebcak)
Tester: Pebcak
Sonstige: 
changes
21 Oct 21:29

Version 1.2

(de)
- Schläuche zu den äußeren Anbauteilen hinzugefügt
- Fahrgassenfunktion hinzugefügt (optional)

(en)
- added flexible tubes to the new seeding parts
- added Tramline function (optional)

15 Oct 12:33

Version 1.1

(de) Bug bei der Düngermengeneinstellung bei den hinzugefügten Anbauteilen. (zu sehen als Linien in der "Dünger-Ansicht"). Die neuen äußeren Bahnen wurden mit anderen Mengen gedüngt, als der alte Standard 6.000er Anteil.

(en) Bug at the calculation of the amount of fertilizer at the new parts. (you can see "fertilizer lines" at the map view). The new outer parts used another fertilizer amount as the old standard 6.000 part.

03 Oct 18:43

Version 1.0
Files
Empfehlungsrate
-/-
noch nicht genug Stimmen
Do you think this mod should be featured?
Unterstütze den Entwickler!
Jetzt mit PayPal spenden
}