Raised blind (transportable, with damage caused...
V 1.1 mod for Cattle and Crops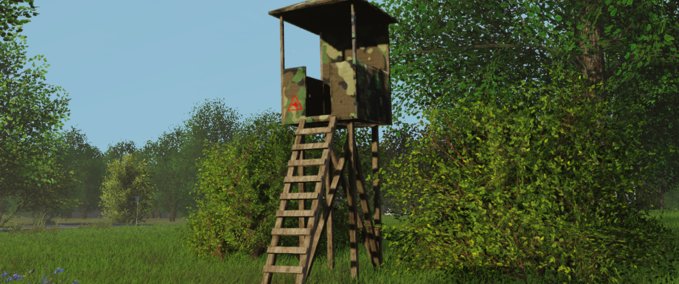 description
Hello,
here you get a raised blind. Within a radius of 100m, 300m or 1.500m a part of your crop is periodically destroyed by wild boars. At the same time, however, there are the hunters who hunt the wild boars.
Unfortunately, CnC currently does not allow to transfer money directly to the player account. Also on indirect ways it was not reliably possible. So that now however the raised blind is not a loss business, I inserted as alternative a compensation for the game damage in the form of wheat. This can be picked up on the right side of the raised blind by means of a trailer. Can, but does not have to. Your choice.
Transport you can the raised blind quite simply by means of a tractor and three-point hitch. In front of the ladder is an invisible 3-point hitch installed.
The mod also respects your sleeping time or these times are also taken into account. The damage of the boars and the compensation level are random values and can vary.

Please note: I don't know what happend when the working radius from the raised blind cross the map limits. Therefore the 1.500 m variant should only placed near the middle of the map (map size = 4.096m*4.096m). The smaller variants appropriate.
Have fun
Pebcak
IT IS NOT ALLOWED TO UPLOAD THE MOD AGAIN, PLEASE USE THE ORGINAL DOWNLOAD LINK
Credits
Modell: Pebcak
Textur: Pebcak
Script: Pebcak
Idee / Konzept: Pebcak
Tester: Pebcak
Sonstige: n/a
changes
14 Sep 17:37

Version 1.1

(de) 2 neue Varianten mit 300m und 1.500m Umkreis. Die 100m + 300m Varianten arbeiten identisch, die 1.500m Variante hat erhöhte Wahrscheinlichkeiten. Siehe Readme.txt in Zip-Datei.

(en) 2 new variants with 300m and 1.500m range. 100m + 300m variant work identically, the 1.500m variant has increased probabilities. See Readme.txt in zip-file.

29 Jul 20:21

Version 1.0 for CnC 1.3.5.5
Files
Empfehlungsrate
-/-
noch nicht genug Stimmen
Do you think this mod should be featured?
Unterstütze den Entwickler!
Jetzt mit PayPal spenden
}