Kverneland2020 Pack (from xyzspain) updated
V 1.0 for CnC 1.3.5.5 mod for Cattle and Crops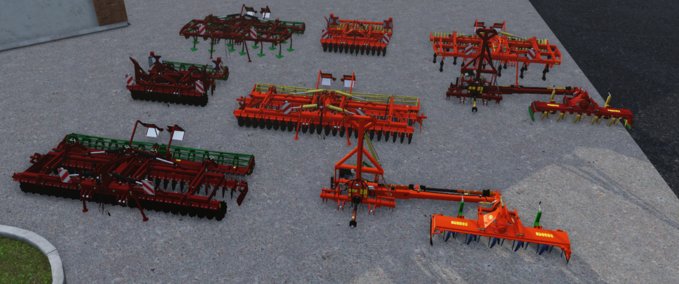 description
Hello,
This one is the updated version of the Kverneland Group 2020 Pack by xyzspain, which is also available here at Modhoster.
With this update, I've added to the mod pack the new tillage features introduced with CnC's March 2021 ground update. See version history or below for V1.0
for which devices have already been revised.
Unfortunately, we have not received or heard any further info from xyzspain since August 2020, and I have received no response to my contact requests through various channels.
Therefore, I have now updated the pack, it is just too bad to remain unused (without the tillage).
If there are reasons against this update, short info to me (or the admins) and the mod will be removed again.
In this update V1.0 included or updated 8 devices:
Cultivator:
Rau CompacTiller, 3.0m
CLC Clasic R foldable, 5.0m
Power_harrow_front (Kvern.+Vicon) - 2 power harrows for front mounting, 3.0m
Qualidisc Farmer / Foltable / Rau Compact Tiller Folt, 3.0m / 6.0m / 6.0m
Rau Tinetiller FR foldable, 5.0m
Greetings
Pebcak
Credits
Modell: xyzspain
Textur: xyzspain
Script: xyzspain
Idee / Konzept: xyzspain
Tester: xyzspain, Pebcak13
Sonstige: only ground function update: Pebcak13
changes
18 Jul 19:18

Version 1.0 for CnC 1.3.5.5
Empfehlungsrate
-/-
noch nicht genug Stimmen
Do you think this mod should be featured?
}