Alfa Modding Ski Addon
V 2.1 mod for Ski-Region-Simulator 2012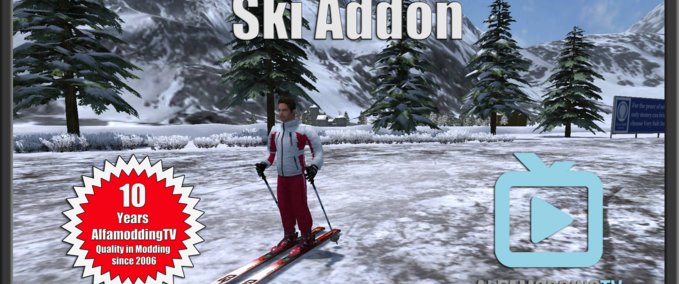 description
Hello,
Today is the day the people AlfamoddingTV Ski addon is there.
Unsere Facebookseite:

Model: Giants
Ingame: AlfamoddingTV team
Implemented: speedy11

Features:
Skiing
Real driving sound
Particle system
Realistic driving experience


your speedy11
AlfamoddingTV team
Credits
Erstellung: Speedy11 AlfamoddingTV Team Dekoration und Details: Donchris Beta Tester: King_FCB
changes
07 Jan 12:18

Version 2.1

- Performance improved
- New Store Picture

05 Apr 14:46

Version 2.0

- Neuer Fahrsound
- Stirnlampe und Rucksack bei einschalten des Lichts Taste-F
- diverese Optimierungen

07 Dec 20:07

Version 1.5

- Performence Verbesserung
- Größe des Skifahrers Korrigiert
- Diferse Verbesserungen und Korrekturen
Files
checksum:
c64ec5b3ca1aceb86d0ef18b6b5d57bf
Version:
2.1
multiplayer ready?
yes
Author:
AlfamoddingTV und DonChris]
price in shop:
600 LS
name in shop:
Alfamodding Ski Addon V2.0
description in shop:
AlfamoddingTV Ski Addon als PISTENAUFSICHT Version.
Orginal by: AlfamoddingTV
Edit: DonChris

Empfehlungsrate
-/-
noch nicht genug Stimmen
Do you think this mod should be featured?
}