DonChris Skiregion
V 3.0 mod for Ski-Region-Simulator 2012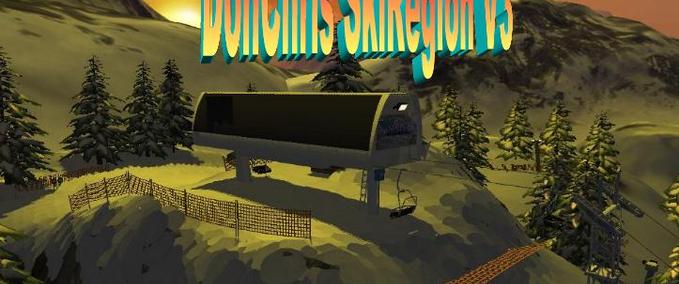 description
Das ist Version 3 meines Skigebiets !
Änderungen in v3.0 :
- Hotels und Shops 
(Die Kaufbaren Hotels und teilweise die Shops der Stationen wurden umplatziert. Die Symbole der Hotels wurden auf der Hotelkarte angepasst.)
- Fuhrpark
(Es wurden Standart Fahrzeuge, DLC1 Schneekanonen und Fahrzeuge aus dem ModPack 1 + 3 platziert. Alle Info´s zu den Area-Spawns hier: http://donchris.jimdo.com/donchris-skiregion/area-spawns-v3/ )
- Stutzalm
(Der Bereich Don´s Skihütte wurde ausgebaut und trägt nun den Namen "Stutzalm" )
Neue Features in diesem Bereich:
3 weitere Berghotels - Kaufbar
Privatweg für Pistenbullys und Personal
Pistenbully - Unterstand
Pistenbully Tiefgarage
Beschneiungsanlage
Ankerlift
- Naturhang
(Die geschlossene Piste wurde ausgebaut und geöffnet. Zudem wurden die Schneefallzonen dort neu eingestellt.)
- Strassenmeisterei
(Die Strassenmeisterei wurde etwas Überarbeitet und hat ein Salzsilo erhalten. Alle Info´s zum Salzsilo hier: http://donchris.jimdo.com/donchris-skiregion/salzsilo-v3/ )
- Ausbau Bühl
(Änderungen an der Strassenführung zu Sonnenalm, Bushaltestelle, Waldweg)
- Himmelsleiter
(Aus der Baustelle ist der Bereich "Himmelsleiter" entstanden:
2 Abfahrten rot/blau, Sessellift, Skihotel, Tiefgarage, Mini-Loipe, Flutlicht, Beschneiungsanlage, Parkplatz)
- Steilhang an Piste Nr.3
- Winterdienst Sarenrist verlegt
(Der Winterdienst Sarenrist wurde nach unten an die Hauptstrasse verlegt.)
- Änderungen im neuen Stadtteil
( Aldi, Mc Donalds etc wurden entfernt und durch Hotels ersetzt.)
- Händler
(Der Startpunkt am Händler wurde überarbeitet.)
- Transportmissionen angepasst
- Rettungsmissionen optimiert
(Verletzte können nun an allen Bergwachtunterständen abgeliefert werden)
- Skidoo-Downhill
(Skidoo Rennstrecke für Multiplayer Rennen oder Zeitrennen)
- Baum Bug behoben
(Alle Bäume sind jetzt dauerhaft sichtbar)
- Garage für Schneefräse
(An der Bergstrasse zur Sonnenalm wurde eine kleine Garage gebaut)
- kleine Änderungen
(Viele kleinere Änderungen)
 Darf nicht verändert oder neu hochgeladen werden !!!
It is not allowed to reedit or upload the files again !!!
Alle Info´s zur Map auf:

VIEL SPASS !!!
Credits
Tobias

Tim

niki24

lsBrandl

Freestyler

Airwaves

Jan

ClaasJona

Flo

Hewaaa

Ls-Maxi

Luis g.

meistro @ MRA-MODDING

Enercon

Pfandflasche

desch

3malx 7

der kommisar

sheep 001

blubbber

Shippy

Wildfuchs

Valentin

Repi

Chefkoch LS2011

Hellboy1975

Mausi

The Stivala

LS-20-11

Onkel Hotte

LS11 Profi

Thorne

Fendt939 Ario 12

Krone Big xv 12

Feros

alfa Whisky

acert

freak36558

Hannes313

LS-Landtechnik.de

namreh 78

Gamesnapper

Dj-Sky

Alex-Bauer-Helli-97

Black Spider

manuuuu

spider100

Trixi

Babarossa

wayne.jr.

milli1994

SRSFan (AMT)

M-S_Buschi

Delux 112

Haselhorst

ThomasLS11

Files
| | |
| --- | --- |
| checksum: | f02d5a5ce6c7deac1cbb3b9bf16803aa |
| Version: | 3.0 |
| multiplayer ready? | no |
| Author: | _DonChris_ |
| price in shop: | LS |
| name in shop: | DonChris SkiRegion V 3.0 |
| description in shop: | Willkommen in der Skiregion von DonChris ! Darf nicht veraendert oder neu hochgeladen werden ! VIEL SPASS !!! |

Do you think this mod should be featured?
}