Margarethenhoehe
V 2.0 mod for Ski-Region-Simulator 2012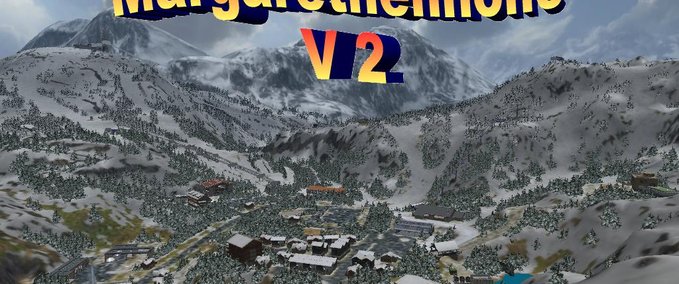 description
featured
Mod Map Margarethenhoehe
(Version 2.0)

 

 

Preface:

 

 

This mod map is created based on the Sutzmatt Standartmap!

 

The map contains log error!

 

The map does not work Due to the size may on any computer liquid!

 

Ski area and village are freely invented!

 

There are minor bugs!

 

 

 

 


_____________________________________________________

 

 

 

Welcome to the Margrethe height of DonChris

 

 

Recreation and sport for young and old in the highlands!

The quiet place "Margarethental", with its originality and proximity to nature is a good alternative to the busy tourist magnets of the Alps.

The "ski Margarethenhoehe" has to the surrounding mountains, "Sophie View" and "Margaret peak" a fully-serviced ski area. Here you will find beginners as well as advanced everything a winter sports enthusiast, 15 runs of all difficulty classes, and other slopes and trails. This includes the steepest slope of the Margarethenhoehe, the Kamikaze, which is also the pros and attracts winter sports enthusiasts.

A diverse range of restaurants and apres-ski huts ensures that our guests lack nothing.

 

 

 

 

 

Feature - Overview (roughly):

 

 

- 1 village

- 1 City

- 2 mountains

- 10 lifts and lifting equipment

- 15 regular departures

- Additional tracks and routes

- Ski lifts controllable

- 4 areas with snowmaking system

- 2 areas with Night

- 4 ski patrol locations

- 2 Highways Locations

- 1 additional salt storage

- 4 snow cannons / snow depots

- Various apres-ski huts with music and lighting

- Runway taxi office and stops

- Feuerwehrgerätehaus

- Various Teleporter

- Drag lift curves

- Ski tunnel

- Skibridge

- Funpark

- Sport Hotel Lounge

- Objects of Austria Modding Team (6-seater)

- Wind anchor of the Austria Mod Modding Team

- Uncle Willy's ski lodge

- Pedestrian bridge

- Footpath

- Lift cabin for tows

- Trail

- Ski school area with a children's club

- TND (day / night decoration)

- Very much detail decoration

- About 9500 trees

 

 

 

 

Since a detailed list of features and functions beyond the scope here, I want to ask you on my homepage to browse.

Here I have already collected a lot of information for the Margarethenhoehe, whether as text, image or a map. In addition, there are still further useful for the Margarethenhoehe.

Questions about the map I beat words like about the book or the modhoster comment section.

 

 

 

 

 

I would like to say thank you to everyone who made this map possible and have supported me!

 

 

I hope I've mentioned each has contributed something in the credits, I've lost track there a little: (

Should anyone notice that he was not mentioned, please notify, so that I can grudge it :)

 

 

Information and support on:

 

www.donchris.jimdo.com

 

 

 

Must not be changed or re-uploaded!

 

 

 

It is not allowed to reedit or upload the files again!

 

 

 

Have fun!
Credits
Tobias
Alfamodding.tv
airwaves
LsBrandi
LsLandwirt
niki24

credits für AMT(AustrianModdingTeam) Sessellift-Komponenten:
Kontrollraum = MaxT35
Sessel = MaxT35
Station = SRSFan
Scanner = SRSFan
Schilderbrücke = Swobi
Schranken = Planna Maik

Windenmod Ankerpunkte by Austrian Modding Team (MaxT35 & Planna Maik)[www.austrian-modding-team.jimdo.com]

BigM
Jan
ClaasJona
Flo
Hewaaa
Ls-Maxi
Luis g.
meistro @ MRA-MODDING
Enercon
Pfandflasche
desch
3malx 7
der kommisar
sheep 001
blubbber
Shippy
hunter24de

Files
| | |
| --- | --- |
| checksum: | 92fb4a10baf585e7612a08c9e4629993 |
| Version: | 2.0 |
| multiplayer ready? | yes |
| Author: | _DonChris_ |
| price in shop: | LS |
| name in shop: | Dons Margarethenhoehe V 2.0 |
| description in shop: | Willkommen auf der Margarethenhoehe von DonChris ! Darf nicht veraendert oder neu hochgeladen werden ! Support auf www.donchris.jimdo.com ! VIEL SPASS !!! |

Do you think this mod should be featured?
}