Pistenbully Addon
V 1.4 mod for Ski-Region-Simulator 2012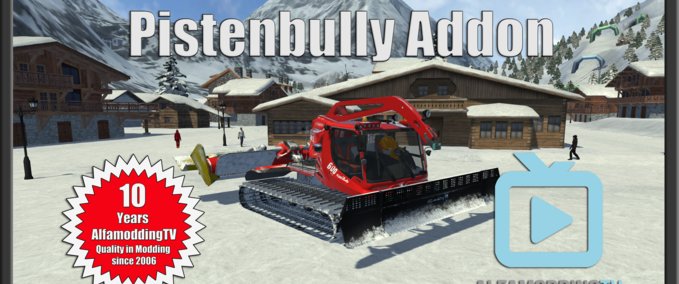 description
Piste Bully Addon by AlfamoddingTV
Bughelp under: 
Containing end vehicles:
PistenBully 600 Polar


PistenBully 400 (included with version 1.5)

PistenBully 100 (included in version 2)
PistenBully 600 Polar
Features:
Lighting by StVo

New round light

Rear work light / Front (NumPad 4/5)


New lighting

Freezing Windows (between 1 to 8 clock thawing by key 4)




Annimierte sun visor (key 5)

Annimiertes skylight (key 6)

Work light beam (key 7)

Warning tone (key 0)

Indoor lighting (NumPad 9)

Wind light (NumPad 8)

Rotating light beam (NumPad 7)

Passenger Script (In multiplayer players can ride in the cabin)

Indoor Sound (Indoor different sound than outdoor)

Revised models and more details)
Known bugs:
In multiplayer, the player no sound, gefrohrende discs not synchronized.
If still not resolved.
Contributors PistenBully 600 Polar:
Model: AlfamoddingTV / Giants
Texture: AlfamoddingTV / Giants
Script: Aranea / Alex2009 / Sven777b / Frederick L. / SFM-Modding
Details / light adaptation: DonChris
Many thanks to all contributors !!!
Our Facebook page:
Darf nicht verändert oder neu hochgeladen werden !
It is not allowed to reedit or upload the files again !
Credits
Mitwirkende Pistenbully 600 Polar: Modell: AlfamoddingTV/Giants Textur: AlfamoddingTV/Giants Script: Aranea/Alex2009/Sven777b/Friedrich L./SFM-Modding Details/Lichtanpassungen: DonChris
changes
07 Jan 12:19

Version 1.4

- Performance corrected
- Freezing Windows Deleted
- Snowblade better Performance

16 Feb 09:31

Version 1.0
Files
checksum:
3e07ca35dff1c353d7c83f11350541ee
Version:
1.4
multiplayer ready?
yes
Author:
GIANTS Software und AlfamoddingTV Speedy11vc
price in shop:
600000 LS
name in shop:
Pistenbully 600 Polar
description in shop:
Technische Daten
Zylinderzahl 6
Hubraum 12,8 l / 12.820 cm
Leistung nach ECE 335 kW (455 PS)


Do you think this mod should be featured?
}