Rescue
V 2.1 mod for Ski-Region-Simulator 2012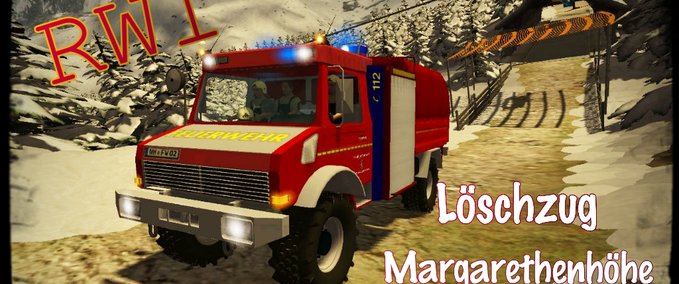 description
RW1 
 Fahrzeug 2  -  Löschzug Margarethenhöhe
 Das ist der RW1 aus dem ModPack2 (Feuerwehr) in der Version 2 !
Orginalmod RW1:
Blaulichtschrauber
Umbau:
DonChris  /  AlfamoddingTV

 Besonderheiten und Änderungen:
 - realistisches Licht
- realistische Blaulichter und Flasher
- Weisse Frontflasher
- Blinker
- Presslufthorn
- Beifahrer (Deko)
- Deko (zB. Display, Antenne)
- Design
- Margarethenhöhe Wappen
- Spritverbrauch geändert
- Fahrverhalten verbessert
Da dieser Mod keine richtige Funktion für SRS bietet, gilt er als "Funmod".
Der Mod enthält möglicherweise noch Fehler und bugs.
Leider bleibt das normale Licht nach dem Aussteigen nicht an.
Leider funktionieren Rückfahrlicht und Bremslicht nicht.
Ich Danke allen die diesen Mod möglich gemacht haben !!!
Infos und support :
Darf nicht verändert oder neu hochgeladen werden !
It is not allowed to reedit or upload the files again !
 Viel Spass !
Credits
Blaulichtschrauber
AlfamoddingTV
changes
22 Jan 17:32

Version 2.1

Bugfixes:

Texturfehler behoben

16 Jan 06:59

Version 2.0
Files
checksum:
69ae7a924ffb7a74d2a328c687dd7473
Version:
2.1
multiplayer ready?
yes
Author:
www.donchris.jimdo.com
price in shop:
190000 LS
name in shop:
RW1
description in shop:
Ruestwagen
Loeschzug Margarethenhoehe Fahrzeug 2
Urmod: Blaulichtschrauber Umbau: DonChris
www.donchris.jimdo.com


Empfehlungsrate
-/-
noch nicht genug Stimmen
Do you think this mod should be featured?
}