Winter service Mod
V 2.4 mod for Ski-Region-Simulator 2012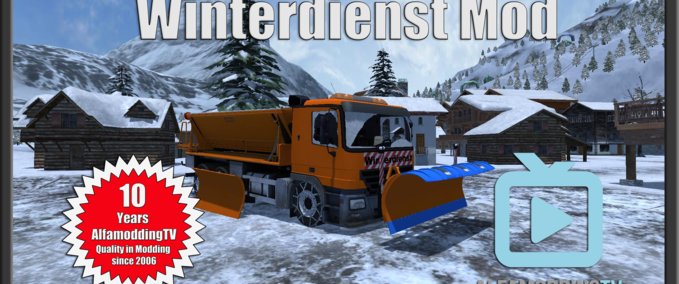 description
AlfamoddingTV and Qualitätsmods presenting the WinterdienstMod V2.2 V2.3
The truck own a realistic Removing and litter hold back.
Moreover, it was adjusted The handling characteristics Realistically.
Unsere Facebookseite:

TRUCK:
Model and TexturTruck: Giants / Speedy11VC (AlfamoddingTV)
Snowplow:   Speedy11VC (AlfamoddingTV)
Texture: Speedy11VC (AlfamoddingTV)
Script adaptations: Speedy11VC / Sven777b (AlfamoddingTV)
Beta test: DonChris, Repi
 Mirror and details: DonChris
Features:
 Indicator - warning indicator (Taste:Numpad1=Left, Numpad2=Warnblinker, Numpad3=Right)
 Day driving light
 Front light
 Litter arm lighting(investigation) (Numpad5)
 Prewarning light (Numpad4)
 All-round lights (Pos1) Light cone connectable Numpad7
 Controlunit
 Real mirrors in the driver's cab Connectable by Numpad6
Darf nicht verändert oder neu hochgeladen werden !
It is not allowed to reedit or upload the files again !
Wir vom AlfamoddingTV Team Danken allen Helfern und Unterstützern die diesen Mod geholfen haben.
Änderungen vorbehalten. ©AlfamoddingTV 2014
Credits
Mitwirkende: LKW: Modell und TexturLKW: Giants/Speedy11VC (AlfamoddingTV) Schneeschild: Modell: Speedy11VC (AlfamoddingTV) Textur: Speedy11VC (AlfamoddingTV) Script anpassungen: Speedy11VC/Sven777b (AlfamoddingTV) Betatest: DonChris, Repi Spiegel und Details: DonChris
changes
07 Jan 12:15

Version 2.4

- Performance improved
- New Store Pictures

10 Sep 23:05

Version 2.3

- es wurden einige Bugs behoben
- Falsch hinterlegte Indexeinträge Kontrolliert
- Performence Verbessert

07 Mar 19:10

Version 2.2

Do you think this mod should be featured?
}