The Moris Country
V 5.5003 mod for Farming Simulator 17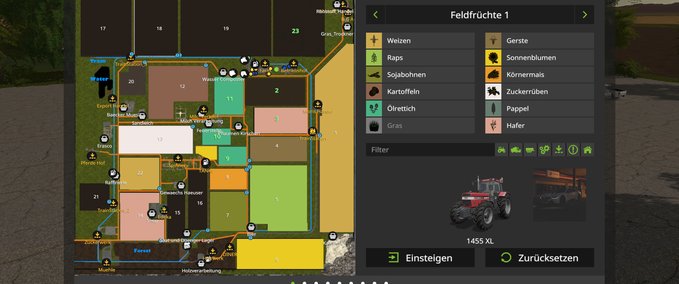 description
featured
4.0
Forest uninformed now have the choice to purchase trees or "forsten"
* Please note the information on the map.
Production optimization
----> it is as always mindes the "tipColMap.grle" to delete and who would like also the "fruit_density.gdm" and "cultivator_density.gdm" "splitShapes.gmss"
It is also the field fruits reset
Hello
Version 3.6
Hof kommplet new and changed
2 new products and 2 new fruits in production
Existing productions are rebuilt and adapted.
General fruit registration kommplet new
(The rafting and the mill can now be delivered to production) and be loaded and unloaded at the farm
In the map-extras is a box-trailer, so plums, cherries, meat / sausage, sandwich and waffle must be driven
"The Morisland v2 Version 2.5" finished * more or less *
It should not be a new game stand, but it must not all XML
Files in the memory.
This causes the field plant to be lost, and the "heap" is also lost
SilageSilo's
What was changed is very much to 1.7
Vehicles in the hall at the cuhstall solten first brought forward to the main house.
In the map "zip" is a small description of the map and production and modd's
Which are needed
I wish you much fun
MauriceSpencer
(The animals are intended to be released)
My thanks gild the indirect contributing scripts, 3D models have made available
The testers of the HoG
I wish you much fun with my map
People the motives, do not invite nix say, mop does not need a human!
LG
MoriceSpencer
Hints!!
Pigs and sheep no longer need to be cleaned
The Kotte-pack 1.8 is required to operate the map.
http://cunningfox-mods.com/forum/showthread.php?tid=195&highlight=kotte
https://www.modhoster.de/mods/stop-milchverkauf
This map has been designed and developed by me and may only be used with this link
Which announces and re-spreads is BANNED !!
Credits
Modell: 3dmodelle / Gians / ist mir leider nicht bekannt
Textur: gians / agsteam / moricespencer
Script: Blacksheep/RC-Devil/kevink98/Marhu/Blacky_BPG/vortex1988/grafik-edv
Idee / Konzept: moricespencer 
Tester: moricespencer, angehörige der HoG vereinigung
Sonstige: danke an die leute die hir nicht aufgefürt sind, da unbekannt.
dank an die leute die monate lang mit mir die karte getestet haben
changes
16 Apr 09:10

Version 5.5003

Kalkwerk für Kipper umgebaut, diverse anzeigen hinzugefügt

19 Jan 23:36

Version 3 5.3002

produktion komplet um und neu gebaut
strawPellets hayPellets, können eingelagert werden, werden aber nicht in der anzeige angezeigt

04 Nov 18:01

Version 5.056

für Patch 1.5.1
es muss auf jedenfalls die "tipColMap.grle" gelöscht werden.
***Achtung*** die füllstände müssen für den Betriebshof und FarmSilo mit der Hand oder anderweitig übertragen werden

02 Oct 07:29

Version 4.9

**ACHTUNG** vor dem UpDate müssen die Garagen leer sein
**kauf Trigger* Saat und Dünger auf dem Hof nur noch Flüssigdünger, die andern sind im "Rohstoffhandel" oben rechts an der BGA.
Betriebshof umgestaltet.

20 Sep 13:16

Version 4.7

2 neue Bahnhöfe, Paletten Capacity erhört, die meisten auf 8.000, Holz = Bretter und Euro-Paletten 10.000, diverse Performance FIX,

**Spielstand** neues saveGames erstellen und vom alten bitte nur die "vehicles.xml und careerSavegame.xml" übernehmen

28 Aug 18:56

Version 4.0

für "forst" unkundige, gibt es am Holz Zug jetzt die -möglichkeit mit dem in der map unter "Map-Extra" HolzTrailer die Bäume zu kaufen und für die Produktion im Sägewerk und Holzhäcksler abzugeben.

produktions- Optimierung

13 Aug 23:24

Version 3.6

neu aufbau vom Hof und Betriebshof
2 neue produktionen
neu registrierung der früchte und darstellung
teil neu plazierung vorhandener produktionen

es ist dringend empfolen alle nicht xml dateien im spielstand zu löschen

23 Jun 09:31

Version 2.6

es lassen sich jetzt auch bäume pflanzen, kleine Produktions anpassungen

16 Jun 17:30

Version 2.5

feldstrucktur damit die helfer n bissel besser laufen
Garagen *beschreibung an der garage lesen*
fixes

21 May 11:04

Version 1.7.1

Trigger fix
Files

Do you think this mod should be featured?
Unterstütze den Entwickler!
Jetzt mit PayPal spenden
}