GeeMod
V 2.1.6 mod for World Of Tanks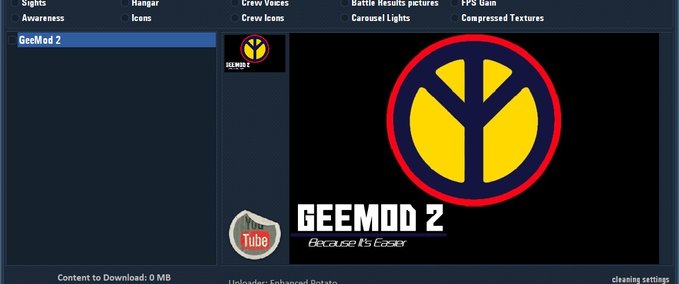 description
Hello you tankers
I would like to introduce you to the GeeMod Modpack.
It is very easy to use and also has thumbnails / videos inside, contains a large collection of mods and it updates itself on startup.
How does it work?
1. Start modpack
2. Select Mods (check on)
3. Press the INSTALL button
4. Play 
GeeMod 
 Because it's Easier
Fair play?  YES
We tried to keep the fair play rules and will continue to do so.  Among other things, we have geared ourselves to the large existing modpacks.  If you still could not find what could be described as "illegal", then of course we would remove it immediately.
Credits
Program: Gee
Admin: Enhanced Potato
changes
24 Jun 12:45

Version 2.1.6
Files
Empfehlungsrate
-/-
noch nicht genug Stimmen
Do you think this mod should be featured?
Unterstütze den Entwickler!
Jetzt mit PayPal spenden
}