North Frisian march 4-fold map
V 1.8 ohne Gräben mod for Farming Simulator 17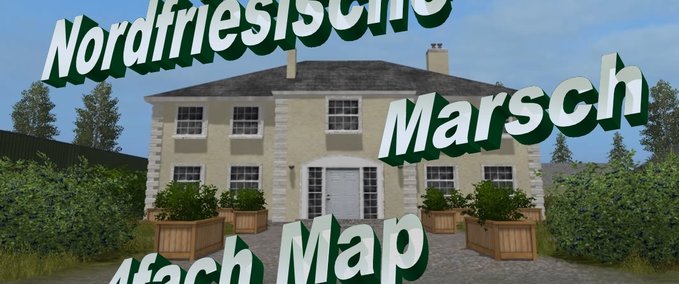 description
featured
North Frisian march 4-fold map
Moin moin people, after a long construction time, it is finally time and I publish the first version of the 4-fold map.
North German landscape with 45 fields and 16 grass fields. 4 farms and 4 biogas plants, Hühnerhof and Rinderhof. Extra fruit varieties Oats, rye and hops. Take a look at the video for the map presentation in peace.
Huge production and sales opportunities:
Cattle Breeding -> Cows
Chicken farm -> eggs
Sawmill -> board pallets
Wood chipper -> wood chips
Pallet plant -> empty pallets
Composter -> Compost
Flour Factory -> Wheat, barley and rye flour
Bakery -> Bread, pastries and cakes
Brewery -> wheat or barley beer
Fruit farm -> apples, pears, cherries and plums
Vegetable farming -> salad, tomato, red cabbage and cauliflower
Distillery -> Obstler and Korn
Cutter -> fish and crabs
Dairy -> milk, butter, cream, quark and yogurt
Pellets Factory -> Pellets
Stoffrabik -> fabric rolls
Sugar factory -> sugar
Pumpkin Farm -> Pumpkin
Cement factory -> Cement
Butcher -> Meat and sausage
Dieselfabrik -> Diesel
Edible oil factory -> cooking oil
Potato washing plant -> washed potatoes
Potato Factory -> French fries, potato sack and chips
Compound feed -> compound feed for cows / cattle
Pig Feed Mixer -> Pig Feed
Farm shop with sale of fruits and vegetables -> cash boxes
fertilizer production
seed production
sand production
Kiesprodultion
Construction site with sale of sand, gravel and cement -> cash boxes
Bridge construction to get to the big island
3 supermarkets, 2 pallet points of sale and stadium for sale of the products
6 outlets for grain + horse farm, straw power plant, heating and straw / grass sales
Bank for the exchange of cash boxes
If you have any questions just look in my Let's Play series there I show everything that is possible. Errors that should perhaps still be noticed, the best way to simply post among the videos on Youtube.
Many thanks and now I wish you much fun on the new map.
Kind regards
dani1803
FedActionLetsPlay
Credits
Idee / Konzept:  FedActionLetsPlay


changes
06 May 19:29

Version 1.8 ohne Gräben

Die 1.8 aber ohne Gräben :)

04 May 15:57

Version 1.8

Neu
- Haferflockenfabrik
- Schaltbares Licht in den Hallen am Haupthof
- Erste neue Haustextur im Dorf

Gefixt
- Bezeichnung für Verpackung ist berichtigt
- Hopfenanzeige Brauerei näher an Produktionsdisplay
- Falsches Auffüllrohr bei der Raiffeisen verschoben
- Bienensound Datei passende Größe für Server
- Asphalttextur der Brückenauffahrten zur unteren Insel angepasst
- Fliegender Stuhl im Dorf fliegt nicht mehr
- Misttextur bei der Düngerproduktion überarbeitet
- Getreidetextur bei Saatgutproduktion geändert
- Baumarkt die Einkaufswagen und die roten Rohre sind nicht mehr im Boden
- Viele Briefkästen im Dorf die Collision genommen und auf Static geändert
- Einige übereinander liegende Schilder gelöscht
- Holzstammpalette wird nun wirklich beim Holzhacker angenommen
- FactoryName für Mischfutterproduktion Rinderstall
- Honigspawner muss leider weiterhin nach Spielstand laden selbst geräumt werden

28 Apr 20:34

Version 1.7 Ohne Gräben

Die 1.7 fix ohne Gräben

27 Apr 18:13

Version 1.7

Neues in der V 1.7
- Bienenstock Produktion bei Holzindustrie
- Bienen für Honig an mehreren Stellen der map
- Mc Donalds auf der Map als Verkaufsstation
- Preise für Diesel, Milch, Saatgut, Mischfutter, Schweinefutter, Dünger und Flüssigdünger werden angezeigt
- Commodity Price mod für alle neue Verkaufsstationen angepasst
- Druckerei für Produktion von Zeitung und Verpackung
- Zeitung an bei den Supermärkten und Stadion verkauft werden
- Verpackung wir bei Mc Donalds verkauft
- Bodenmarkierung für Heizkraftwerk
- Holzstammpaletten werden nun auch beim Holzhacker angenommen
- Stadion kauft nun auch Mayo und Ketchup


Gefixt
- Bodenwelle bei der Einfahrt zum Strohkraftwerk geglättet
- Pferdehof wird nicht mehr doppelt angezeigt
- Ecke bei Feld36 etwas angepasst
- Falsches Richtungschilt bei BGA Nord gelöscht
- Schaufeltrigger im Kuh und Schweinestall noch etwas tiefer gesetzt
- Rinderställe produzieren 50% mehr Mist und Gülle
-Tomatenzucht produziert schneller


31 Mar 10:23

Version 1.6 ohne Gräben

Die 1.6 fix ohne Gräben :) viel Spaß und schönes Osterwochenende

30 Mar 15:13

Version 1.6 fix

Moin, leider schwebten über Feld 1 Steinplatten daher hier jetzt kurzfristig berichtigte Version

30 Mar 09:18

Version 1.6

neu
- Flüssigdünger Produktion am Hof und Rinderhof
- Neues großes Tomatengewächshaus
- Neue Produktion von Ketchup
- Neue Produktion von Mayo
- Baumarkt nimmt nun auch Pellets an
- Flüssigdünger kann bei der Raiffeisen oder GetreideAG verkauft werden
- Schiebetore Kuhstall
- Speiseölherstellung geht schneller und verbraucht etwas weniger Raps/Sonnenblumen
- Zellstofffabrik arbeit auch etwas schneller

gefixt

- Änderung Futterbereich Milchkühe wieder wie vorher eingestellt
- VIP Baum ist jetzt ein Brunnen :)
- Info Produktion Trigger Käserei jetzt vor den Monitoren
- Falsch parkendes Auto beim Baumarkt entfernt
- Trigger Zementfabrik etwas vergrößert
- Fliegender Compressor bei BGA Mitte steht jetzt auf dem Boden
- Ein paar Bäume bei Gras Feld 11 und 14 weiter vom Feld verschoben
- Fehlende Zahl bei Düngerproduktion beim Rinderhof ist jetzt da

04 Mar 17:36

Version 1.5 ohne Gräben

Die 1.4 ohne Gräben

02 Mar 12:36

Version 1.5

Neues in der V 1.5

- Käserei mit Produktion von Käse und Frischkäse beides auf Palette
- Youtube VIP Baum
- Spendentafel
- Neue Textur für Mais, Kartoffeln, Zuckerrüben, Weizen, Sonnenblumen, Gerste und Soja
- Himmel mit besseren Texturen
- Schnellers abbunkern bei Saatgut, Dünger, Lager, Schweine.- und Rinderfutter
- Hafer und Roggen in Saatgutproduktion
- Befüllbare Tankstelle bei Holzindustrie
- Hoflager nimmt nun Saatgut und Dünger auf
- BGA's nehmen jetzt Silage und Mist auch per Trailer an
- Einfahrten Brauerei, Palettenlager und Raffinerie verbreitert
- Größere Palettensammler bei der Mehlfabrik
- Klärwerk arbeitet etwas schneller
- Düngerproduktion geht jetzt auch mit Gärresten
- Das alte Sägewerk nimmt auch Holzstammpaletten an
- Hackschnitzellager bei neuer Holzindustrie
- Schnelleres abbunkern bei Sand und Kies

gefixt

- Lichtschalter Halle Eierhof schwebt nicht mehr in der Luft
- Ablade Kraftfutter Rinderstall sitzt jetzt etwas tiefer
- Gülle Mist und Dünger Textur verschwinden jetzt auch wieder
- Rinderställe liefern etwas mehr Mist und Gülle
- Holzstammpalette etwas leichter
- Unsichtbare collision bei Kraftfutterfabrik entfernt
- Silagemauern Keilsilo BGA Süd mit Collision
- Güllebecken Kühe Boden angepasst
- Flackernder Boden Scheitelfabrik geändert
- Aldi Logo (Schriftzug) bei der Warenannahme eingefügt
- Hallen zu F26 und Kürbisfarm in der Mitte graue Fläche jetzt mit Kollision
- Flackernde Mauern Kürbisfarm gefixt
- Abkippunkt für Futter im Kuhstall geändert
- Fliegende Digitalanzeigen beim Eierhof gelöscht
- Collimauer Kraftfutterfabrik weg
- Schwebende Schubkarre Mischfutterfabrik steht jetzt auf dem Boden
- Schwebende Schubkarre Brückenbau steht jetzt auf dem Boden
- Schwebende Lampe in der Stadt zu Feld 8 steht jetzt auf dem Boden
- Kurvenschild bei Feld 12 gelöscht
- Trigger bei Kartoffelwaschanlage vergrößert

28 Jan 11:01

Version 1.4 ohne Gräben

Die 1.4 aber ohne Gräben

26 Jan 10:10

Version 1.4 Holzindustrie

Neues in der V 1.4

- Waagenstatistik
- Gülle Mist Kalk mod Textur auf den Feldern
- Fleischerei arbeitet etwas schneller
- Wasserverbauch Rinderhof etwas erhöht
- Holzstammproduktion mit neuen Holzpaletten
- Mehr Platz in Mischfutterfabrik auf dem Rinderhof
- Schiebetür Milchkuhstall zum Wassertrog /Trigger
- Neuer Holzindustriebereich über der Obstfarm
- Zweites Sägewerk
- Zweites Palettenwerk
- Holzscheitwerk mit Scheitpaletten aus Bretter oder Holzstammpalette
- Holzkohlefabrik mit Holzkohlepaletten
- Baumarkt als Verkaufsstelle für Stahl, Zement, Holzscheit und Holzkohle
- Schnelleres auffüllen von Mischfutter beim Rinderhof und Mischfutterfabrik
- Schnelleres auffüllen von Compost bei Diesel/Oel Fabrik und Composter
- PDA Map Grasfeldnummern besser lesbar
- Licht in den Hallen beim Rinderhof und Hühnerhof
- Eine Halle bei der Mischfutterfabrik und bei den Schafen entfernt
- Mehr Platz bei der Zuckerfabrik für Zuckerrüben
- Ein paar mehr Sammelplätze für Papier und Karton

Berichtigungen

- Nochmal neue Kollision in den Durchfahrsilos auf dem Rinderhof
- Boden Güllebecken bei den Kühen angepasst
- Misthaufen Schweine etwas angepasst
- Feld 44 noch mehr in der Höhe angeglichen
- Tankstelle auf den Boden zurück geholt
- Kurvenschild Feld10 und doppelte Geschwindigkeitsbegrenzung bei Feld 2 entfernt
- Schild über Getreideschiff entfernt
- Wildwechselschild bei Gras Feld 3 hat keine Kollision mehr
- Flackernder Gullideckel bei BGA Ost gefixt
- Andere Mauern bei den Durchfahrsilos am Rinderhof

02 Jan 18:00

Version 1.3 ohne Gräben

Die 1.3 ohne Gräben

29 Dec 10:38

Version 1.3

- Getreidesilo am Hühner / Eierhof funktioniert
- Rinderstall nimmt jetzt Strohballen und Silageballen an
- Rinderstall produziert etwas mehr Mist und Gülle
- Trigger Schweinestall funktioniert
- Schild bei Sandproduktion passt jetzt
- Brückengeländer jetzt mit Collision
- Kurve bei G3 Leitplanken haben jetzt Collision
- Stahlpreis etwas erhöht
- Sackgassenschild und überflüssiges Kurevenschild entfernt
- Fliegend Deko bei bei BGA Mitte / Haus gefixt
- Factory Name Weberei und Salatzucht berichtigt
- Palettenschild Kürbisfeld hinzugefügt
- Falsche Schilder bei Grasfeld 8/9 entfernt
- Grasfeld 1 ist nicht mehr zu weit auf dem Deich und in den Bäumen
- Feld 10 angepasst
- Bei den Kuttern am Hafen fehlende Betonplatte eingefügt
- Gras in Einfahrt bei Feld 2 zu 15 entfernt
- Dekogras in Düngerproduktion entfernt
- Eierhof nimmt jetzt auch Strohballen an
- Gebäude des Eierhofs jetzt mit Collision
- Strohplane ragt nicht mehr in Hühnerstall
- Gefälle auf Grasfeld 8 und Feld 44 etwas abgeflacht
- Brennessel in Eiersammelstelle am Hof entfernt
- Leitpfosten Palettenlager zu Mehlfabrik hat jetzt keine Collision mehr
- Leitpfosten neben "Fabrik noch in bau" hat jetzt keine Collision mehr
- Textur Zuckerfabrik sieht jetzt nach Zuckerrüben aus
- Kartoffelfruchttextur auf Grasfeld entfernt
- PDA Map leicht angepasst
- Anzeige Produktionschild Weberei zeigt jetzt alle Zahlen ab
- Schwebende Bäume/Büsche bei BGA Ost auf den Boden zurück geholt
- Stroh bei Mischfutterproduktion Rinderhof nicht mehr durchsichtig
- Kürbisfarm nimmt jetzt auch Strohballen an
- 2 neue Hallen für Strohballen auf dem Rinderhof

27 Nov 18:54

Version 1.2 ohne Gräben

Die 1.2 ohne Gräben

26 Nov 20:04

Version 1.2

Fehler die auf V1.2 behoben worden sind

- Getreidehandel Collision im Abladetrigger
- GetreideAG Gebäude Fundament nun passend
- GetreideAG Zaunpfeiler jetzt vorhanden
- Güllebecken BGA Ost konnte man den Boden sehen
- Mistplane Rinderhof ohne Collision
- Abladetrigger Eierhof gefixt
- Begrenzungspfahl über Feld 33 jetzt ohne Collision
- Steindeko bei der Cementfabrik war zu hoch
- Doppelte Schilder bei Feld12 entfernt
- Obstfarm Schild und Begrenzungspfahl verschoben
- Bei Hackschnitzelherstellung Begrenzungspfahl entfernt
- Begrenzungspfahl vor Hofladen verschoben
- Collision bei Sand und Kiesplane entfernt
- Gras im Komposter und Palettenhalle Brauerei entfernt
- Falsche Ablademarkierung bei Bäckerei entfernt
- Papier hinterm Baumarkt entfernt

25 Nov 16:09

Version 1.1

Folgende Fehler wurden in der V1.1 auf die schnelle behoben

- Feld 43 passt jetzt

- neue Collimap

- Brückbau ist nicht mehr so schnell fertig

- Tankstelle am Hafen landet man nicht mehr im Wasser

- Verbrauch bei Schweinefutterherstellung angepasst

- Sandplane bei Cementfabrik leicht angepasst

25 Nov 16:01

Version 1.1 ohne Gräben

Die 1.1 ohne Gräben

24 Nov 20:52

Version 1
Files
Do you think this mod should be featured?
}