Dorf_Godshorn
V 1.5.0.0 mod for Farming Simulator 17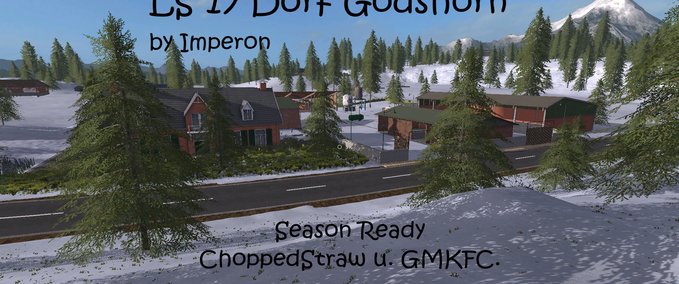 description
Goldcrest Hills map rebuilt standard map
Fertilizer, seeds and gas at the farm
New halls with gates and chopped straw ready.
Built mods:
Farm gas station of AI-Modding (new trigger set)
Luxury House of 20mmNormandy (Large Scale)
Supply by Sosnova - Map
Halls Pack by RedSky (large scale)
Machines hall of Arii
Objects Pack by Arii
ChoppedStraw by Webalizer
-------------------------------------------------- -------------------------------------------------- ----
Planning for the next version is the animals at farm.
IMPORTANT!!
It is forbidden to re-upload this mod, even in a modified form! Please use the original download link!
-It is forbidden to upload this mod again, even in an altered form!
Please use the original download link!
- Draudžiama / kelti š / mod vl, net pakitusiu pavidalu!
Prašome naudoti originalus parsisiuntimo nuorod!
- Zabrania si weng th mod jeszcze, nawet w zmienionej formie!
Prosz u | ywa oryginalnego link do pobrania!
- Je zakázáno vkládat tento mod znovu, a to i ve zmnné form! Prosím použijte povodní odkaz ke stažení!
Credits
Modell: Giants/ Imperon
Textur: Standart
Script: Webalizer, Farmer_Andy und Blacksheep-RC-Devil
Idee / Konzept: Giants/ Imperon
Tester: Imperon
Sonstige: AI-Modding, 20mmNormandy, RedSky, Fendfan1, Zews,Lecra, 112TEC
              Desperados93,El Cid, lebaronxz, Fatian, Farmer_Andy, GTXMODS und Arii
changes
16 Apr 13:06

Version 1.5.0.0

Version 1.5.0.0
Season Ready
Verbaute Mods:
Pferdestall von Rene248
Milch Trigger von kevin98
SA Molkerei von Zews
SA Zuckerfabrik von Zews
Waschanlage von 112TEC
Fermenter 5000 von GTXMODS
Schweinfutter Mischer von GTXMODS

08 Apr 18:20

Version 1.4.0.0

Version 1.4.0.0
AnimalPedestrian von Pietrykov
Hund , Katze, Möve, Pferde usw.
Verbaute Mods:
SA Zentralhandel von Zews
SA BioGas Anlage von Zews
SA Palettenwerk von Zews
SA Kartonfabrik von Zews
SA Gewächshäuser von Zews
Erdbeeren, Himbeeren und Johannisbeere

28 Mar 20:45

Version 1.3.0.0

Waldgebiet umgebaut für neuen Schweinestall.
Neue Foliage Textur und GMKFC Mod 3.0.

Verbaute Mods:

Texturen von El Cid

Regale von lebaronxz

Strassen von Fatian

CompostMaster von Farmer_Andy

22 Mar 20:50

Version 1.2.0.0

Zwischen Kuhstall und Hof neuer Schafstall.
Hof geflastert mit neuer Textur und GMKFC Mod.
Tore animiert, Mauer und Lichter mit Schalter verbaut.

Verbaute Mods:

Tore und Lichter von Arii

Gehwege von Desperados93

Hecke von Fendtfan1

19 Mar 21:35

Version 1.1.0.0

Feld 14 entfällt und ist jetzt der neue Ort des Kuhstalls.

Feld 19 wird in Feld 14 geändert als Startfeld.

Feld 19 neu 1.2 ha am alten Standort von Kukstall

18 Mar 18:56

Version 1.0.0.0
Files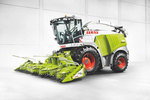 Empfehlungsrate
-/-
noch nicht genug Stimmen
Do you think this mod should be featured?
}